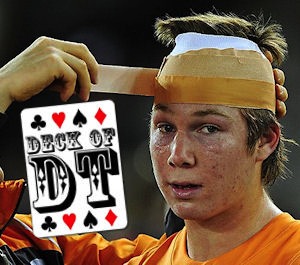 Name: Toby Greene

Club: Greater Western Sydney
Position: Midfield
Assistant Coach 2013 Price: $495,700
Bye Round: 11
2012 Average: 96.2
2012 Games Played: 19
Predicted Average: 103
Why should I pick him?
Before I go into anything, it must be said – Toby Greene is an absolute jet! 19 games, a total of 539 disposals, 63 tackles and a whopping 1828 Dream Team Points in his debut year – all at the age of 18! He is without a doubt (in my mind) one of the best bottom aged first year players (statistically) in a long time, racking up an average of 96.2 DT points per game in 2012 – including a premium-esque 110 from Rounds 15-23!
With a total of 8 x 100+ scores, including 4 of 120+ and a high of 146, his ability to score (and score well) has already been demonstrated. Sure he had a few scores under 80 (low of 50) however these were primarily in the first half of the year and were in games GWS were belted in (Scored 50 in their 81-point loss to West Coast, 54 in the 92-point thrashing by Brisbane and 72 when trounced by Geelong in R8). With general improvement and a lower chance of being thrashed in their second year, Greene's lower scores should be fewer and farther between in 2013 as GWS look to improve on a debut season that brought them the wooden-spoon.
Now to something more positive – with all the talk coming from Ŝkoda Stadium that Toby is training the house down in an effort to better his first year, it's easy to get excited about this pocket rocket from GWS. On a mission to get 'stronger and fitter and faster', Greene is improving his strength and endurance – exemplified by him winning the club's opening 3km time trial. Sidenote: When a player is being pulled up by coaching staff to 'pull back' in the preseason, you know that they're in for a special year. We could be witnessing the start of something amazing here.
Green keen to avoid second-year blues
Also, with higher profile teammates Ward, Scully, Coniglio, Shiel and Whitfield likely to cop most of the attention by their opposition, Greene should once again fly under the radar similar to the way Dayne Beams did in 2012 at Collingwood. Given Greene's reasonably low disposal efficiency (65% with 4.3 clangers per game) compared to Ward (70 and 2.5), Scully, (71 and 3.1) and Treloar (74 and 2.5) – teams will be more likely to shut down one of the others, leaving Toby to throw himself under packs and rack of possessions until he's black and blue (and trust me, he would if he could – the kid loves a challenge). And remember, this is DT, not SC – so those kinds of things simply do not matter!
Finally, whilst not overly relevant to his performance: Greene's player number has now been upgraded from #35 to the previously Israel Folau-owned jumper #4. Aside from being my personal favourite number, this shows that he is very highly rated at the club and will be a fixture inside its best 21 for some time to come. So unlike many up-and-coming players on their list, Toby is a sure thing to be on the team sheet from round 1. Lock him in at M4 or 5 in your team and enjoy the ride!
Folau's number up, so Greene takes over
Why shouldn't I pick him?
Browsing his stats from his debut year, one thing I noticed was Greene had a pretty low kick:handball rating for a pure midfielder (1.02:1) – with many stars such as Swan (1.56), Dangerfield (1.35) and Ablett (1.41) recording elite numbers reflecting their DT dominance. Although this argument isn't as compelling when you consider that the likes of Beams (1.05), Boyd (1.08) and Pendlebury (1.04) have recorded similar numbers to Greene whilst still managing premium averages in excess of 110. So long as he keeps racking up plenty of disposals, he'll keep smashing out 100's. To give it a bit more perspective, his teammates Devon Smith, Tomas Bugg and Taylor Adams had ratios of 1.21, 0.90 and 1.28 respectively – so for a first year player it wasn't so bad. One of the reasons his handball numbers are so high are no doubt related to his penchant for getting first to the ball in the pack and dishing it out by hand. So as he plays more outside, this should naturally increase anyway.
The theory of the 'second-year Blues' cannot be underestimated. We see it every year – a promising rookie has a blinder first year with the expectation to come out in their second year to continue their improvement, only to be struck down with fatigue, injury, bad form and all the things that come with the expectation of being an established AFL player. If we use the Gold Coast Suns as an example – 2012 was the second year for many of their young stars, with the majority of their young players (aged 18-20) failing to make moderate improvement on their first years. Popular 2011 rookie options David Swallow (avg of 76 in 11' down to 74 in 12'), Zac Smith (72 down to 58) and Trent McKenzie (73 down to 70) all failed to live up to the hype of their debut seasons, with injury and expectation weighing heavily on their shoulders.
The exception of this group was Harley Bennell (67 in 11' up to 85 in 12'), who had a breakout year in the absence of his older, more experienced teammates. However statistics show that this is rarely the case. Which pile will Toby find himself in come post-season 2013? Only time will tell.
Deck of DT Rating
KING – There's not many people who would've expected the year that Greene had after he was picked at #11 in the 2011 National Draft alongside a raft of higher-rated players. But he came out in 2012 and had one of the greatest debut seasons that we are likely to ever see. I (along with many others) strongly believe that Toby can go on and overcome any 'second-year blues' to indeed improve on his debut season. It's not beyond this kid to go on to premium status in just his second year, and you'd be silly to rule him out on this premise alone.
I've no doubt that as he continues to grow as a player over the next year (and beyond), we'll see Greene develop his outside game a bit more – leading to more kicks, marks and goals in the future. And what does that lead to? Valuable Dream Team points! Get on this kid now as he's bucking all the trends and will be a superstar sooner than later – he's already half way there.
FOLLOW ME ON TWITTER: @McRathDT to say hey or share your thoughts on Dream Team 2013.