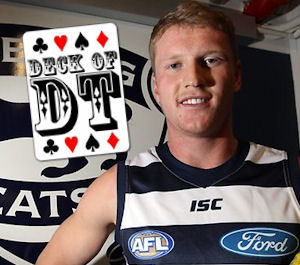 Name: Josh Caddy
Club: Geelong
Position: Midfield
Assistant Coach 2013 Price: $328,600
Bye Round: 12 (Shared with Melbourne, North Melbourne, St Kilda, Sydney & West Coast)
2012 Average: 63.5
2012 Games Played: 22
Predicted Average: 81
Why should I pick him?
I'm a big Josh Caddy fan. He was selected by the Suns at pick #7 in the draft but only managed 2 games in his first season with them after injuring his groin and foot (not at the same time though). As a kid (2010) Caddy was a gun averaging 24d in the U/18 championships leading many categories over the tournament with his tough inside game. Last year, Caddy was traded to Geelong as a result of the old Gary Ablett deal to the Suns. Since arriving at the Cats, Caddy has impressed.
"He's been fantastic," assistant coach Nigel Lappin said. "We had a time trial up the mountain … on the bikes and Josh finished with the third-best time. He's another strong body for us in the midfield to take some pressure off (Jimmy) Bartel and (Joel) Corey and (James) Kelly and (Joel) Selwood, so we're really excited."
"It's never easy walking into a side with this much experience and this many good players, but I had a pretty good start to the pre-season," Caddy said
"We can't fault him. He's a really good runner, he works really hard, and he's another strong body for us in the midfield." Nigel Lappin. "We've got a group of other young midfielders that will fit in nicely around him. We've got Mitch Duncan, Allen Christensen and we get Josh Cowan back this year, so we're building quite a good midfield for the future, and it's a pretty exciting time."
Why shouldn't I pick him?
Last year with the Suns, Caddy played all the 22 games but his numbers were less than impressive. He only managed to find the ball 20+ times on 4 occasions with a highest score of only 86 for the year. This was mainly due to the amount of time the Suns sat him up forward and when a team is getting pumped by 100pts, being at the wrong end of the ground isn't ideal for scoring DT points. He has been on a restricted pre-season program leading into xmas due to shoulder surgery but he is up and about now. He promises so much but this a little ball of talent has failed on all levels to date. Injuries and low scoring are like marrying the devil and Hitler together when it comes to a producing DT formula. Bad news all round.
Deck of DT Rating
JACK – Will he get more a chance with the Cats? Personally, I think he will. He appears to be ticking all the boxes for them at the moment. Pre-season games and the NAB Cup will be the obvious keys here for picking Caddy. He's certainly one not to ignore or pass on at this early stage. Watch… and watch carefully.
FOLLOW ME ON TWITTER: @CalvinDT for things Fantasy