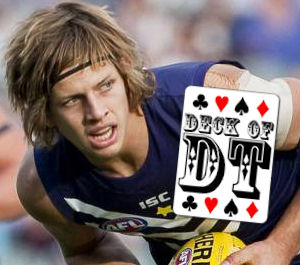 Name: Nathan Fyfe
Club: Fremantle Dockers
Position: Mid
Assistant Coach 2013 Price: $458,500
Bye Round: 11 (Shared with Brisbane Lions, Hawthorn, Port Adelaide, Richmond and Western Bulldogs)
2012 Average: 89
2012 Games Played: 9
Predicted Average: 101
Why should I pick him?
Potential. This is the purest reason for why you should pick Nathan Fyfe this year
He showed this potential in 2011, when in just his second season Fyfe played every game bar one. Posting high scores of 137 and 120, while only dropping below 80 three times.  He finished the season with a 98 point average. Massive potential.
Unfortunately 2012 didn't go as smoothly.
He started well, posting 124 against Geelong and looked set to have massive year.  This fell apart in round 3 where he dislocated his shoulder in the 2nd quarter against Brisbane, getting him subbed out and finishing with 22 points. After a week off to recover, Fyfe then played round 5 against Carlton where he still posted 91 points while in obvious discomfort (unable to mark or tackle with both arms). During training the following week Fyfe dislocated his shoulder again, prompting Fremantle to send him to a specialist.
Fyfe missed 13 games while recovering, then returned in round 18 where he was subbed at 3 quarter time with a massive 89 points to his name. He then went on to play out the season. He finished the year with a healthy average of 89 points. However, if we take out his injury affected 22 then Fyfe averaged 97 points per game, which should really have him priced at about $500K.
I believe this qualifies Fyfe as an under priced gun!
I can see you thinking, 'Those numbers are fine Anthony but no good to me if Fyfe's shoulder will implode on impact!'
Well you can pick him with a little more confidence knowing that after round 5 last year he underwent the 'Latarjet procedure' on his shoulder. This was the best thing Fremantle could have done for Fyfe as while it does take 12 weeks to recover from, it is one of the most successful shoulder correction operations, boasting an incredibly low 4% recurrence rate among athletes playing impact sports! Surely with 2 trades per week, 4% isn't a season defining risk.
The last reason for why you should pick Fyfe is that he's the type of player who seems to hurt you most when he is in your opponents line up. Fyfe makes sure he's never out of the contest with 2nd and 3rd efforts and is constantly hunting the ball. Leading to the kind of mental torture where you swear you hear the commentary 'Fyfe lays a tackle, picks up the ball, handballs to Fyfe, who kicks long to Fyfe, who marks and goals!'
Why shouldn't I pick him?
The 4% chance of re injuring his shoulder is still higher than a player who's never had shoulder problems.
This year Fyfe is only available as a MID selection. Coupled with his 'awkward' starting price he may not fit your team structure.
It's always safer to choose midfielders who fly under the oppositions radar while quietly accumulating points… Fyfe is not that player. He will cop the tag most games, though he has shown he can still score well while being tagged (109 on Scott Selwood, round 19 last year) this will not always be the case.
Last year Fyfe averaged 2 Free Kicks against per game. Each time a player gives away a free kick 3 points is deducted from their score. Meaning by the end of the season Fyfe may have cost you 141 points.
Fyfe had been on a modified preseason up to the beginning of January due to 'growing pains' brought on by his body adjusting to the extra 15kgs in muscle he has gained since his debut.
Plays under Ross Lyon
Last season he was a late withdrawal after being injured by a suitcase… seriously, your an AFL player and a freaking suitcase took you out!?
Deck of DT Rating
KING – I know it's a big call but I truly believe that if you take a punt on Fyfe (and he escapes the 4%) this year you'll be rewarded with a keeper. With the 2 trades per week I think his risk factor is far outweighed by his reward and the fact that he is $50K under priced makes him a lock for me. Add that with Fremantle's midfield finally fit at the same time, being fed the ball from Sandilands and supported by Mundy, Barlow and Hill, I don't see why Fyfe wont finally break into the 100 point a season average he's been so close to in the past.
FOLLOW ME ON TWITTER: @Anthonydsmith86 for ramblings that may involve Dream Team. Got something to say about the deck? Use the hashtag… #DeckofDT.