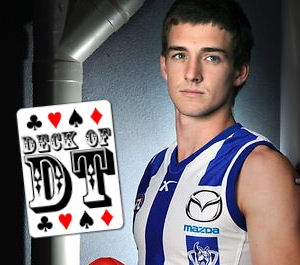 Name: Shaun Atley
Club: North Melbourne
Position: Defender
Assistant Coach 2013 Price: $311,200
Bye Round: 11
2012 Average: 59.7
2012 Games Played: 23
Predicted Average: 75-80
Why should I pick him?
"Who the hell is Shaun Atley?" I hear you say.
Well gather round people; let me tell you a story.
Taken at pick 17 in the 2010 National Draft, North were delighted to pick him up with 17 as it was widely tipped he would go in the top 10. The-now 20 year old Atley played 16 games in his debut year averaging a modest 48.4.
Last year he was stationed at half back and whilst looking at his average( 59.7) doesn't inspire any real need to invest in him, I think that there is more to him than just those numbers.
Atley played every game in 2012 and played an important role rebounding across half back. He possesses explosive pace and has the ability to break opposition lines. He can go from Zero to breakneck speed seemingly in a couple of steps and when he is at top pace is close to un-catchable.
When looking at his numbers for 2012, he was extremely consistent, whilst these numbers were not large, his standard deviation was incredibly low @11.9.. streets ahead of other  Mid Priced Defenders (Golby, Nicholson, Howard, Geary, Smith, Watts, Yarran, Hibberd)
His scoring range reflects his consistency:
| | | | | | |
| --- | --- | --- | --- | --- | --- |
| 0-50 | 51-60 | 61-70 | 71-80 | 81-90 | 91+ |
| 17% | 30% | 35% | 13% | 4% | 0% |
Again, his numbers are not large…BUT..he is held in enormously high regard at Arden street and has been training with the midfield group this pre season. A move to the midfield is definitely on the cards and he only needs to add 3-4 Kicks and 2-3 Handballs per game to his repertoire and I see his output being closer to 75-80.
The other stats that stand out to me across 2012 are:
10th in AFL for most time on ground
7th in AFL for running bounces
12th in AFL for running bounces per game (ave 2 per game)
The kid has an enormous tank and can run all day. He will play a large part in North's midfield rotations this year, it is just a matter of when.
Check out some highlights from last year.
Why shouldn't I pick him?
He is relatively unknown and his stats last year do not instil a lot of confidence. He is also awkwardly priced at 311k and if you are taking a punt on a midpriced defender, players like Geary, Howard, Golby might jump out ahead of him.
Deck of DT Rating.
JACK– Sean Atley will be a Dream Team relevant player, the question is will it be this year. He is a definite watch for NAB cup, but I believe he has more upside than down side. A 12 point increase last year and even a similar increase this year would put him at around 72ppg making him a nice stepping stone to another premo defender at worst.
I know it is bandied around often, but he is coming into his 3rd year and is the kind of player that has breakout written all over him.
Given the young north midfield, his explosive pace, willingness to take the game on and endurance , if he shows a bit in NAB I say jump on!
 FOLLOW ME ON TWITTER: @RainmanDT for all things DT (and more). Got something to say about the deck? Use the hashtag… #DeckofDT.