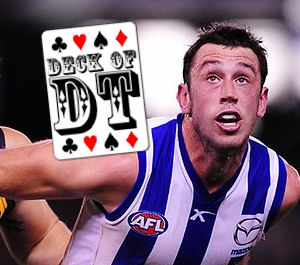 Name: Todd Goldstein
Club: North Melbourne
Position: Ruck
Assistant Coach 2013 Price: $407,300
Bye Round: 12 (Shared with Geelong, Melbourne, North Melbourne, St Kilda, Sydney & West Coast)
2012 Average: 76.9
2012 Games Played: 20
Predicted Average: 86.4
Why should I pick him?
Todd Goldstein is one of the most interesting picks in AFL Dream Team this season. Why? Because in 2011, as North Melbourne's sole ruckman, Todd showed us what he can achieve with a 99.3 average whilst team mate Hamish McIntosh sat out most of the year on the sidelines. In 2012, McIntosh returned to the side, and Goldstein's output dropped, averaging just 79.1. In 2013 Goldstein will again be alone at the Arden Street, whilst 'required player' McIntosh laces up his boots down in Geelong. Will McIntosh's departure help Todd regain his form, and how much does being the sole ruckman help Goldstein?
First we should look at if there really is a difference between his output when he plays with and without McIntosh.
Well, in the past four seasons McIntosh & Goldstein have played 38 games together. In those 38 games, McIntosh has averaged only 63.5 dream team points per game. During the same time Goldstein has played 37 games as the sole ruckman, where he averaged a much more impressive 93.9 points per game. On the surface of it this suggests that without HMac, Goldy will improve on his 79 point starting price.
Additionally, Goldstein had a purple patch last season, where he scored a nice 96.5 average in the 12 weeks from round 9 to round 21. Even though he didn't finish the season well, and for some, cost them a grand final spot with a non-sub affected 24, after returning to the side in round 8, he finished the season with an acceptable average of 88.
Looking at the graph below, you can see that last season was pretty average, after improving his average the three seasons prior. With McIntosh gone, we should expect his output to go up again.
Why shouldn't I pick him?
Were you not listening? The dude got a non-sub affected score of 24!? That's one point (hitout) every four minutes! Or 8 points per quarter. Apparently this was due to a combination of Gastro & a head knock, with would explain the Zac Dawson like output, but what's his excuse for the other 6 games in which he scored 60 points or under? It meant for coaches that 35% of the time he took to the park last year, he crashed and burned, and a rookie could have outscored him. He finished the season with 24 & 60 (with a 52 in the semi-final against the Eagles), right when coaches needed his to step up the most, leaving much hatred for him from many a coach. I mean, look at the graph above, he's up and down more than a bi-polar flea going through a break-up on a yoyo!
On top of this, a huge proportion of his points come from hit-outs; just over one third. So if you pick him, you better get used to him going up one point at a time. This isn't always a bad thing, especially if he could float up to the goal square and get a few +12's, but he isn't a ruckman who kicks goals, having kicked only two last season. Two goals all season.
Although it is expected that he will have a better output without McIntosh, in the games they played together (38), Goldstein actually outscored McIntosh in nearly a third (13) of them, and much of his poorer scoring average over the past four seasons with McIntosh in the side can be attributed largely attributed to many of these games coming in 2009, his second season, where he only averaged 50.3.
And then after all this, we are reminded that next season the AFL have introduced a new rule, saying the ruckmen can't make contact until after the ball have left the umpires hand. Awesome if your ruckmen have a big spring-loaded jump, or quick around the ball. Now, I don't know if you've ever seen a Goldstein ruck contest, but the boy loves a wrestle, with feet planted firmly on the ground. With 35% of his points coming from hit-outs, you would want to feel confident that Todd has either found a new athleticism in the off-season, or that the rule won't affect his scoring.
He also shares the bye round with Cox, Mumford, Naitanui, McIntosh, Vardy & McEvoy, and promising rookie priced rucks in Gawn, Currie & Daw.
Deck of DT Rating
QUEEN – He will be the number one ruckman for the Roos in 2013, and without McIntosh you can expect his scoring to increase. But he will have Daniel Currie & Majak Daw chomping at the bit to show what they can offer, and the more athletic Drew Petrie helping him out around the ground at bounces. He has a huge ceiling for a ruckman, but can also knock out a score that makes you honestly question if he took to the paddock. If you like rollercoasters, jump on board, but if you are after a season-long keeper, you just can't trust him. The selection of Todd Goldstein as your starting ruckman may just sway your season, as without money in the bank it'll be hard to jump to a premium if he spuds it. Proceed with caution.
FOLLOW ME ON TWITTER: @RLGriffin85 for all things fantasy. Got something to say about the deck? Use the hashtag… #DeckofDT.