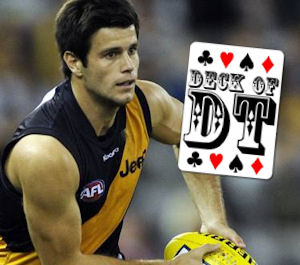 Name: Trent Cotchin
Club: Richmond Tigers
Position: Midfielder
Assistant Coach 2013 Price: $570,200
Bye Round: 11 (shared with Brisbane,  Freo, Hawthorn, Bulldogs and Port Adelaide)
2012 Average: 110
2012 Games Played: 22
Predicted Average: 119
Why should I pick him?
Cotchin is an outright gun and has evolved into a DT jet. Cotch had a huge 2012 season,  improving his DT average 16pts from 2011. He hasn't missed a game in the last 2 years and is in a team who is certainly on the up. He started the year averaging 99 in his first 6 games but it was his second half of the year which got many DT coaches excited and convinced that Cotch was a DT gun here to stay. Man 'o' man did he come home like a freight train. He scored more than 100 points in his last 10 games and averaged a massive 120 during this time. Then, when you look at his last 4 games of the year and see 152, 101, 145 and 121 (avg. 130) you certainly get my drift with his two best DT scores in his career occurring during this time. Trent Cotchin has arrived.
But can Cotchin handle a tag? Ok, in 2012, Cotchin was tagged a lot. Nearly in every game by some of the best taggers in the league. Check out the result of these tags and you be the judge how he went.
Mc Kenzie = 110 & 106
Hunt = 105
Bird = 96
Hocking = 143 & 145
Greene = 87
Van Berlo = 111
Raines = 103
Cassisi = 121
Carrazzo = 118
Picken = 152

Averaging = 116
All taggers create great concern for DT coaches, but as you can see from above, Cotch is certainly finding then no issue at all. Not bad for a kid who turns 23 this year who will only get better!
Why shouldn't I pick him?
Maybe because you can find better value in cheaper players like Pendlebury or Stanton? Or go a little further and pay nearly $50k less for the likes of Marc Murphy? Dangerfield? or even Sam Mitchell? All these guys are proven DT guns, who are cheaper than Cotch who certainly have the ability to match his numbers.
Deck of DT Rating.
KING –  Cotch doesn't tick the ACE box for me just yet. He did only averaged 110 last year and although he came home like a freight train, he still needs to prove to us he can match that in 2013. I think he can! I think Cotch can push an average of 120 this year. During the year, Cotch will receive some mega tough tags and will occasionally have scores that will not please his coaches. But at the end of the day, he's a must have by the end of the year. Will I start with him? owww very tough call, but at this stage I probably wont. Guys like Dangerfield who averaged 123 in his last 5 or Pendlebury of equal value seem 'better' options for me. Tough call at this early stage, but he's certainly a gun who will feature in Team Calvinator at some point in 2013.
Twitter follow: CalvinDT – For more words of wisdom