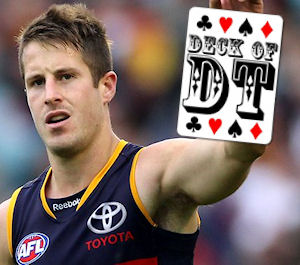 Name: Matthew Wright
Club: Adelaide
Position: Fwd/Mid
Assistant Coach 2013 Price: $438,700
Bye Round: 13
2012 Average: 85.2
2012 Games Played: 19
Predicted Average: 97
Why should I pick him?
Very few of us would have considered Matthew Wright at the start of 2012. What a difference a year makes. He is a player who leaves it all out on the field. A hard nut that isn't shy to put his head over the ball. Wright took a little while to get going last season but once he got his opportunity in Round 4, he never looked back. During the season he proved his worth and established himself in the Crow's best 22. At season's end, Wright was named 9th in Adelaide's B&F.
Tackle, tackle, tackle. That's the theme at Adelaide (source) and that's one of Wright's greatest assets. When Wright lays a tackle, it sticks, and if I'm on the money about him playing more in the guts this year, he'll get more tackles and more touches. Wright belongs in the midfield. He has a high work rate, he rarely fumbles, he is a good decision maker and he loves the contested ball. Additionally, I think he can be a really good run with player when required and stop the likes of Gablett, Cotchin etc. Here's hoping Brenton Sanderson and I are on the same page.
In 2012, Wright averaged 20.2 possessions playing across the half forward line. This is more than last years savior, Dayne Zorko who averaged 19.6 possessions a game. Wright's DPP eligibility adds to his appeal. At $438,700 I feel Wright is reasonably priced for the potential that he possesses. With the new trade rules in place, Wright is exactly the type of player worth taking a punt on. I don't want to make a habit of saying this but if he doesn't receive more midfield time and you're not entirely happy with him then you can always off load him for someone in form.
So far this preseason, there has been no word on injuries regarding Wright. No news is good news, so you can assume he is fit and firing. Here are my predictions for Wright in 2013:
Why shouldn't I pick him?
Wright is very consistent with his efforts on the footy field however, his DT scoring consistency isn't that appealing. From 19 games last season, he scored below 70 six times and only on five occasions did he manage 100+. Yes, this isn't the best strike rate but when you consider that Wright is coming into only his third AFL season and the improvement that will come, it is not a train smash.
Wright is the type of player who will sacrifice his game for the benefit of the team. So if his primary job is to stop an opposition player and not win the footy, his scoring ability will be affected.
Deck of DT Rating.
KING — I expect Wright to significantly improve from his scoring output in 2012 and really push the Premo barrier. The foundation is there and Wright has all the right attributes to become a gun. To be honest, I can't think of a major reason not to take a punt on him. Even before the new trading rules were announced, Wright has pretty much been in my team from day one of planning and pending no major disasters, he'll still be there come Round 1. Keep your eye on Wright in the No. 11 jumper this season!
Matthew Wright's 2012 Highlights
FOLLOW ME ON TWITTER: @JeppaDT for all things DT (and more). Got something to say about the deck? Use the hash tag… #DeckofDT