Game Changer – Trade Addiction
There's been some big changes announced so far this season. Griff & Anthony take you through them all, including the recently announced two trades per week, with a special feature from Cousins Coke n Ice. How ill you use our two trades, and is it now too easy?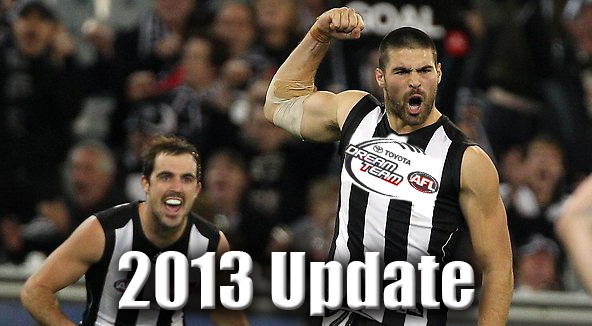 Morning all! Griff & Anthony here, and in case you have been living under a rock, or you know, just haven't checked social media or your inbox today, the AFL have released further information on the 2013 set up of AFL Dream Team. And boy is it a game changer. Well, one aspect is.
Firstly, this season there WILL NOT be a rolling lock-out in place, so just like years previous, you have until the first bounce on Friday night (or whenever the first game of the round is) to finalize your trades. After this you will be locked out, and your team will be set. Put simply, it hasn't changed.
Note: This runs against the AFL's main fantasy rival in SuperCoach, who WILL have a rolling lock-out.
Secondly, and this is the big one, AFL Dream Team will allow coaches to make two trades every week of the season. Unlike years previously where we had a total number of trades to work with, in 2013 we will have a guaranteed two trades, every week, for a maximum of 44 trades over the season. The catch? If you don't use a trade you lose it. You can't go into round 10 with 40 trades remaining.
Note: For those struggling with the maths, we only get trades after round one. So it's 22 x 2, not 23 x 2.
So what does this mean for the game, and why has this happened? One of Dream Team's brightest has had a look what it all means. Presenting to you: Cousins Coke n Ice!
—————————————————————————————————–
Trade Addiction
By Cousins Coke n Ice (aka @douthteez)
I've been playing Dream Team for 6 or 7 years now, and 2013 is shaping as one of the biggest in the history of the game.
There have been many changes, but probably the biggest change in the history of the game is the change from 24 trades for the year to 2 every week. Every week! That's up to 44 Trades for the season. No more wondering if you should hold off using that vital trade, Go ahead, you will have another 2 to play with the next week!
The traditionalist inside me is screaming "Don't fix what aint broke!" but alas, the more rationally I think about it, the more I understand that this isn't just a game, it's a business.
The reason the AFL would change Dream Team to this is obvious; it engages the non-die hards for longer. We all have mates that trade like rabid banshees and by round 12 or 13 they are out of trades and completely over the game. This is not good for the Dream Team business. You also don't get to enjoy the taking of the PI 55 as much because the bloke you just beat doesn't care any more! I don't know about you, but I love rubbing it in when I have a win, and I get more enjoyment out of it when they actually care!
Whilst I used to love the anxiety that came with the "confirm trade" button, I'm all for the change as well.
Dream Team makes its money from advertising and sponsorship. If Virtual Sports can show increased page views etc, then they can charge more for this space. This is good in 2 ways. The first is that the game will grow from strength to strength on the back of upgraded infrastructure and other benefits from having more disposal cash for them to play with, and with a bit of luck, the extra money they start to make will filter down to the prizes! Imagine if one day we were playing Dream Team for $1 Million dollars! Or better yet, a prize for coming best in your state/territory? If this is where the game is heading, I can live with that!
You see, like a lot of you reading this, I suffer from CTSS. Constant Trade Stress Syndrome. If I'm not trading, I'm thinking about trading, and now I don't have to worry about running out anymore!
The Guns and Rooks strategy just got a whole lot easier also. We make our money by buying low and selling high. Most coaches would not burn a single trade until round 3 or 4 right before the prices changed for the first time. Now you will be able to ensure you have at least 6 of the hottest bubbling rooks you can get your hands on before the price rise. This means we will be able to "complete" our teams even faster than we did in previous years!
You can now also play returning from injury stars with a bit more ease. If they re-do their knee, BOOM, you just use one of your two available trades! May as well, you get two more next week! Then there are the "never agains". You can afford to give your Shaun Higgins' and Greg Broughton's of this world another go knowing that without any fear of burning a trade you needed for finals, you have 44 of them! No big deal!
There will be many saying that the 2 trades per week is a bad idea; the traditionalists out there. I say embrace it, this game is only going to get better! Change is always inevitable, use it to your advantage!
—————————————————————————————————–
Additionally, to recap some of the other changes;
Our team set up has changed to six defenders, eight midfielders, two ruckmen and six forwards. Which differs from our past set up by taking away one forward and defender and replacing them with two more midfielders.
Also we will be able to select 4 Emergencies as opposed to 3 in seasons past. So no more sacrificing the Rucks and hoping for the best.
The MBR's will be scored differently this year by taking your best 18 players scores regardless of position.
There will be No Rolling Lockout for AFL Fantasy this year. So once your teams are set Friday they are locked in for the best.
The Green, Red and Yellow status dots will be returning from behind the assistant coach paywall! These are the dots that appear after teams are announced, letting you know if your players are expected to play that week. Very helpful for the quick glance at your team before lockout!
So that's the update. Let us know what you think in the comments below, and feel free to continue the conversation with us (Griff & Anthony) on twitter.
Happy dreaming!
()