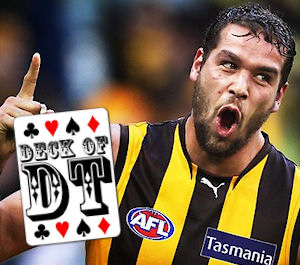 Name: Lance Franklin
Club: Hawthorn
Position: Forward
Assistant Coach 2013 Price: $521,300
Bye Round: 11
2012 Average: 101.3
2012 Games Played: 16
Predicted Average: 102
Why should I pick him?
Now known for being the undisputed record holder for the highest point-scoring game in Dream Team history, Buddy's 204 points against North Melbourne in round 10 was a spectacle to watch, especially if he was in your forward line – even more so if you had him as captain. Such a sight we may never see again.
Lance Franklin is the biggest drawcard in the AFL. Hawks (and non-Hawks) fans from far and wide come to Hawthorn games purely to see a 'Buddy Masterclass'. He is surely the AFL's main asset right now and that tag is well justified. Now, as he brings fans through the gates, he demands the attention of Dream Team Coaches from around the world, imploring you to have him as one of your first picked each year.
His scoring power as a forward is unparalleled (scores of 130, 118, 114, 204, 122 and 128) with a total of 7 H&A scores of 100+ this season (including his double tonne). Buddy has also shown he rarely has a quiet game, with only 1 x score below 70 in 2012 (67 against Sydney in R22). Now whilst a lot of his points come from marks and goals, he will pretty much guarantee you 80+ points a game – even when he doesn't kick a bag. He does this by drifting up the field to help get his team into the game. His upside is massive and many will jump on simply because they do not want to miss out when he goes on a rampage (ala R10 this year).
If he's still on the park and you don't have him in your team by the end of the MBR's there is something seriously wrong with you as his finishes to the year are traditionally very good. Besides, it's not Colin Sylvia we're talking about here – its Buddy!
Why shouldn't I pick him?
In Franklin's 8 year career he has only ever played 1 x full season. The last 3 years alone he has missed 14 home and away games. Whilst he is always in the top-scoring forwards in DT, when it comes to overall points scored in the season, he often lets his coaches down by missing games due to suspension and being rested (admittedly not his fault). With challenging games against several finalists to start the year, he could very well lash out when under pressure.
Another of Buddy's downfalls in recent years has been his habit of racking up free kicks against. With 47 total including finals (39 in H&A), he had the 4th highest average of FA in the entire AFL in 2012 (2.5 per game). This equates to 8 points alone per match, which is often the difference between a solid 100+ score and a mediocre 90-odd.
Now, as to the argument of not starting him with the plan of picking him up later, this should make for some interesting reading: his average points scored between R1-8 over the past three years have been 88 (2010), 97 (2011) and 96 (2012) to start those seasons. With games against 'bogey sides' the Cats (76 in 2012), Eagles (76), Freo (81) and Giants (72) in the first 8 games of 2013, he could easily have a quiet start to the year. Taking into consideration the other teams he plays in those 8 games (Pies – 130, North – 204 and Crows – 118), he could average 108 to start the year. But it goes down to a projected 92 when you remove the 204 v North – 10 points below his expected average… ouch.
Can you live with Buddy 'dicking himself' out of 12 points regularly simply because of free againsts? Are you okay with him missing around 3-5 games during the season when he could've been smacking out hundreds? Will you be happy if he has a rough start to the year, whilst the likes of Rocky and Daisy are flying? If you can answer yes to these three questions, then there's not much stopping you from locking in Buddy as your #1 FWD in 2013.
Deck of DT Rating
KING – as an overall DT player, the only thing I believe holding back Buddy is his discipline resulting in missed games and FKA's. If he can clean up his game a bit and play a full season, he will be the most picked player by the end of 2013. As a forward, he deserves an ACE tag for his scoring potential alone. But until he can show that he's ready to clean up his game, he's not a 'lock' by any means – especially with all the juicy DPP options in the forwards this year. Start with him or pick him up later – either way, Buddy must be in your team at some stage in 2013 if you're serious about DT.
FOLLOW ME ON TWITTER: @McRathDT to say hey or share your thoughts on Dream Team 2013. Got something to say about the deck? Use the hashtag: #DeckofDT.