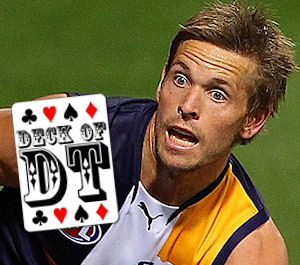 Name: Mark LeCras

Club: West Coast
Position: Forward
Assistant Coach 2013 Price: $355,400
Bye Round: 12
2012 Average: N/A
2012 Games Played: 0
Predicted Average: 80
Why should I pick him?
Many of us were licking our chops at the thought of snapping up Lecca with a 50% discount on his 2011 output – a discount we expected given his devastating ACL rupture held him to fewer games than Jack Anthony in 2012. However, we today learned from the Assistant Coach Team Picker that he would only receive a 20% discount for 2013, pricing him at $355,400 and at an average of 69 points per game. Though many coaches, myself included, have already spat the dummy and decided that a 20% discount just isn't good enough, there is still merit in keeping an eye on Mark in the coming months.
After kicking 58 goals and averaging 75 DT points in 2009, LeCras earned All-Australian honours for a brilliant 2010 season which saw him kick 63 goals to go with an average of 76 DT points. The talented small forward spent more time up the ground in 2011 which saw his goal tally slide to 47, however increases in his disposal and tackle numbers saw his DT average rise to a career-best 86. LeCras spent portions of the 2012 preseason training with the midfield group and was athletically primed to inject the West Coast midfield with his classy disposal and sound footy brain, before he was struck down with an ACL injury two days before the Eagles' NAB Cup opener.
Now I know it would be an anomaly for a player to come back from an ACL and step into an increased midfield role, but keep in mind LeCras is still only 26 and is reportedly progressing very well in his recovery. The emergence of Josh Hill and Jack Darling as West Coast's enigmatic forward targets could allow Worsfold the freedom to play LeCras through the middle if his knee permits it.
Why shouldn't I pick him?
LeCras' price tag puts him in an awkward spot in terms of DT classification. As coaches, we often like to categorise players into Guns, Rookies and Midpricers, which are usually determined by price tags and our expectations of their scoring. While 'Guns' and 'Rookies' are pretty straightforward, the 'Midprice' category can be quite ambiguous as the range of players seems to be far larger than that of the other categories. Though ideally we'd like all of our midpriced selections to reach 'Keeper' status, it just doesn't hurt as much trading out a player you spent $250k rather than $350k on, should the player fail to reach a standard of scoring you're happy to carry with you for the remainder of the year.
Deck of DT Rating 
JACK – With the Eagles now boasting such a potent forward line, I'm not sure if there's enough ball to go around for LeCras to reach 'Keeper' status unless he ventures into the middle. However, if he continues to impress in his recovery to the extent where he's flagged to spend time through the midfield, he'll certainly be one to consider.
The following photos are taken from the Eagles' training session held on December 7, 2012.
find me on twitter @tomcraigie