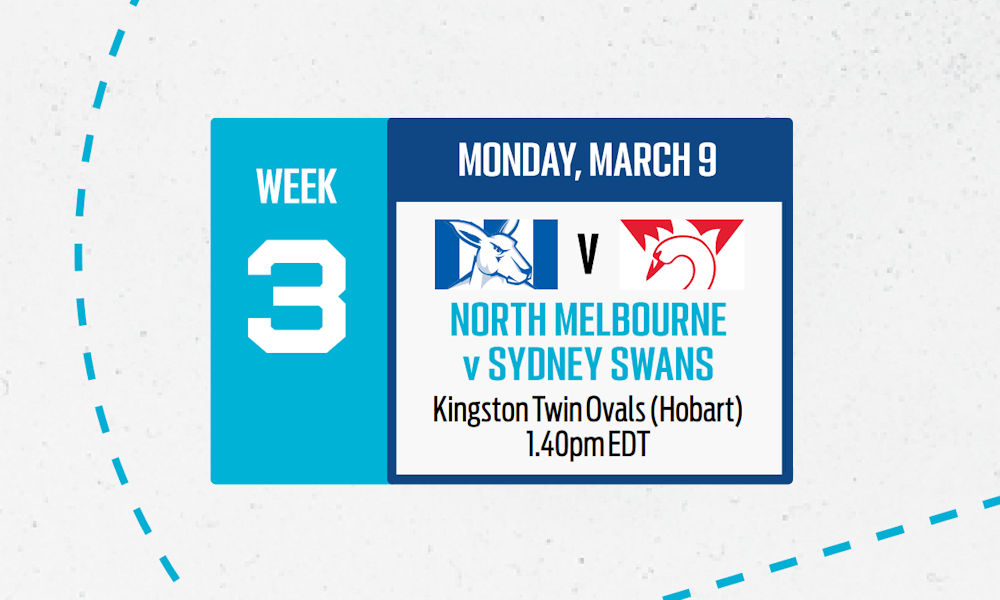 Did I draw the short straw or what?!
The great rookie crisis of 2020 wasn't helped with Will Gould and Chad Warner no making the cut for the Swans in what looked like their best team – and structure – ahead of round one. North Melbourne appeared to be the same. But there could be a couple of names out of this game that may be there is round one to save us some coin.
Team as named
B: M.Daw 1 R.Tarrant 25 J.Pittard 17
HB: J.Macmillan 34 J.Walker 19 S.Atley 18
C: J.Anderson 3 B.Cunnington 10 J.Polec 13
HF: T.Thomas 26 J.Ziebell 7 T.Garner 6
F: J.Simpkin 12 N.Larkey 20 C.Zurhaar 44
Foll: T.Goldstein 22 S.Higgins 4 T.Dumont – C 14
I/C: L.McDonald 11 P.Ahern 15 A.Bonar 16 C.Taylor 31 J.Mahony 35 T.Xerri 38 T.Murphy 40 A.Hall 43
Curtis Taylor (FWD, $170,000)
We've been looking for rookies to put their hands up and Taylor did that this afternoon. He was definitely doing his best to earn a spot in the Roos' 22 for round one and would have to be every chance following this performance. Playing as a half-forward, he was hunting to ball and looked like he was going to do something everytime he went near it, booting two goals, racking up 21 disposals, six marks and 94 Fantasy points. The way he played (and scored) means we could safely play him on field. He scored 45 from 42% game time last week.
Other notes
Pre-season watch Aiden Bonar (FWD, $333,000) didn't get on the ground until after half-time and scored just 10 points from 27% TOG. Cross him off your list. You'd think they would have liked to have got plenty of minutes into him this week. Bonar was around the ball a bit (6 disposals, 2 tackles) but gave away four free kicks.
Put a line through Jack Mahony (FWD, $204,000). He may have got decent TOG (73%), but his scoring is never going to be great. Mahony kicked a goal and scored 31.
Todd Goldstein (RUC, $656,000) was the main man in the ruck with Tristan Xerri (RUC/FWD, $170,000) mostly playing forward and chopping out. It's line ball whether he plays in round one or not. Ben Brown's fitness will be a major factor, and with him only a couple of weeks away, Xerri may not have great job security. With the lack of rookies and his DPP, Xerri could actually be an option for a floating donut. Goldy though, a good mid-Draft pick.
Aaron Hall (MID, $527,000) is going undrafted, but would be worth a punt in deeper leagues on the bench as someone who can average 90+. He scored 84 with a bit of clock on the ball.
North @AFLFantasy Grades 2:
Higgins ?
Ziebell ?, ?
Cunnington ?, ?
Polec ?‍?
Dumont ??‍♂️
Anderson ??‍♂️
Simpkin ?, ?
Hall ?, 2️⃣2️⃣❓
Goldstein #️⃣1️⃣?, ✅
Xerri #️⃣2️⃣?
Pittard ?, ?
Ahern ⏱, 2️⃣2️⃣❓
Taylor ?, ?
Thomas ?, ?
Bonar ?, ?, ❌2️⃣2️⃣
Mahony?, ❌2️⃣2️⃣

— Tbetta (@Tbetta9) March 9, 2020
Team as named
B: C.Mills 14 D.Rampe 24 A.Aliir 36
HB: J.Dawson 34 K.Brand 2 J.Lloyd 44
C: O.Florent 13 J.Kennedy – C 12 H.Cunningham 7
HF: N.Blakey 22 T.McCartin 30 W.Hayward 9
F: S.Gray 15 S.Naismith 10 T.Papley 11
Foll: C.Sinclair 18 L.Parker 26 I.Heeney 5
I/C: C.O'Riordan 38 G.Hewett 29 B.Ronke 25 L.Taylor 28 J.McInerney 27 R.Fox 42 J.Rowbottom 8 D.Stephens 3
Sam Naismith (RUC, $284,000)
Naismith is definitely the Swans' first-choice ruckman. This is big for Fantasy coaches considering going the sub-$300k ruck as R2. Callum Sinclair (RUC, 568,000) played up forward for most of the game – he did have more time on the ball in the second half – and you can see this being his role while Buddy is out. The way Naismith was covering the ground and his work against Goldy was enough to make me want to have him and start him. So much money can be saved here. Big 10 days of decision making ahead.
Jordan Dawson (DEF/FWD, $614,000)
After scoring 97 last week, we all wanted to see how Dawson would go with Jake Lloyd (DEF, $795,000) back in the side. Lloyd ran up the ground more while Dawson spent more time back home on the half-back flank. Lloyd was pinging at goals (Dawson did run up the ground at times, but Lloyd was the one given the freedom).
Isaac Heeney (MID/FWD, $666,000)
I was all in on Heeney before Buddy's setback. But it appears it will be much of the same from the MID/FWD. That is, playing that midfield/forward role… which will be extended stints forward. You can't pick him in Classic. Scoring 41 from 74% TOG is far from enough as the Swans weren't really showing a lot when it comes style of play and Fantasy scoring. Heeney could be a top six forward, especially if he gets midfield time with Buddy back, but he's an upgrade target at best.
Other notes
Special mention to Josh Kennedy (MID, $744,000) who was sensational. 37 disposals (very handball happy, but 22 of them were contested) and 10 tackles helped him to 143. I couldn't pick him, but geez… Draft. With an ADP of 54, he should outperform others in that range as he is the leader in the guts.
Speaking of Draft, Harry Cunningham (DEF, $581,000) will be a handy sleeper. Target him.
I'm not exactly sure where Dylan Stephens (MID, $262,000) fits for the Swans. Even if he is suiting up in round one, we will probably have better options than him as one of those more expensive midfielder rookies. Also, Justin McInerney (MID, $170,000) came on late… meaning he is very unlikely to be in the Swans' plans.
Sydney @AFLFantasy Grades 2:
Kennedy ?, ?, ?
Parker ?, ?‍♂️
Florent ?, ?
Rowbottom ?, ?
Heeney ?
Naismith #️⃣1️⃣?, ?, ??
Sinclair #️⃣2️⃣?
Lloyd ?, ✅
Mills ?, ?
Dawson ?, ?, ?
Cunningham ??, ✅?
Papley ?
Stephens ?, ?, ⏱
Taylor ⛓, ?, 2️⃣2️⃣❓
Gray ⛓, 2️⃣2️⃣✅

— Tbetta (@Tbetta9) March 9, 2020