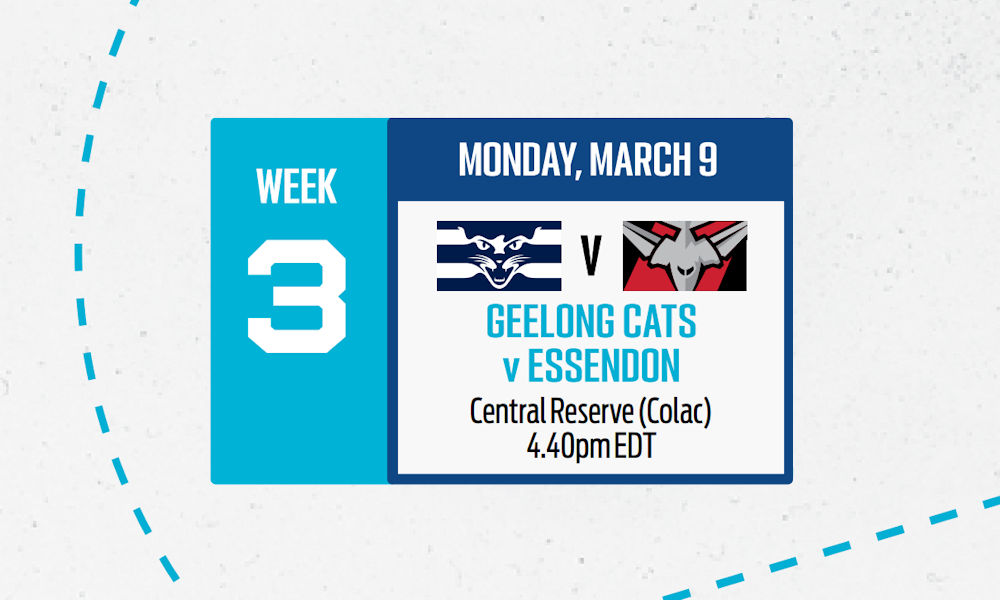 Annddd that's a wrap! The Marsh Community Series is done! We've just had our final look at our potential picks leading into the season opener on Thursday the 19th of March. I can't bloody wait!
There was a lot of talk this preseason about how these two clubs would lineup in the guts so it's worth noting here the starting center bounce group for both clubs (and that trend continued throughout the game):
Geelong – Dangerfield, Steven, Narkle
Essendon – Shiel, Merrett, McGrath
CBA's – McGrath 19, Shiel 15, Merrett 11 and Smith 9. Narkle 19, Danger 16, Steven 13 and Parfitt 10. #SuperCoach #AFLFantasy #MarshSeries

— Fantasy Freako (@FantasyFreako) March 9, 2020
Keep your eyes on twitter and the likes as news of confirmed debuts will surface over the next week and a half.
Team as named
B: Z.Guthrie 39 M.Blicavs 46 J.Clark 6
HB: T.Stewart 44 H.Taylor 7 Z.Tuohy 2
C: S.Menegola 27 T.Atkins 30 M.O'Connor 42
HF: G.Miers 32 P.Dangerfield – C 35 L.Dahlhaus 40
F: T.Hawkins 26 E.Ratugolea 17 G.Ablett 4
Foll: D.Fort 28 J.Steven 9 Q.Narkle 19
I/C: J.Henry 38 J.Bews 24 R.Stanley 1 J.Parsons 34 B.Parfitt 3 J.Kennerley 21 J.Jenkins 11 G.Rohan 23
Emerg: C.Constable 18 C.Stephens 12 B.Close 45 B.Jarvis 10
In: S.Menegola, M.O'Connor, L.Dahlhaus, J.Steven, J.Henry, B.Parfitt
Out: C.Guthrie (Managed), L.Henderson (Managed)
Jack Steven (FWD/MID, $653,000)
Fantasy stud back in 2015 (112 average) and take out last years average of 76 which was hampered by a few off-field issues and since 2016 he has gone at an average of 98, which easily makes him a top 6 forward if he can get his body and mental health right. The move to cats could be what he needs to refresh his game. He came out of the gates firing today! Had a pretty nice 90 points from a low 65% TOG. It was especially reassuring to see him go straight into the guts.. Speaking of, he still looks like he has a bit of a gut which might mean his TOG will be slowly increased as his workload increases, but he looked good tonight and I suspect his ownership will see a pump after this performance.
Quinton Narkle (MID, $497,000)
I didn't give Narkle enough credit last week when he top scored from limited game time, this week I've done a little more research. Went at 85 in his 3 home and away games last season but because he only had the 3 games gets discounted down to a price of 67 (so automatically becomes 20 points under if he can continue at that click). Played all 3 of Geelong's finals games too which boosts his JS after he found it hard to break into the team last year. During the finals he was used by Geelong as a spark in the middle and was lining up at the center bounces at crucial times. He had an equal game high 19 CBA's today too and was everywhere. Obviously there's still Selwood and Duncan to come back but Narkle looks locked into a midfield role, and it could even be Danger that gets bumped into more forward time. Could be a good unique mid-pricer if he continues to perform the way he is. Finished the night with 86 from 77% TOG which is the 20 points he'd need to score to be worth it.
Other notes
Joel Selwood (MID, $585,000).
BREAKING – He might NOT play round 1. Reported at half-time, apparently he has to pass 5 fitness tests before round 1, and he's come out and said there's a chance he falls just short, but WILL be ready for round 2. Time to start exploring other potential options if you still have him sitting there.
Jacob Kennerly (DEF, $170,000) 
Averaged 111 at junior level, but only went at 60 in his first VFL season (which is fair). Positive that he got a game in Marsh2 as most teams go full strength, but he only managed 16 from 43% TOG and potentially had the worst shot on goal of the Marsh series. Probably needs to develop a bit more in the 2s.
Tom Atkins (FWD, $395,000)
Unfortunately Atkins was bumped out of the midfield rotations this week for Steven after he featured heavily in the guts in Marsh1. Had 61 from 85%. Can't consider him while he's playing heavily in the forward line.
Patrick Dangerfield (MID, $798,000)
Finished with 101 from a low TOG of 70% as he was used sparingly going into round 1. He's had a strong preseason to date and had a high 16 CBA's which is what we wanted to see. If you had him in your team before, I'd be comfortable with his output tonight. Danger will go in much harder come round 1.
Darcy Fort (FWD, $321,000) & Rhys Stanley (RUCK, $603,000)
The two Geelong ruckman switched at half time. Fort got the first jump at it and actually looked pretty good for his 50. At that price Fort could be a good option FWD if he was assured that ruck mantle, but you couldn't do it while there's still so many question marks over Geelong's ruck setup.
Geelong @AFLFantasy Grades 2:
Dangerfield ?, ?
Steven ?, ?, ⏱
Ablett ?, ??‍♂️
Fort #️⃣1️⃣??
Stanley #️⃣1️⃣??
Menegola ?, ⏱
Narkle ?, ?
Atkins ??
Parfitt ??
Z Guthrie ?
Dahlhaus ??‍♂️
Stewart ?, ?
Blicavs ?
Jenkins ?, 2️⃣2️⃣❓

— Tbetta (@Tbetta9) March 9, 2020
Team as named
B: A.Francis 10 M.Hurley – C 18 B.Zerk-Thatcher 30
HB: A.Saad 42 J.Ridley 14 M.Guelfi 35
C: T.Cutler 12 A.McGrath 1 D.Zaharakis 11
HF: O.Fantasia 13 W.Snelling 40 D.Smith 5
F: J.Laverde 15 S.McKernan 44 A.McDonald-Tipungwuti 43
Foll: A.Phillips 34 D.Shiel 9 Z.Merrett 7
I/C: M.Gleeson 8 M.Redman 27 D.Parish 3 K.Langford 4 B.Ham 33 J.Townsend 20 J.Stringer 25 C.McKenna 45
Emerg: N.Bryan 24 D.Clarke 37 K.Mutch 19 J.Begley 16
In: A.Saad, T.Cutler, M.Redman, J.Stringer, C.McKenna
Out: I.Mosquito (Omitted), C.McBride (Omitted), N.Lockyer (Omitted), B.Teakle (Omitted), H.Jones (Omitted)
Devon Smith (FWD/MID, $720,000)
Was an interesting night for Devon, he looked like he played 40-60 midfield-forward splits but still got the job done. He attended the 4th most CBA's for Essendon, so will still likely be lining up in the forward 50 a bit this year. A game high trademark 10 tackles helped him to a neat 112 from 85% TOG. Would of been nice to see him at more center bounces but he performed solidly all game. It's a shame he's discounted on his 107 average and not his 79, but I guess it's a benefit with him not becoming an automatic selection. Did enough to warrant selection and his scores will only improve with more mid time (touch wood!)
Jacob Townsend (FWD, $266,000)
Looked really good today and did his job security no harm! He was playing exclusively as a forward, which puts to bed any hope of him getting the mid time we were all hoping he would get early in the preseason. His role looks to be a lockdown forward, following the likes of Stewart at times to null opposition defenders influence. The issue here is he has never been a fantasy scorer playing this role. Yes – he can bob up and occasionally post something decent but he needs to kick an absolute bag of goals to do it. Playing this role in 2018 for Richmond in 10 games he averaged 48 points with 5 scores below 40 points including a score of 18 (yes he played the whole game). He finished today with 53 from 67% TOG which isn't bad at all, just throwing a flag out there.
Other notes
William Snelling (FWD, $420,000) 
Was a hype player of Marsh1 and cooled down any excitement tonight with 55 points in 77% TOG. He started slow, and got better as the game wore on. Averaged a neat 72 from his 3 AFL games last year and receives a discount to come in at an average price of 56. Averaged 103 in the VFL including an average of 7 tackles a game. He's got a fantasy game about him as shown last week, but consistency could be an issue for someone who costs $420k.
Zach Merrett (MID, $803,000) 
Bit of a forgotten man in the fantasy world this year – currently at a very low 3% ownership. Merrett is an elite points-per-minute player, and he proved that again tonight with 100 points from 73% TOG. Merrett is a Fantasy jet, and will be good again this year for anyone looking for a unique! The new concussion rule scares me a little with him though, he's had a few hits in the past 2 years which have resulted in poor patches of form. Obviously you can't predict these things but any player with a history needs a small flag. Priced at 108 average went at 119 in his last 3 games of 2019 and 114 in his last 5. Could we see a return to his best?
Andrew Phillips (RUCK, $507,000) 
Had 66 points from 80% TOG. With starting 2 cheap rucks being the flavour of the week could Phillips be an option? I personally think there are better options out there but… Averaged 80 when he was handed the R1 position for Carlton last year, there are concerns here with Bellchambers listed as 'test' on the AFL injury list.
Darcy Parish (FWD/MID, $589,000) 
Another mid priced forward option? Currently sitting at 2% ownership. Had monster third quarter where he kicked 3 goals (and narrowly missed a 4th) in the space of 5 minutes! Played his usual high half forward role to end the night with 84 points from 76% TOG, boosted with 3 goals 3. He's not a bad option, but I have a little more confidence in this next one…
Andrew McGrath (MID, $554,000)
Attended an equal game-high 19 CBA's, had 32 disposals, 5 marks, 6 tackles for 114 points from 90% TOG. Could this be the year!? I've never been an owner of McGrath because I just didn't see the role change that everyone expected to see in the first 3 years where he went at a average in the 70's. Started as a halfback, then made a move to the midfield only to play outside, now he looks to have finally graduated into the center. It's a shame he's MID only, makes the risk much higher, but one that could certainly pay off. The role looked very good for him today!
David Zaharakis (MID, $590,000)
Was iced up in Q3 after a nasty cork to the thigh. Was playing a high half-back role and looks like he could get a round 6 DPP in DEF. A good draft sleeper! Finished on 46 from 41% TOG.
Brandon Zerk-Thatcher (DEF, $312,000) 
A little bit of buzz about BZT this preseason due to the lack of genuine cheap DEF options. He impressed me today with his intercepting marking and aerial prowess. He averaged 57 in the VFL last year, and there are question marks over how he fits once Hooker is back in the mix, but after today it looks like whipping boy Francis might get the chop instead. 74 points from 94% TOG and looked pretty good! Interesting cheap DEF option.
16 of 18 disposals were effective for BZT. He also won 12 intercepts. Only Hurley with 13 had more of anyone on the ground. #thehyphenisoursavior #SuperCoach #MarshSeries

— Fantasy Freako (@FantasyFreako) March 9, 2020
Essendon @AFLFantasy Grades 2:
Merrett ?
Shiel ?
Zaharakis ?, ?, ?
Smith ?, ?, ?
Phillips #️⃣1️⃣?, ?, ?
McGrath ?, ?, ?
Parish ?, ?
Cutler ⏱, ?
Hurley ?, ✅
Ridley ?, ?
Snelling ⛓, ?
Redman ?, 2️⃣2️⃣❓
Zerk-Thatcher ?, ?, ?, ?
Townsend ❌?, ?
Fantasia ?

— Tbetta (@Tbetta9) March 9, 2020