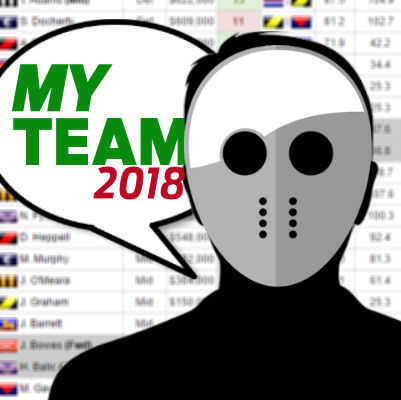 Chad, the man behind DT Live, has updated the Drawing Board for the 2018 season. Head over to the siteand select 'Drawing Board' from the drop down menu and you can start picking your AFL Fantasy Classic squads for the upcoming season.
Click here to use the Drawing Board.
Once you have picked your team, you can simply copy and paste your team to put in the comments below. Now that we have My Team cranking, discuss any players, team structure, etc in the comments. As always, keep it civil and if you're advice, make sure you dish out some of your own (make sure it well thought out and not blatant trolling – we're totally over that after 10+ years of DT Talk!).
Get keen for a massive season ahead.
The 100 most popular players selected in the Drawing Board for AFL Fantasy Classic. As at 5 January.
Player
Club
Position
Fantasy
Price
Site
Projected
Avg
Ownership
Percentage
Nic Naitanui
WCE
RUC
417000
86.4
91.5
Max Gawn
MELB
RUC
605000
99.3
86.9
Harley Bennell
FRE
FWD
249000
76.4
85.3
Paul Ahern
NM
MID/FWD
170000
58.1
70.2
Rory Laird
ADE
DEF
708000
101.7
69.6
Tom Mitchell
HAW
MID
897000
124.7
65.6
Cam O'Shea
CARL
DEF
230000
65.2
64
Tom Doedee
ADE
DEF
170000
56.7
63.1
Darcy Cameron
SYD
RUC
170000
49.7
62.6
Nathan Freeman
STK
MID
170000
60.1
61.3
Allen Christensen
BL
FWD
331000
77.4
59.5
Luke Davies-Uniacke
NM
MID
264000
67.8
54.9
Isaac Heeney
SYD
MID/FWD
650000
97.9
54.6
Harrison Wigg
GC
MID
170000
63.5
50.9
Timothy Kelly
GEE
MID
224000
66.2
46.2
Daniel Venables
WCE
FWD
170000
57.7
45.4
Joel Smith
MELB
DEF/MID
170000
57.8
44.5
Willie Rioli
WCE
FWD
170000
53.1
43.6
Jaeger O'Meara
HAW
MID
438000
88.4
42.9
Cameron Rayner
BL
MID/FWD
270000
67.9
41
Jack Higgins
RICH
MID/FWD
238000
64.9
38.7
Jack Billings
STK
FWD
667000
99.2
38.7
Sam Murray
COLL
DEF
170000
55.4
37.8
Dayne Beams
BL
MID
737000
111.9
37.7
Tom Rockliff
PA
MID
726000
113.8
37.5
Jake Lloyd
SYD
DEF
650000
97.1
37.1
Elliot Yeo
WCE
DEF
693000
100.5
36.6
Patrick Dangerfield
GEE
MID
850000
120.1
35.7
Nat Fyfe
FRE
MID
687000
107.2
34.6
Rory Lobb
GWS
FWD
467000
84.7
34
Josh Kelly
GWS
MID
796000
115.4
33.5
Patrick Cripps
CARL
MID
693000
107.2
31.4
Michael Barlow
GC
MID/FWD
668000
98.1
31.3
Timothy English
WB
RUC/FWD
187000
51.6
30.9
Zach Merrett
ESS
MID
826000
118.1
30.1
Billy Frampton
PA
RUC/FWD
170000
47.5
28
Kade Simpson
CARL
DEF
689000
100.6
27.6
Jack Crisp
COLL
DEF
622000
94.5
25
Andrew Brayshaw
FRE
MID
268000
69.5
25
Mitchell Hibberd
NM
DEF
235000
63.5
24.4
David Mirra
HAW
DEF
170000
56.2
24.2
Lachlan Keeffe
GWS
DEF/FWD
170000
53.5
23.7
Andrew McGrath
ESS
DEF
497000
85.7
22.4
Devon Smith
ESS
FWD
575000
90.8
22
Matt Crouch
ADE
MID
752000
112.6
21.5
Oscar McInerney
BL
RUC
170000
53.5
20.5
Mitch Robinson
BL
MID/FWD
583000
92.2
20.2
Taylor Adams
COLL
MID
809000
115.6
17.1
Stephen Coniglio
GWS
MID
675000
105.5
17.1
Liam Ryan
WCE
FWD
220000
61.2
16.5
Dustin Martin
RICH
MID
801000
115.5
16.2
James Worpel
HAW
MID
182000
60
15.9
Hugh Goddard
STK
DEF
170000
52.8
14.5
Paddy Dow
CARL
MID
266000
66.4
14
Francis Watson
WCE
DEF
170000
57.8
13.5
Grant Birchall
HAW
DEF
485000
82.6
13.4
Angus Brayshaw
MELB
DEF/MID
528000
86.7
13.4
Michael Hibberd
MELB
DEF
653000
95.7
13
Dom Barry
PA
MID
170000
58.5
12.4
Christian Petracca
MELB
MID/FWD
501000
86.2
12.4
Kobe Mutch
ESS
MID
170000
57.5
12.3
Brendon Ah Chee
WCE
MID/FWD
413000
76.7
11.5
Dylan Clarke
ESS
MID/FWD
170000
56.4
11.5
Luke Parker
SYD
MID
694000
107.7
11.2
Matthew Flynn
GWS
RUC/FWD
170000
46.5
10.9
Adam Treloar
COLL
MID
761000
111.8
10.8
Alex Witherden
BL
DEF
605000
92.6
10.8
Alex Morgan
NM
DEF
170000
56.8
10.6
Brayden Ainsworth
WCE
MID
208000
61.6
10.3
Callum Mills
SYD
DEF
489000
84.2
10.1
Will Setterfield
GWS
MID/FWD
265000
66.8
9.9
Jeremy Finlayson
GWS
DEF/MID
170000
54.8
9.5
Nicholas Coffield
STK
DEF/MID
256000
63.7
9.5
Lewis Pierce
STK
RUC
170000
45.7
9.2
Bailey Rice
STK
DEF
170000
54.8
8.5
Luke Dahlhaus
WB
MID/FWD
624000
92.5
8.4
Ryan Clarke
NM
DEF
484000
81.7
8.3
Sam Menegola
GEE
MID/FWD
720000
102.4
8.3
Robbie Gray
PA
FWD
573000
92.5
8
James Sicily
HAW
DEF/FWD
524000
88.8
7.5
Dayne Zorko
BL
MID
806000
116.3
7.5
Pearce Hanley
GC
DEF/MID
509000
87.6
7.4
Matthew Kennedy
CARL
MID
485000
86
7.4
Aaron Hall
GC
MID
691000
107.2
6.7
Zac Williams
GWS
DEF
584000
92.4
6.5
Mitch Duncan
GEE
MID
794000
113.2
6.5
Nick Holman
GC
MID
170000
53.6
6.3
Mitchell King
MELB
RUC
170000
43.4
6.2
Darcy Parish
ESS
MID/FWD
552000
87.1
6.1
Bryce Gibbs
ADE
MID
791000
114.6
6.1
Aaron Young
GC
FWD
388000
75.4
6
Myles Poholke
ADE
MID/FWD
170000
51.1
5.9
Ryan Burton
HAW
DEF
595000
91.9
5.9
Isaac Cumming
GWS
DEF
170000
56.7
5.7
Hamish Brayshaw
WCE
MID
170000
54
5.7
Nathan Wilson
FRE
DEF
500000
83.4
5.6
Dan Hannebery
SYD
MID
666000
104.9
5.6
Alex Johnson
SYD
DEF
170000
52.6
5.5
Luke McDonald
NM
DEF/MID
604000
92
5.5
Michael Hurley
ESS
DEF
664000
97.8
5.3