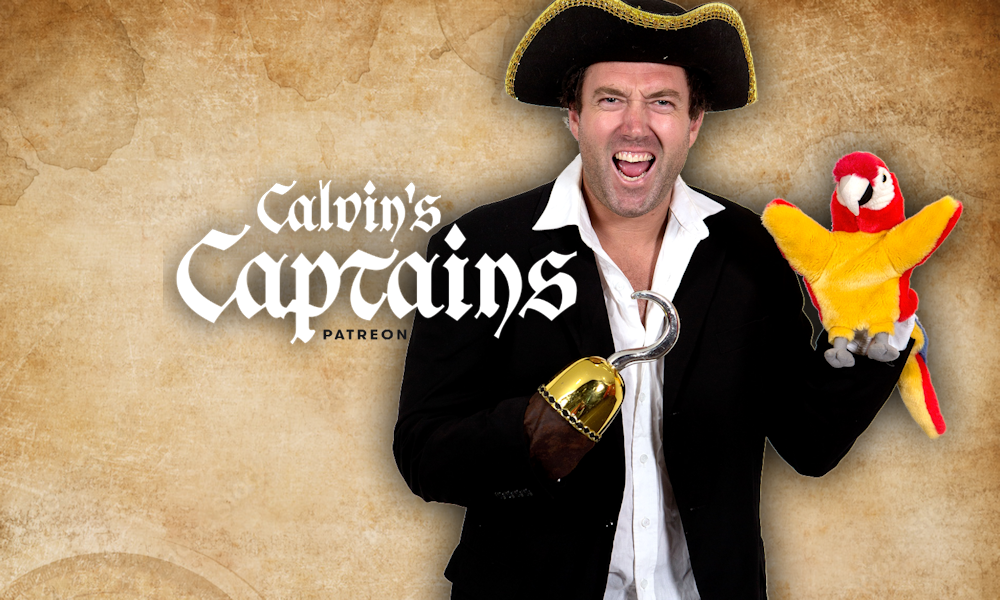 LEGENDS – we finally made it. Thanks for hanging out with Calvin's Captains for another amazing year that has certainly provided us with many highs… and only a few lows. A huge thanks you to our patreon members who have made this possible and allowed us to create more and even better content than we ever have. Thanks to all the loyal pirate followers out there who pop in here every week to see the hours of work I create… hoping to land the big one.
Next season will be huge and the stuff we plan for the pre-season is certainly something to get excited about… just like the watchalong below.
Carlton v GWS Watchalong
Lockout Lift LIVE
Join Calvin, Roy and Warnie for the biggest AFL Fantasy party of the year as they go live for the final time for season 2023 watching Carlton v GWS Giants.
The last game of round 24 is set to be a cracker with Roy going full Blues fanboy over a few beers. There will be a heap of fun on the livestream that we want YOU to be involved with! Make sure you are tuning in on Sunday 27 August from 6pm AEST as we crack a can and talk rubbish like any Fantasy fan would watching the footy!
FYI… the pirate will be getting smashed.
CALVIN'S TOP-5 – order not set
No. 1 – Bontempelli v GEEL
@ GMHBA, SAT 7:25pm
Bont has now averaged 125 in his last 10 games… with 140, 102 and 151 in his last three.  The man is on fire and this is a game the Dogs must win. He stepped up in the last half last week with 103pts, but fell short due to lack of support from his team mates. Earlier this year he scored 108 against Geelong but they look a lot different now. Last week… St. Kilda had six players scored triple figures when they played the Cats with midfielders like Sinclair 136, Hill 122, Steele 115 and Wood 105 amongst the points.
No. 2 – Tim English v GEEL
@ GMHBA, SAT 7:25pm
Tim English will ruck against…..Rhys Stanley and Conway (rookie) and Neale (who will played forward). Recently against Stanley… Darcy Cameron had 75, Visentini 55 and Luke Jackson scored 79. He can be tough. Now, English scored 158 in round 12 against Geelong, but on that day it was Ceglar and Blicavs… don't get me wrong, this guy will still be 130+ without breaking a sweat but I do have the Bont in front of him.
No. 3 – Rory Laird v WCE
@ Optus, SAT 7:40pm
Laird scored 124 against the Eagles earlier this year, and before that he had scored 127, 122, 122 and 127. His form has been great, with scores of 118 and 126 in his last two games. The match-up suits him perfectly and why would the Eagles stop giving up points now? They won't… a 120+ on the cards.
No. 4 – Jordan Dawson v WCE
@ Optus, SAT 7:40pm
Last week, the Bulldogs had three players scored over 140 against the Eagles. The week before, Fremantle had seven players scored triple figures. The points will be there, but will Dawson be able to cash in? He has 0x100+ in his last three games… but how can he miss this one?
No. 5 – Clayton Oliver v SYD
@ SCG, SUN 3:20pm 
Over the last five weeks, Sydney ranked as the 6th easiest for midfielders to score against. There will be no tag this week that held Oliver to 66 in round 23. Oliver scored 111 in round three against the Swans and last year he had 126 and 102. Recently against the Swans, Laird had 118 Soligo 102 and Matt Crouch had 101.
OTHERS TO CONSIDER…
Nic Newman v GWS – The number one player in the game has now averaged 134 in his last three, with a lowest score of 123 in his last four. He even scored 116 against GWS earlier this year. He ticks all the boxes here and must be considered.
Errol Gulden v Melbourne – Could be wet in Sydney and it could benefit Gulden. Last week Amon had 121 with 14 marks against the Swans and before that, Newman had 138, Cripps 120 and Hewett 111.
Zak Butters v Richmond – quietly hot on Butters this week after averaging 121 in his last three games. Last week against the Tigers, Sheezel had 129, Thomas 105 and Scott had 103. The week before that we saw three St. Kilda players score over 120.
Rowan Marshall v Brisbane – I'm not sold to be honest. Last week he didn't have an opponent and this week he travels to the GABBA to play a tricky one… McInerney. He should be fine, but this one does have a few flags.
WHO GETS FINN-GERED?
The biggest question of the week is… who will Maginness tag? The options are …
CALEB SERONG – The front runner according to many and he does fit the mound of Finn's latest victims. Ball winners. Obviously last week we saw a tag to Clayton Oliver but also this year he has gone to the likes of Josh Kelly, Zach Merrett and Tom Liberatore.
ANDREW BRAYSHAW – Could get it based on the fact he too is a ball-winner but it might also be because of what Brayshaw did to the Hawks in round 8 when he had 157pts from 34d, 8m and 2 goals. He also craved them up last year and had 141.
LUKE RYAN – It could be Ryan. A random half-back tag is something that Finn has done many this year and he might again. I highly doubt it but in 2023 he has run with Nick Daicos, Daniel Rioli, Tarryn Thomas, Harry Sheezel and Jack Sinclair.