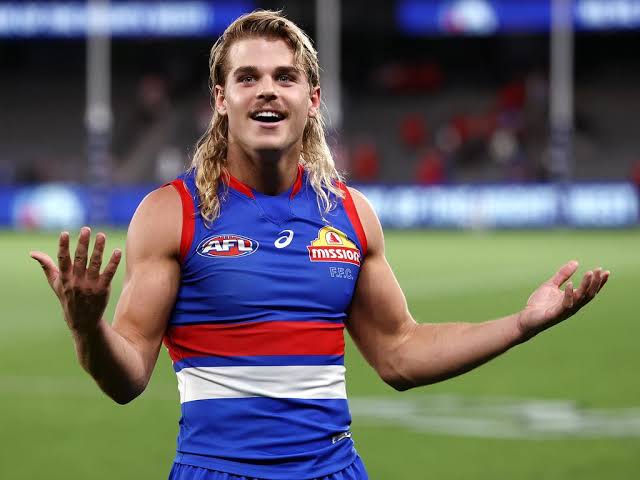 Howdy DoWers, welcome back to the DT Dick of he Week and a quick apology for the lateness which means I'm Dicking in amongst all the team selection queries you have.
Very different week this round compared to last.  In our last look it was a little hard to find many dongs and plenty of prongs considering the number of games on in the last Bye round.  This week though, plenty of crap scoring from players that should know better.
Before that, if there was any way to make the Ashes Fantasy relevant then I'd have to shut this column down.  Noone would ever touch England's Broad as a cricket Dick.  The man is one of the biggest frauds in cricket history with one of the others being his bowling mate at the other end in Jimmy Anderson.  I could wax on about that hypocritical, cowardly nonce that is Stupid Broad for a full day and still not pick any skin off the bones of how big a prick he is.  Incredible work this week from him.
More importantly though, the AFL games  are where its at for us and we began last round with a couple of big disappointments in the VC caper along with some decent surprises on the good side of the ledger.  Timmy T (80) and Josh D (72) would have carried a monster number of VC badges in to this game, especially Timmy, but they let us down in a big way.  Thankfully it wasn't a tough choice to ignore their scores but it was tough stuff watching the numbers tick over so slowly for each of them.  JD looks likely to continue that pain for us this week by having a week off for the injury that stunted his scoring last week.  Liam Baker (49) once again laid a turd on the favourite rug of all his owners and surely can't maintain his current level of ownership for much longer.  Jayden Short (25) hurt himself and killed his scoring after showing some really good gear in the last month.  Some Lions came to play and while noone was stunned about Lachie Neale giving a good account of himself again for 127, you'd have got loooong odds of Joe Daniher hitting his score of 121.  He may do it again this week too as the Eagles come to town.
The last game of the round was meant to be a real snooze fest but it actually gave us the most decent scores to talk about.  Brad Crouch (137) ran around cuddling everyone he could all day for a monster.  Shannon Hurn used paperclips, duct tape and a bottle of Clagg Glue his hammis and calves to scorch the boards with a 133.  Alex Witherden defended like a bored Joe Daniher but scored likie a rampant Gary Ablett Jnr with his 131.  In the rucks both guys went to the trough and scored big with RoMar (130) and the Ruck Points ATM Williams collecting a nice 121 for himself.  Only Jack Steele lucked out in this game with his 87 and would be upset to know Andrew Gaff was right there with him on a 83 which is massive for him now.  Liam Stocker was a popular early/mid season pick and did some good things but man did he take the week off.   His 27 from 78% game time was an incredible effort in points avoidance.  It's like he decided to play golf instead of Fantasy and went for the lowest score possible.  Some Eagles rooks did some big business for owners as Maric (71), Long (71), Hewett (65) and Chesser (61) all made owners some cash.
The Melbourne and GWS game was a disgusting affair to watch.  All those Demon fans and both the GWS ones had to suffer through some horribly boring stuff.  This game was as dull as listening to Mick Malthouse talk about his top 5 favourite tackles he ever laid in a 3hr Ted Talk.  Only the Dees Viney came to party and he went mad for 148 but noone else showed.  Most annoying for Fantasy were serial pest and past Pig Brody Grundy who scraped up 63pts whilst also making sure he killed Big Show Briggsy who had 59 and went from Rooster to feather duster for any owners.
The night before Port and the Bombers showed people how much fun wet weather footy can be.  In a superb contest that went from here to there all night, it took the best ever after the siren kick from Dan Houston (124) to settle it.  There have been kicks to win a game under more pressure, on bigger occasions and for more bikkies but as far as I know there has never been one that difficult to execute done as well as he did it.  Monster kick, monster nuts and a great win.  CRozee got a bunch (145) with Darcy Parish (125) also having a good night out.
On the negative in this one, firstly it has to be the suggestion that Kenny Hinkley has had little to do with this recent run of form as he coaches from the bench and it's Josh Carr doing the heavy lifting and avoiding the credit.  Some Port fans will do anything to bash Kenny.  Peter Wright set the floor in this one.  His 27 was really bad, even for a immobile goalpost he could have done better than that.  Ridley (52), Nick Martin (64), Ben Hobbs (73) and Andy McGrath (64) were all also thinking about warm baths and stiff drinks more thah they were thinking points.  The Hobbs balloon has surely burst now but he did a great job for his coaches.  Andy McGrath did a great job of giving me stomach ulcers and I'm glad he's gone from my team a long time ago, I hope he's not in yours either.
In the game that got Caro Wilson all fired up about trying to get a coach fired again, this grotesque old crap goblin would've seen a bad GC Suns performance if she bothered to watch any games anymore.  She also would have seen 150 beautiful Naicos points as St Nick continues  to run towards the first ever player to be inducted in the Hall of Fame while he's still playing and in to the Hall of Legends before he's played 50 games.  Noah Anderson did his best for his Suns but his 123 points were good for the small number of coaches who hopped on him but did little else.  We saw in this game another example of 2 rucks working together to crap the bed.  In this one big Wittsy only went for 60 but he still beat Darcy Cameron who only managed 58.  Both guys worked hard for nothing and if you watched the game you'd likely have missed either one of them was playing.
Speaking of missing, what the hell was going on in Sydney last week.  No one got a dam thing right when kicking for goal in this one.  It almost seemed like even the goals were mistakes.  Not since Percy Jones have a I seen an easier goal missed than some of the ones in this game, including an absolute soda at the end which cost the Swans the game.  How Robbie Fox missed that late game sitter still has me confused.  What a disaster that was.  Also missing was some decent Fantasy scoring with only Errol Gulden showing up with his 128 and also Gussy Sheldrick doing his thing for a great rook score of 93.  Callum Mills and his 85 wasn't horrible and there are some signs he may well be a very good pickup for us soon.  Everyone else was either meh or crap in this one so it's best we forget about them all for this week.
In a game that was easy to forget, there were some scores that need to be remembered.  Jordy Daws did his work for those whacking the C on him with a lovely 136.  Big ROB had his massive outing for the year in this one and dobbed a 133 on us and stumpy little Benny Keays went around the joint like an Oompa Loompa on crack and turned the clock back with his 132.  What wasn't good were the efforts of Jack The Bull (86), Rory Laird (85) were OK but we needed better and then we sunk low with Jy Simpkin (67) and our old mate LDU (63) as he came back in to the team.  Another easy game to forget.
The last game had some cracking scores but also had the top 2 DoW players for this week.  Doing their job and more were Flipper pre-season Deck of DT suggestions in Caleb Serong (134) and Sean Rucking Darcy (126), you're welcome to any owners by the way.  Liam Henry (116) is becoming a tempting late year mid-price cash grab with his second big one in a row.  Brennan Cox (122) showed up for Fantasy coaches but actually had his pants pulled down in the contest.
As we move in to the top 3 Dicks of the week we head back to the Port v Bombers game and to a previous Dick and multiple donger in Jason Horne-Francis.  He was so close to stealing the Dick again this week after getting it a couple of weeks ago with a putrid 39 in 80% game time this week.  Surely the only thing stopping Kenny giving this kid the odd vest in games like this has to be the worry he might shed a tear and push out the bottom lip.  The week off carrying the Dick would push most to great heights but JHF and Lil Liam Baker have finally killed off the Dick Bounce concept once and for all.  Horrible stuff this week again from the future gun.
Back under the roof and we have the top 2 picks for this weeks Dong.  It was a tight run thing this one and it's not going to be a super popular pick this week I don't think.  I've already ignored the JHF stinker and I'm giving the runner-up for the DoW this week to another 30-odd disaster of a game, this time from Luke Jackson.  His 35 in 81% of game on ground work was a real head scratcher.  He doesn't get the main award this week mostly because this one had the hands and fingers of his DoW coach in Justin Longmuir…or Justin Longmireuir as he was called by the massive intellect of Jordan Lewis.  JL2 was instrumental in keeping Luke Jackson in a scoring drought by keeping him anchored to the square and not even getting him any decent time in the ruck despite him killing it in recent weeks.  There's some suggestion of injury impact in this but to see the under sized Josh Treacy getting ruck CBA's  instead of Lukey Jacks.  This was a game as ugly as the big man's haircut/head combo and was worthy of a DoW but he fell just short.
I suspect some head scratching with the pick this week but I will try to explain.  Yes Bailey Smith easily outscored 51 both JHF and LJ but Smithy has absolutely killed a huge number of Fantasy teams and his recent body of work as a DPP has been gut wrenching.   Bevo can Bevo but even me as a pretty harsh critic of the coaching nugget has to admit Bailey Smith has had enough chances to get his points scoring mojo on.  How the hell can this kid not be piling up the 100's?  He's only a year away from looking like he was going to average 130 in season 2022.  Then head butts and nose beers and it's all gone to crap.  He's doing laps alone and confusing everyone everywhere.  I'm all out of answers and all out of patience for the kid.  I never had any answers to be honest and clearly neither has he.  Maybe there's a MonStar, Space Jam ability thieving thing going on here, its as feasible as anything else.  He's the most recent and most confusing Dick of the Week for months.
So what to do with this newest Dick.  As always it'll depend on your team status but if you can go sideways, up or down I'd be doing it,  If you're still carrying a rook or middy somewhere then go there first but he's on the precipice of a cull for sure.  I've never had him thankfully but if you do, get him out.
Thanks for tuning in again folks, have a great week and hopefully you're packing a full team of premo's.