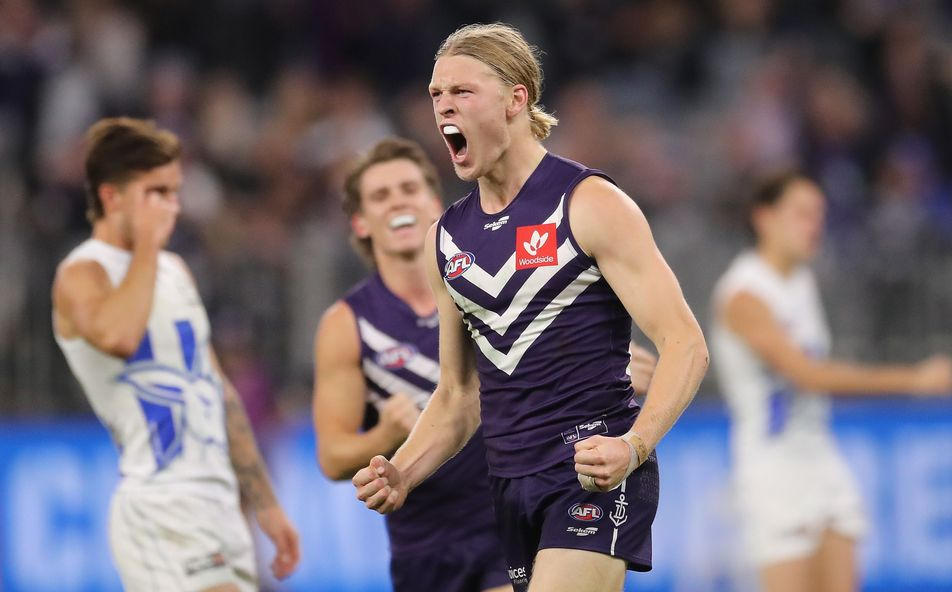 Howdy Fantasisers, and welcome to Bye free football coming back again this week!  We made it!  This week had some cracking games and cracking scoring too.  There were plenty of prongs to go around but dongs were actually harder to come by.  Umps were in the news again but on this occasion I'd have to say the Dawson was one of those that you can understand missing.  No doubt it was a free but the clip Dawson got was actually bloody quick and pretty easy to miss in real time.  Add the fact that Dawson was lurching forward and so couldn't really overcome his momentum forward to bring the umpires attention to it and it was, to me, one of those more understandable mistakes.  It was a missed free though and how interesting would it have been watching as Captain Dawson lined up after the siren looking to kick his team to victory in front of all those rabid Pies.  Big test of stone that would have been and a real shame the free was missed.  Chances he'd have kicked it?  I'm going 70-30 yes.
Some odd gear in the media too, not from the mediots on this occasion but in the content they were given.  The Ashes has got off to a cracking start and if the Dick work was ever to spread to cricket it'd be hard to see anyone but Ollie Robinson sweeping the award.  His claim the Aussies played scared and the Poms actually won the game was as bizarre as anything I'd seen for a while.  It led to the predictable and deserved reaction of just about everyone else in the world trying a way to call him a Dick without actually calling him a Dick.  It even resulted in little Justin Langer going out on a limb in some super gutsy commentary and saying that Ricky Ponting was an Aussie Legend and that Robinson "might be an instigator".  Truly ground-breaking gear from Langer as he continues his efforts to not ever annoy anyone ever…and failing.  Robinson's comments were weird as hell though and after the SCG game on the weekend I was expecting him to plonk another story on us by saying the Eagles were winners in that game because they'd managed to keep their shorts and boots really clean and given the AFL world something to talk about, therefore, they should see themselves as the winners.
Back to AFL though and Damian Hardwick is already campaigning for a job only 4 weeks after he quit one of the ones he now wants again.  Maybe trying to deflect from the fact the Tigers are 3 and 1 since he bounced it was weird as hell I thought.  He doesn't strike me as a bloke who is super keen to see his mug on TV or in print but maybe he has got a case over the Brian Taylor's and his recent battle with privacy is killing him.  He's certaintly added more weight to any struggling coaches pressure as the season winds down over the coming months.  Vossy is on a winning streak of 1 in a row now so he's OK and so is Stewy Dew, we'll see who else cops some heat and how often their photo is put next to Hardwick's at season's end.
Anyway, enough fill, on to the Dick of the Week deliberations.  This week was actually pretty hard to find many worthy of the dishonour of carrying around the Dick for the coming week.  It was harder finding dicks this week than it was finding a donut at SEN after Hutchy had dropped in for a meeting.  But the job got done so here we go.
In the games, we started off by having pre-season DT Dick Gary Rohan decide that ruining marriages wasn't enough for him, he decided to take out the best player out on the ground, forgetting for a moment that the guy played for the same team as him.  Jezza Cameron got slept by his teammate in a really ugly clash and left the field with -3 thanks to now Dick Hall of Famer Rohan.  How many draft teams did that kill in league games?  Rohan did respond by having his annual great game but the damage done to Jezza was the story of that game unfortunately.  Fingers crossed the big man gets back to 100% in the blink of his cows eye.  This game also saw Chef Petracca (125) and Fossil Duncan (120) have big games for their teams.  Duncan would have been particularly pleasing to those who took the gamble and bought him in and particularly annoying to those who cut the line on him after recent depressing scores.  He's a weird one to forecast is the Dinosaur Cat and why I won't be picking him in any of my teams again.  Great player when firing though so I get the temptation.
The Saints Brissie game was one of a few games with more prongs than dongs out there.  Jack Sinclair had his porn stache in the middle of every possession for a great 130.  Dunkley the Lion did well with his 120 but I reckon it cost a heap of coaches (definitely me) in the end who grabbed his par score instead of riding the stress of waiting for Dawson in the last interesting game of the round.  120 is solid work from a VC and Dawson was risky against the Pies but if Dunks had got 1 or more fewer points the C was going to ride and many would have collected a lovely 344 to say Seeya to the Byes.  Sensational effort by JD as he continues his epic rise.  I can't remember a bloke growing so much after being appointed Skipper of his team.  I can remember a few disappearing on us but Dawson has just gone mental as Skipper.  He and Darcy Moore at the Pies have surprised me in how great they've been as Captains this year, both seemed a touch quiet for it to me when appointed but both have been awesome.
In a game where 239pts were scored with 205 by one team, it was predictable that good Fantasy scoring resulted.  Errol Gulden (145), Isaac Heeney (129), Chad Warner (128) and Gussy Sheldrick (111) all made coaches Fantasy hard.  Gary Rowbottom (129) isn't really Fantasy relevant but had a great day and also in the irrelevant to Fantasy bucket but worthy of a spotlight on a dark day was Luke Shuey and his brittle hammy's, ankle's and calves as he gave a gallant 120.  To go down as bad as his team did and still see Shuey land a chase down tackle late in the game was a top effort.  27pts is not normally something to be happy with but rookie Ryan Maric deserves mention for those points I'd say.  To collect 27 points in a game 3 weeks or so after working in the dairy section of Coles and do it without kicking a goal and when the ball is near you for about 2% of the game is well worthy of note.  He's been pretty handy already without going mental and the poor kid has suffered through 2 100pts hammerings in his first month of footy.  Hopefully he's not training with the team so he can at least remain uninjured.  Dom Sheed again looked 95yrs old this week and was as sturdy and solid as a house built from toilet paper and the 67 points he collected was well above his "efforts".
After this game the Eagles began their cleanout and, not surprisingly to me, they started with their Strength and Conditioning boss.  What did surprise me was the commentary I read and heard from a number of sources criticising the move.  This left me gobsmacked.  I can understand when Will Schofield uses his terrific pod (check it out, it's called Back Chat) to praise the guy being pushed because Warren Kofoed is obviously a good bloke and someone who Schoey worked with likes.  But the other critics saying it was a dumb move must have just moved to Australia and taken up journo work 5mins ago.  If Wazza had walked around with a baseball bat and swung it as hard as he could at every 5th Eagle he walked past, he could not have incrfeased the WCE injuury list any more.  We've ALL been saying how hard Craig Simmo's job as coach has been given the injuries but now we want to act concerned when they chop the bloke who's in charge of that side of things?  What are we doing if we're getting upset by letting go of people who are doing crap jobs?  Over the last few years every Eagle player has been issued with his team kit, a footy and a wad of cash and a map of the nearest scanning centre for when they do a soft tissue or destroy an ankle.  Even their physio was walking with a limp on Saturday!  He had to go, even if he is a super guy.
Going in to the Dockers v Bombers game I was sure we would get a heap of prongs and/or a long list of dongs.  In the end it was kind of neither.  Luke Ryan (143) +6'd and kick-outed his way to a massive 143 and has been a rock solid pick for anyone who went that way, and with 10% ownership it's clear plenty have.  He's surprised many more this year than predicted him being this good and Saturday night was a real cracker from him.  Andy Brayshaw (129) was better than just solid again this week and kicked a ripper of a goal to boost his score.  Pre-season I thought Liam Henry (118) might be worth a flyer as he looked to secure a wing spot at Freo.  Early returns weren't great as Freo stumbled and bumbled in the early going but the recent gameplan change and his selection in the team has him back on my radar as a smokey PoD.  His pond scum impersonating manager Colin Young has used this breakout game to his advantage by using his lackies in the media to run reports for him that half of Victoria wants Liam badly.  If you're in the Young stable of players, firstly my condolences and secondly, don't ever buy a house where you play.  He'll have you shifting teams, towns and states every 2yrs just to get that commission bump.
We've already mentioned how well Jordan Dawson did on the Sunday game at the G and he looked well on track for the magical 200 at one stage.  What an effort.  Naicos was partying hard too and his 120 was a lovely score for us all to bank.  There wasn't much else worthy of note in this from a Fantasy perspective although Josh Rachele showed how hard it is to ride or die with small forward/occasional mid time types.  His 47 wasn't good enough for his coaches.  Given he's had his "breakout" such as it was, and his price will forever now be too high for the risk so it's unlikely Josh will ever be spoken of in Fantasy land much ever again.  Overall though, I'm getting increasingly annoyed at how likeable the whole Collingwood setup has become to be honest, if not likeable then certainly it's much harder to hate in recent years.  Back when Eddie Maguire was making Pauline Hansen look racially sensitive and his red pumpkin shaped head was everywhere combined Mick Malthouse or Nathan Buckley both treating us all in the footy public like we'd kicked their dogs, they were pretty easy to get upset about.  Seeing them flounder was great and seeing them succeed was as painful as a finger in the eye.  It was great when they were throwing around dumb contracts and then paying half the comp 30% of their wage to play somewhere else as a result.  Now though, Craig Macrae has given them a great fun game style and a very likeable persona.  Sure they have an immense Dick in JDG on the list but overall, they're not the same Pies.  It sucks to be honest but good on them.
The final game of the Bye weeks was a disastrously sleepy affair.  We all know how hard the Hawks colours are to look at but they bought out one of their ugliest getups for this game, probably knowing only 7 people would be watching.  Scoring in Fantasy matched the sleepy nature of the contest with only a few like Pasta Fiorini doing anything of note.  Even then, to have 35 possies and "only" 115pts was somewhat sad.  Will Day (116) flicked the bird to anyone who traded him out over the Byes and got a decent tonne but everything else was very vanilla.  On the downside, Stewy Dew helped The Rat disgust his coaches with a vest and 31 points.  8% of people aren't paying attention any more as Ratkins is still in that many teams despite a plethora of other options out there.  Bailey Humphrey had a very rookie-like week off with a 36 despite being out there for 71% of the time.  Like George Wardlaw last time he played, these games will happen for rooks so you just have to accept it and maybe cash out now depending on your bench.  Dylan Moore (74) was down again in what can only be called a pretty lame year from him now.  Small forward graveyard or not, we were all expecting much more than this from him.
It was this final game of the Byes gave us our first podium finisher for the Dick of the Week.  Matty Rowell (68) has been an amazing story since he was the pick 1 Wunderkind way back when.  His massive potential as a pick 1 was all we heard about before he got picked.  He was so good that the Suns even drafted his best mate at pick 2 just to secure more tie for him on the Gold Coast.  Then his career started and we his shorts were pulled up under his armpits, his socks were pulled up and he was pulling the pants down of everyone he played against…for a few games at least.  He was Garry Ablett Snr, Jnr and Leigh Matthews all rolled in to one slightly awkward to look at package.  The orange jumpers of the Suns did him no favours at all but his early output was amazing.  We had our next bonafide star.  Then Joel Selwood got jealous and ruined his shoulder.  He came back from that and then the Eagles ruined his knee.  He came back again and was looking great but then Junior Rioli pushed his own arse through the little orange champ's head and the AFL said it was fine.  In amongst all that his scoring went from top shelf chocolate delight to just a gross broccoli infused vanilla ice cream meh-ness.  He became both an enigma AND boring all at once and his best mate was talked about as the best GCS pick of that year.  Then this year, Touk does a knee and for a few beautiful weeks, the rambunctious ranga was back reminding us Noah Anderson shouldn't even carry his bags and he was still going to have an AFL Legends worthy career.  He was warming up very nicely and talked a bunch of coaches (up to almost 10% at one stage) in to bringing him in.  In a 7 week stretch he had scores of 100, 98, 110, 142, 90 and 124.  There was a forgettable 76 against the Dees in there but Clarry Oliver is tough going head to head.  Matty was back.  However, since that last 124 beauty, he's given owners 73, 80 and 68.  Eeeewwwww.  That's harder to look at than a nude calendar of "Farming Men of Belarus".  He's copped a tag/cooler here and there but he's back to unreliable and weird but with a truck full of legend potential.
Next up we have a bloke who is surprisingly well owned at 6% and is a guy who has copped plenty of mentions this year.  He's now even being trade out of Melbourne by half of the mediots around the joint.  Brodie Grundy (67) played ruck against no one, as everyone does when they play the Cats.  Geelong are a great team but they've had a ruck vacuum for decades now.  Conditions weren't great but the Ruck Pig version of this regular DoW candidate would lay 10 tackles in going like that to boost his score.  This sad suburban barista version of Brodes managed 1 for the game.  1 tackle when you're around stoppages all night is epically dismal, in fact it was as bad as Rhys Stanley, even JVR had 3 as he pinch hit here and there and Blicavs and Gawn had 5 and 4 each as they pushed out decent but not great scores.  Where's the extra tweaks in your game to support your Fantasy coaches Brodie, the stuff that used to make us all feel safe and secure.  I'm convinced most of your owners are ghost ships sailing the Fantasy leagues with no interest at all in their scores but there's no reason for Brodie to match that with his own lack of interest in points!  I had both Grundy and Gawn paired as one Dick of DT in the pre-season as I just couldn't see from a Fantasy perspective how both would be good bets for coaches anymore.  It seems both in the Fantasy world and the real one those queries valid.  Unlike the Jackson and Darcy combo and the Gawn/Jackson combo before that, Gawndy have very similar styles and these two previous Pigs are just stealing each other's food.  Watch and see as it evolves more I guess but at this stage it's a big No from me to either of these guys.
Finally, though we get to the major award, and it's a not so common name popping up to win it this week, albeit he has copped a mention here and there previously.  For a very mild serve of only 61 points, our DT Dick of the week for Round 15 is Docker Hayden Young.  Depending on your tastes and age Hayden reminds you of a 90's teen flick mean guy villain or boy band stud muffin.  He's not either of those obviously and his talents made him a top 10 pick, have carried him to rising star status within the comp and seen him tagged as a future potential or even likely All Australian selection.  None of that concerned us coaches though and instead it is his weapon of a left boot, it's clear benefit for things like kick-ins and his capacity to intercept marking and a plethora of +6's that had many coaches deciding between him and Naicos for their mid-price magic breakout defender.  Those who went Haydos instead of Naicos regretted it early and often.  Part of the blame lies with his coach who continues to allow Luke Ryan to grab the ball from a behind and then plonk it in the same spot on the left-hand corner of the centre square over and over and over and over and over etc.  If we did a heat map of Freo's kick-ins it'd be a white hot spot right at that point and maybe 4-5 other single dots where Luke lost his mid for a sec.
All owners of Hayden look longingly at that left boot and drool of the day where he takes 90% of kicks, gets 6 a game kicked back to him and the easy 15-20pts that would bring.  Those same owners would have rejoiced when his real coach mentioned a potential move to the mids and sat bolt upright when seeing in the GWS debacle last round but at this stage, Hayden's non-rookie breakout is yet to happen and he remains a hope and a dream.  Good news is he can still knock a breast-feeding baby off it's mother from 70m away without hurting either party and that skill will surely be used much better as Freo gets better in the future.  The recent game style change may have hurt Young as the possession game has given way a bit but Justin Longmuir surely can't ignore the weapon he has lying in his back shed for much longer.  He'd have to be Mark Neeld bad to keep t locked away.  So for now Hayden may continue to frustrate and titillate but maybe we've just had his breakout postponed for a year like his teammate Serong from last year.
But with all that said, Hayden still earned his way to the Dick of the Week status and earned it not only for his 61 against a leaky Bombers outfit but also for a body of work that is more frustrating than being forced to listen to a 3hr panel show comprised of Kornes, Browne, Wilson and Chompers.  Maybe not but it's close.  His scoring has been patchy and his potential doesn't get us Hats.  As such, Hayden Young gets the DT Dick of the Week for round 15.  So now we have our Dick of the week, what do we do with him?  Hold or Fold?  Stick or Flick?  At this stage of the year many are in completed team territory and, if that is you, I'd be going to higher potential scorers than Hayden given the current body of evidence on him.  Longmuir is unlikely to inject Young in the midfield this late and that is a more next season and beyond thing so he is what he is right now for us and I'd go up as soon as possible to whatever Sinclair, Docherty, Sicily type you can get too asap.  Maybe even a Salem side/down would be an idea too if you like sweating on availability each week.  If you're still incomplete and a sideways or minor upgrade is not possible then he's not a horrible hold, but don't expect full satisfaction any time soon unless Longmuir realises he has a Ferrari in his garage and he doesn't need to send the Mazda 6 out each week to do the same shyte again and again.  Tough call for coaches on Young and I'm hoping you've been able to avoid it.
Thanks again for checking in Folks and enjoy the lower trades but greater number of games as we storm in to the last corner before charging to line and hopefully Hats or Hilux's or League wins come in to view.  Trade well, all the best and as always, don't be that Dick.