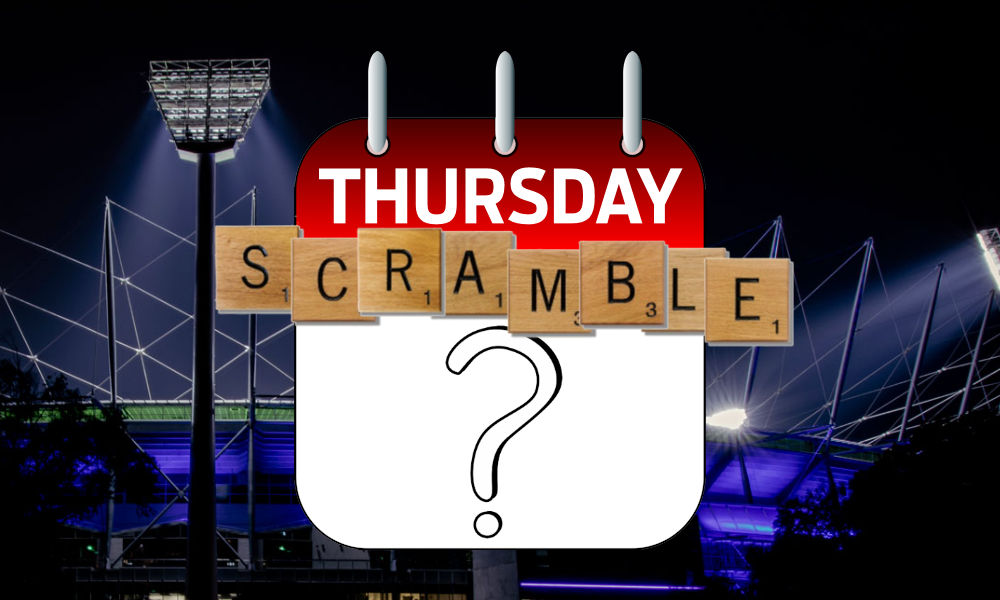 It was bound to happen, we knew that it would eventually. A heap of injuries in the one week from popular players. Is there ever a good time? Could this be a good time? Maybe? As they say, when one door closes another door opens and in that case…  Let's Scramble!
Injuries, injuries and more injuries!
Sometimes things are just bad luck and that is what happened for those that brought in Callum Mills who went down in the opening minutes of the game with a calf issue. And of course in that case not only did we have to cop the poor score last week we also see his value drop! No options here but we just have to trade him.  Add to that we now see that Will Setterfield is going to be out for a few weeks as well with an injured foot. For those that still had him this is a bit of a blessing in disguise as you can now prioritise moving him out of your sides. Luke Davies-Uniake is also out for multiple weeks now as well with his hamstring issue but once again most people that had him have already jumped off. Add to the list Jacob Hopper who has calf issues of his own and is also set to be missing for around 5 weeks. None of these guys can stay in your teams.
Jack Steele seems to have an MCL strain which means I highly doubt we will see him this week and possibly not the week after as they can be rather difficult to get over quickly.
Then just for good measure we saw  Christian Petracca have some ankle issues at the end of his game and may be in doubt and I would now suspect there are a heap of teams that have been affected in one way or another.
If you have been affected you should now use that cash and those positions to help you get through the bye period and do a bit of restructuring while you are at it. You can bring in players that are going to help your bye structure and with the prices that some of these guys are at you should be able to shop in whatever price bracket  you like. We are now at that time of the season where you must be considering the byes and if you can use this opportunity to fix things up you will be in a great position to really push your ranking higher during the byes.
I am not going to go through who I think you should be picking up as there are a heap of options and everyone will be in a different position, I will leave that to the expert and suggest that you refresh yourself with Roy's Rollin 22 which is where you will find all of the answers you need.
Don't waste this opportunity. Use it to your advantage and make your team the best that it can be for the long term, not just for round 10.
Questions
@AnnaWillis asks whether we should be topping up to 'underpriced/underperforming' premiums and hoping to land some value or when do we just go for it and bring in the big guns. You are right Anna, sometimes it is a bit like chasing your tail and it isn't great. I think there is a time and a place for using the underperforming premiums but it isn't all the time. Yes we are always striving to get value but you need to remember, there is a reason these guys are underperforming or underpriced and that is that they simply aren't putting the scores on the board that you think you are buying. So from that perspective, I would be trying to get in the big guns now. Early on in the season we can write off a game of an underperfomer as a one off, but now we have 9 games of data and if that underperforming is consistent we shouldn't be buying into them.
Wouldn't be a Scramble questions section without @SinceUBeenGawn popping his head in.  He asks whether we need to be wary of Carlton players current scoring if they change their game plan to be more direct and faster. Whenever we see any team change their game style we need to be wary of what will happen, this can be in reaction to a coach directive or even be as simple as having a key player missing or returning. So not just in relation to Carlton, but if a team goes from an indirect chipping game to a fast and direct game we are going to see the footy through less hands and by default then we are going to see lower scores from that side potentially, but you would possibly see an uptick from some of the key forwards as when the ball comes in faster and more direct they will get the jump on their opponents and then take more marks and have more shots on goal.  But for the love of god can someone please tell Harry McKay that he doesn't have to kick it round the corner every single time and that a drop punt is appropriate in many different circumstances!
@rweeks01 says his issue this week is needing to bring Gulden in and yes, that is something that I think you can still do, he has put a good couple of scores together and with the volume of teams towards the top that have him, you are going to fall further behind every time he posts one of those great scores.
@masterBagg asks Mills to who,Walsh Likely to gain fwd status. Round 15 bye. Kelly cheaper, instant reward. Great run. Round 15 bye. Merrett great run. Cheaper. Round 14 bye. These are all valid players to trade to and it of course is going to depend a lot on what your bye structure looks like at the moment. I am getting the feeling that you don't have a great setup for the Round 15 bye (like most people). If that wasn't an issue I would probably have gone with Walsh since he is very likely to get that forward status and I think that he will be one of the most traded in players prior to round 16. But in this case I think that going with Merrett is certainly something that we can tick off. He has the history and apart from a couple of 80s in recent weeks he has been over 100 in all the other games so you know what you are buying.
@5150Crispy wants to know if he should hold or trade Jack Steele if he only has rookie bench cover. He is listed as a test at the moment but if it is a medial strain he is going to have trouble changing direction (trust me, been there done that) and I really think he will miss this week if that is the true diagnosis. If you don't have good quality rookie cover (like an Ashcroft) then I would seriously consider trading. Only 1 of his last four has been over 85 and his average is under 100.  I would probably trade.
Thanks for all the questions and I do apologise if I didn't answer yours this week. I will try and respond to the others on twitter for you.
Things to Remember
Use all the tools you have available such as the Scale of Hardness and the Rollin 22 to help you with those tough trading calls and keep the byes at the front of mind now.
Don't be afraid to take a 115+ score for your captain. I have rolled the dice twice in the last three weeks on someone else rather than locking it in and been badly burnt!
Plan your trades in advance, it will really help you coming up to the byes and it will mean you know exactly where your team is headed.
Thanks again for joining me today and I hope that some of the above has helped you. I am sorry if it seems a little light on this week, just incredibly busy in my day job at the moment which makes it a bit hard to do more research some of these questions to answer them in a bit more detail. I promise things should be back to normal in a couple of weeks. Enjoy the footy this weekend and hopefully we can all get some big scores and no more of our popular players go down with injuries.