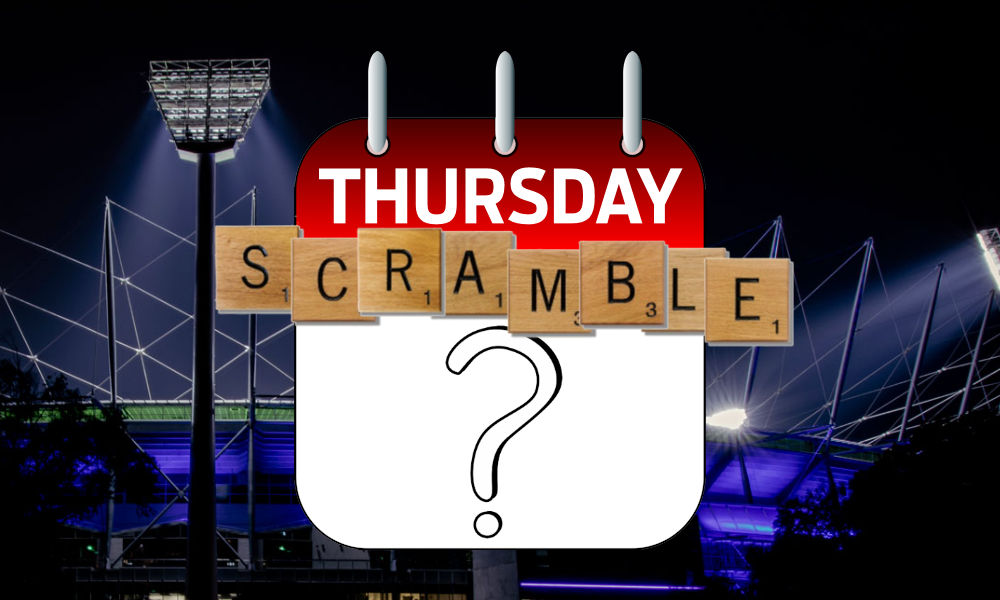 Another week and more issues to contend with but thankfully not as bad as it could have been with word that it looks like Rowan Marshall could be ok to go this week. Let's hope we see his name on the team sheet tonight. Other than that we had a traffic jam at the Tribunal and some simply massive scores last week that may change the way some of us trade this week.  So with all that in mind… Let's Scramble
Don't go Chasing Waterf… I mean Scores
Now I should have to tell you all this as I know you are all experienced players and know that just because a guy had a huge score last week it doesn't mean that he will do it again this week. So just temper your expectations instead of thinking you are going to get a huge reward in week 1.  You need to be considering what you think that player will score for the remainder of the season.
So when you look at it just make sure you are taking into account what the player has done in the past. Has this player posted a huge score like this before?  If we have seen this from them a few times in the past we can expect that it could happen again but if this is the first time we have seen it we need to take stock and just think what changed and was there any extenuating circumstances that could have contributed to it. We need to get a handle on what is a player's ceiling, i.e. are they someone that can deliver us big scores on a regular basis.
So by all means look at the guys that are going big but be strategic about it.
It's Time to Talk Byes
Ok, so we are now sufficiently close enough to the byes to dispense with Calvin's Nerd Alert! We are in round 9 this week and our first bye is coming up in round 12 so we only have a few weeks before we get there and you need to start getting your team into shape now so that you don't have to panic a week out.  So here are my few things you can and should do as we prepare.
Use the Bye Indicators and take notes
Check out using the in game bye indicators (these are paid features in all three games) or you can simply create yourself a spreadsheet where you list out your team and look at who is on a bye and in what week. Just be very careful when you are doing this as it is very easy to get misled. For example if you still have someone that isn't going to play or you have a Red Dot Rookie (like most do in their R3 spot) then whilst their team may be playing, they are highly unlikely to be so you can't count them in your best 18 that your score will be drawn from.
Use these tools to see exactly how many you have on their bye in each week and this then allows you to target your trading between now and then. Below is a table showing the teams that are on each of the bye weeks.
Plan your trades
As best you can, plan out your trades over the coming weeks and right through the byes (remembering we are given three trades a week to use during the byes) so that you can see how you will fare during that period. If you can, also take into consideration the cash you will need to do all of those trades. This way you can have a solid look at what you are going to do and you don't need to panic as we get to each week.
Obviously you want to be trading out rookies as you go and getting the best players on the field that you can and you want to try and hold those mid prices and rookies that have the round 14 and 15 byes  until after round 12 and then start upgrading them to the guys that have already had their bye. This means that that position on your field then doesn't have any 'downtime' and is always occupied by a playing player.
You don't have to load up on Suns and Cats
We saw in the past when we had the stand alone byes for the players that made the trip to China that it wasn't always great to limit yourself to players from just two clubs in your upgrades, it makes you very dependant on their outcomes and it may not always be for the best. While you can go for some Cats like Tom Stewart or Jeremy Cameron and even a Sun like Noah Anderson you may not have any other players in those sides that you think will finish in the top 6 or top 8 in their position. And if you do load up on them you may find that you get stuck with some players that you may not necessarily want post the byes. This is of particular risk in the limited trade formats of the game. So just be strategic about it and while it isn't the end of the world if you bring someone in that has a week off in the "bye round of death" (Round 14) you just need to make sure you will have at least 19 to field. Yes I said 19 and not 18, it is always good to try and have one more than you need at least in case you get an early injury like what happened to Ridley last week or a horrid rookie score like Greene from the Hawks.
Sideswapping is not the answer
As we get into the byes the temptation is to get through them by using your trades to sides swap your premiums as you go through. This is certainly one strategy for getting through the bye period but it is certainly not the best. The bye period is a time where you can make up an incredible number of places in the rankings over those coaches that haven't put a few weeks worth of work into getting their sides in a good position and having a plan.
Your aim should always be to come out of the byes with a much better team than when you went in and to also make sure that you have jumped in the rankings. You may not rise by heaps every week as you will likely have one bye that you aren't as good as the others in but when you sit back and take it as a four week period you should have a better rank at the end than you did at at the start.
Things to Remember
Always triple check your teams before the first game of the round.  With all the playing you have done with your team and undoing changes you may inadvertently leave the C on the wrong player.
Moving a rookie off field is usually  a better option than moving off a mid pricer. The Rookie is much more likely to have a poor score.
Check the order of games to make sure you can get your VC loophole working properly.
It is starting to get a bit colder and a bit wetter and that means we are now in the depths of footy season. Can you believe we are just over a third of the way through the season. As things get a bit wetter the skills can get a bit worse and it means marks may be down but tackles should be up!
Sorry for the shorter edition today but hopefully it helps. I know you are mostly all over the byes but it is always a good thing to have a reminder. Have a great weekend and hopefully your team gets a win.