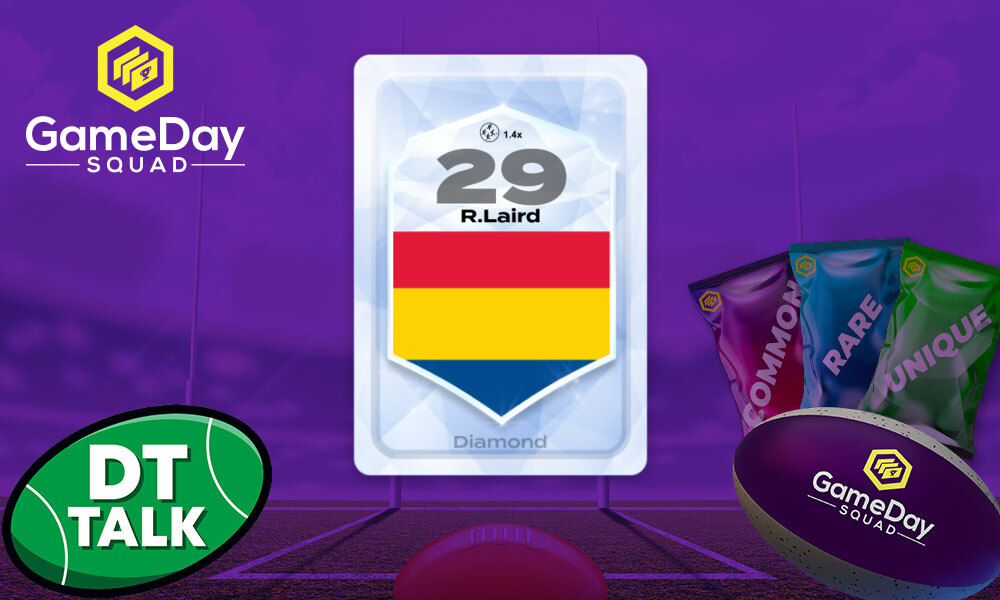 | | |
| --- | --- |
| Player | Rory Laird |
| Club | Adelaide |
| Position | MID |
| Price | $1,066,000 |
| Bye | 14 |
| 2022 avg | 120 |
| 2022 gms | 20 |
| Proj. avg | 122 |
| Draft range | First round, pick 1 or 2 |
Click here for 2023 Fantasy Classic prices.
Why should I pick him?
G'Day legends – hope you're well. Thanks for tuning in over the last 52 days for this epic Deck of DT. Thanks to all the legends that have given up there time and efforts writing about players, it has been another killer year!
I'm here today to tell you why… you must start with Rory Laird in your team from the word GO.
1 – Pig Status is coming
Laird is coming off an amazing season where he averaged 120 and only dropped under 100 on four occasions. He ended 2021 the same way, averaging 120 in his last 11 games.
Laird has now averaged 120 for one and half seasons. Pig status is coming.
2 – We all need a Captain
You pay over a million dollars for the best player in the game. It's as simple as that, and as I always say, you're not just getting one Laird, you're getting two… and that's a steal for $500k each!
In the back half of the year, when Laird averaged 129 (yes 129), he found a decent ceiling as well, one that had neglected him before his bye.
BEST BEFORE HIS BYE – 124, 123, 122, 122 and 119. Before his bye he averaged 112.
BEST AFTER HIS BYE – 163, 138, 136, 132 and 130. After his bye he averaged 129.
3 – He plays Fantasy
Laird knows what it takes to score. He plays the game! He knows exactly where the points are and what is needed to find it. A true pig in the making.
4 – Full pre-season is on the cards
Unlike last year when he missed a huge chuck of the pre-season and then played in round 3, Laird is flying in 2023. When he returned he averaged 105 in his first for games and with games under his belt he then averaged 124 for the remainder of the year.
5 – Durability
Laird missed two games at the start of the year with a broken hand. Those two games were the only games he has missed in the last four seasons.
6 – Can you get him later?
If he starts where he left off, it will be tough to trade Laird in. You might have a plan to get him after his bye, and yep… that's great in theory but as we know, plans like this rarely pay off. Imagine going a whole season without Laird's scores (all potentially doubled). Imagine going to sleep, knowing that everyone just had Laird captain and he pumped out a 140 and here you are stressing, cause your captain plays the next day. Is it really all worth it?
Why shouldn't I pick him?
Still with me… cheers, here we go!
1 – S
C

A

L

E of Hardness… is hard

In the first five rounds, Laird plays the following… and the 'hardness' is based off last year's data.

GWS GIANTS (away) – he scored 118 against them last year and got some attention from Ash around stoppages. GWS rank as the 8th easiest team for MIDs to score against.

RICHMOND (home) – he scored 95 against them last year but it was early on. Tigers rank as the 7th easiest team for MIDs to score against.

PORT ADELAIDE – he scored 116 and 90 (early) against them last year. Port rank as the No. 1 hardest team for MIDs to score against.

FREMANTLE (home) – he didn't play them last year. Freo rank as the No. 3 hardest team for MIDs to score against.

CARLTON (home) – he scored 130 and 120 against them last year. The Blues rank as the No. 4 hardest team for MIDs to score against.

Yep – on paper that's a tough run for the future pig but it's also worth noting that after that… he plays the two easiest teams of 2021 for MIDs in…. Hawthorn and then Collingwood, teams he scored 163 and 132 against last season.
2 – Pick him up after his bye
Laird plays better in the back half of the year. Why? An interrupted pre-season slowed his start in 2022, as he averaged 105 in the first four rounds.
He averaged 107 before his bye in 2021, and 112 before his bye in 2022.
After his bye, he averaged 118 in 2021 and then 129 in 2022.
Look into this as you please, but at the end of the day, there are factors here that make this fact true.
3 – Million dollar men don't pay off
This was true last year wasn't it? Touk Miller and Jack Steele were both worth over a million after averaging 120+. Both players failed to back it up the following year averaging 110.
A huge 10-point drop is significant. Especially when other coaches around you are finding 10-points worth of value. Spending all that money might not be worth it and as history says… "it's not".
Deck of DT Rating.
PIG-ACE
Yep – he's a PIG-ACE. Simple! I will fold on the fact that he won't be the No. 1 picked in Draft and if you have that pick, then Dunkley should be your first man but at the end of the day, I'll argue all day long about how Laird will be the No. 1 MID in the game once again this year.
You need him at the end of the day – simple. He might get 'unreachable' and right now, he is reachable… you just need the structure that suits it.
Thanks again for all those who have contributed this pre-season and for all the legends who have engaged in this awesome content. Best legends going around.
Loading ...
FOLLOW US  ON TWITTER: @DTTALK for all things AFL Fantasy (and more). Got something to say about the Deck or AFL Fantasy in general? Join the conversation and use the hashtag… #AFLFantasy.