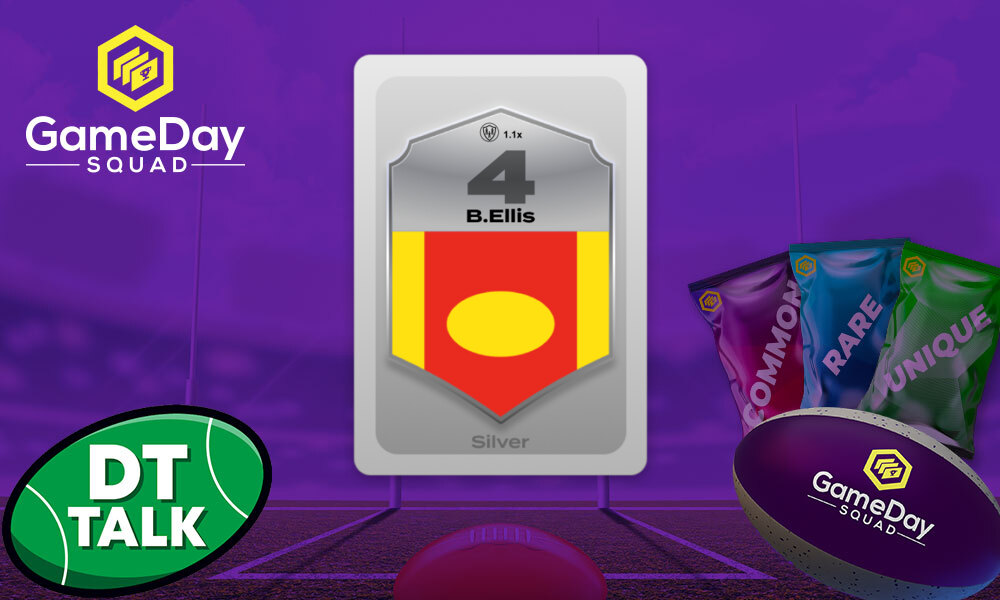 | | |
| --- | --- |
| Player | Brandon Ellis |
| Club | Gold Coast Suns |
| Position | DEF/MID |
| Price | $761,000 |
| Bye | 13 |
| 2022 avg | 85.9 |
| 2022 gms | 21 |
| Proj. avg | 82-102 |
| Draft range | D15-D25 |
Click here for 2023 Fantasy Classic prices.
Why should I pick him?
Historic value at the SUNS
Brandon Ellis moved to sunny Queensland in 2020 and put up an average of 90.3 BCV. The following year, he went even better at a 93.8 which is adjusted to 102.3 when removing his final two injury-affected scores of 10 and 43. Looking at the 2021 season, Ellis played the 16 non-injury interrupted games and went over 120 on five occasions (31%) and showcased a monster 169 ceiling. Last season was a regression for Ellis, only managing a 85.9 average and only 2/21 scores were over 120.
Last six average and role
The last six games for Ellis saw him take the majority of Gold Coast's kick-ins with injuries to the main distributors in Lachie Weller and Wil Powell. He managed to play his usual wing role but also picked up some easy points via the kick-ins, resulting in a last six average of 102.7. With Wil Powell suffering a hamstring injury in preseason (Feb 3 – out for 6-8 weeks), Jack Lukosius training up forward, Lachie Weller "expected to be available for the early rounds", and Connor Budarick still recovering from an ACL injury, Ellis should play the wing role with kick-ins at least until the return of Weller. Practice match watch.
Optimal bye round
The SUNS along with Geelong have the excellent bye round 13. Being the only two teams on this bye, these players will all be available for rounds 12, 14, and 15; which have two, six, and six teams on these byes respectively. Since it is best eighteen for all the bye rounds, having as many Round 13 bye players is optimal to cover the larger rounds of 14 and 15 and the inverse implies that we'd have a lot of players to play in Round 13 (probably more than 22 judging by preseason ownerships)..
Dual-position status
Always handy having DEF/MID status to allow for flexibility especially during the bye rounds.
Why shouldn't I pick him?
Half-backs on the Coast
Stuart Dew has a plethora of options to choose from to distribute from half-back this season. The arrival of Ben Long only complicates things as he has been slated to play half-back and is best twenty-two. Lachie Weller is close to a return and will no doubt take over the kick-ins again when fit. Wil Powell and Conor Budarick took their fair share last season but are still a while off playing any games. This likely relieves Ellis of his kick-in duties and a move back to his pure wing role when even one of these boys are fit..
Early 2022 form
Looking at his last six average is great but his games before that are a bit of a concern. Ellis played his traditional wing role he's played since arriving on the Gold Coast and only managed 79.2 points and only managed 2/15 tons in that time along with 9/15 scores under 80. There is no clear personal reason for this decline as his TOG% remained similar to 2021 but his disposals and marks were down which could be due to a shift in Gold Coast's game style.
Gold Coast game style
From 2021 to 2022, the SUNS were down in all of the Fantasy KPIs that make Brandon Ellis relevant. They dropped almost 31 disposals, 22 marks, and 43 uncontested possessions per game. This shift probably won't revert since the SUNS had their best ever finish under Dew and will look to go one further and make Finals for the first time in their history. With a young group, it's only upwards from here and I can see them continuing with this faster game plan.
Injury history
Brandon Ellis has yet to play a full season since his move to the Gold Coast. Last season, he missed the one game in Round 20 when he was a late withdrawal with a shoulder injury. In 2021, he was subbed out in the first quarter of Round 18 with a hamstring injury. He missed the next two games and returned in Round 21 but suffered another hamstring injury which ruled him out for the last two games of 2021. On the bright side, no setbacks have been reported this preseason and he even took out a 2km time trial.
Deck of DT Rating.
TEN
Before writing this extremely well-written piece on Brandon Ellis of all people, I was quite keen on starting him but I've cooled a lot now after deep-diving. The Gold Coast game plan has evolved since 2021 and I think this faster brand of footy is here to stay; dreadful for an uncontested mark-kick wingman like Ellis. Even if we see him taking kick-ins in the practice games, the role will likely last a few rounds into the regular season until Lachie Weller returns. Best-case scenario, Ellis maintains this role due to more injuries (#sicko) and puts up a triple-figure average but the more likely scenario is he'll go mid-80s again. Needs all the cards to fall in his favour and is a risky pick for those who love a point-of-difference and possess exceedingly large testicles.
Follow @visolate_ on Twitter.
FOLLOW US  ON TWITTER: @DTTALK for all things AFL Fantasy (and more). Got something to say about the Deck or AFL Fantasy in general? Join the conversation and use the hashtag… #AFLFantasy.