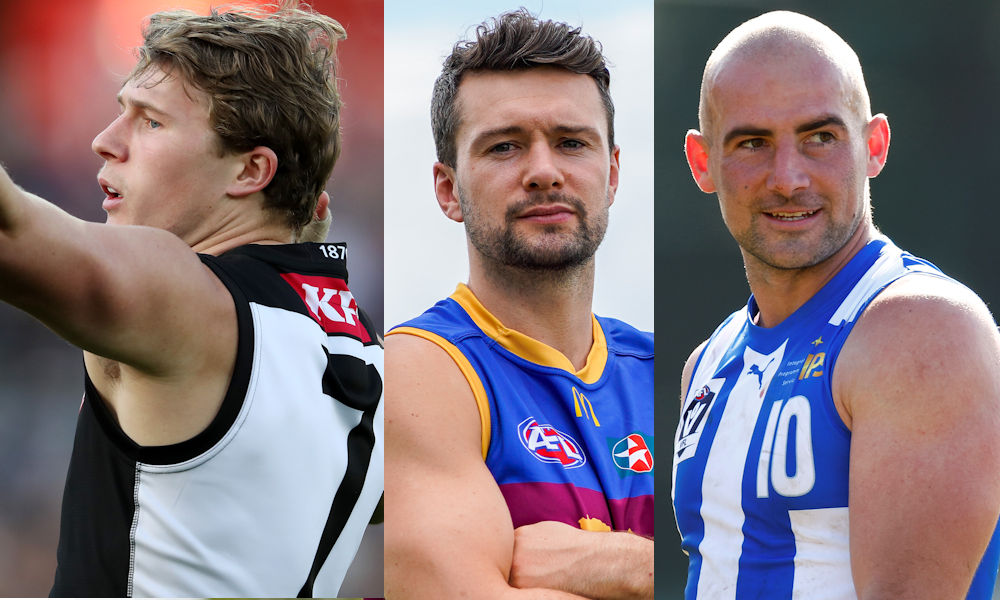 There have been a lot of mid-priced names thrown around this preseason, down back it's Yeo and Salem; in the midfield Sheed and Worpel are dominating the headlines while up forward, Toby McLean and Tarryn Thomas (off-field issues notwithstanding) both present us with massive upside.
But there are some mid-priced guys flying under the radar in all positions, and given the success of Will Brodie, George Hewett and James Sicily in 2022, nailing your mid-pricers has never been more important in achieving overall success in AFL Fantasy.
It is constantly preached that you should be reasonably vanilla when selecting your starting side but for those who like to play the game a bit differently and take a few more risks, here are some unique mid-pricers that might pique your interest!
Jayden Hunt
Price: $379k
Position: DEF
Priced @: 42.8
Job Security: Lock best 22
Predicted average: 68
Range of outcomes: 55-75
Ownership: 5.7%
A historically poor fantasy player, Jayden Hunt crossed to the Eagles from Melbourne over the summer. Jayden started his career as a dashing half back flanker in 2016 and posted averages of 56 and 72 in his first 2 years. After breaking an ankle and missing a huge chunk of 2018 his development stalled. As the demons got stronger, Hunt's role became more and more restricted including spending some time on a wing and as a defensive forward.
His move to the eagles could be fruitful from a fantasy perspective. The old and slow eagles are desperate for some drive off half back and the super quick Hunt could provide this in spades. His best fantasy year in 2017 was spent in a rebounding role where he averaged 72 from 22 games while scoring 4 tons including 3 scores of 110 +. I know it's a long time ago, but they are not bad numbers! The ball will be spending a lot of time in the eagles defensive zone this year and he should have the chance to get a bit of the footy and head back towards that 70 average after wallowing in the 40's and 50's over the last few seasons.
25 points upside is well within reach provided he gets the role at half back and his job security is strong (at least to start the year). Given the perceived lack of value among defenders (outside Daicos, Yeo and Salem), Hunt could offer a nice point of difference for your teams heading into round 1.
Conor McKenna
Price: $373k
Position: DEF
Priced @: 42.2
Job Security: Probable best 22
Predicted average: 65
Range of outcomes: 55-70
Ownership: 8.5%
After fleeing Australia for his native Ireland after the 2020 season, McKenna is back in the AFL for 2023 and will suit up with the Brisbane lions. His fantasy history is very similar to Jayden Hunt's with a career best of 70.2 coming in 2019 (1 ton).
You'd think that Chris Fagan has recruited him for a reason and he should be in the team come round 1, but unlike the eagles the lions already have a couple of quality distributors of half back in Daniel Rich and Keidean Coleman. When you add 2nd year dynamo Darcy Wilmott and newly minted half back flanker Cam Rayner (if training reports are to be believed) to the mix, then you've got a lot of mouths to feed.
It will be very interesting to see how the lions set up in the preseason. After 2 years away from AFL it could take Conor a bit of time to settle back into things but if he's named round 1, he has plenty of upside!
Xavier Duursma
Price: $489k
Position: MID
Priced @: 55.3
Job Security: Probable best 22
Predicted average: 83
Range of outcomes: 75-90
Ownership: 2.5%
Duursma burst onto the seen as a draftee in 2019 averaging 78.2 through 20 games in his preferred wing role. In the same year Karl Amon averaged 76 and only managed 17 games.  Duursma backed this up with a solid 71 (adj.) in corona ball before the injuries started to pile up.  The extended absence of Duursma in 2021 (72.1 from 9 games) saw Karl Amon make the wing role his own. This continued in 2022 as Amon racked it up while Duursma was injured and playing 2's. He finished with a disgusting average of 55.1 through 11 games (3 sub affected). So what does 2023 hold for the young archery enthusiast???
The good news for Duursma is… AMON IS GONE! The wing position is his if he wants it, and provided he has an uninterrupted run into round 1 then I can't see him going less than 80 in that role. He copped a bit of a head knock last week at training but otherwise the news has been good coming out of Alberton.
Given the availability of strong rookies in the midfield and a cheaper mid-pricer in James Worpel, it may be tricky to fit Duursma into your team. But if fit, he offers a minimum 20 points upside with strong job security. You could do worse!
Ben Cunnington
Price: 668k
Position: MID/FWD
Priced @: 75.5
Job Security: Lock best 22
Predicted average: 93
Range of outcomes: 85-95
Ownership: 3.97%
Many will look at Cunnington's price and remove him from their watchlists. I urge you not to make this mistake! The key question when assessing Cunnington as a potential starting pick is not if he can go 20 or 25 points above his starting price, but whether he can get close enough to the top 6 forwards to be worth keeping for a large stretch of the season. According to my calculations the F6 (before position changes) will average low to mid 90's. if we take these figures as a starting point, then Cunnington will need to go 90+ over the first 6 weeks for him to be a successful starting pick.
Cunnington's last meaningful season was in 2021 where he averaged a huge 99.2 from 15 games (8 tons, 6 x 110+). Before his second cancer diagnosis post round 19, Cunnington had posted 7 tons from at an average of 105.2 over a 9 game stretch. If we look a little further back, the numbers are not as rosy, over his entire career he has only averaged over 90 twice (2018 – 93.9 from 22 games and 2021).
There is no denying Cunnington's continued importance to North Melbourne, he is their spiritual leader and best player. Taking this into account, I expect him to be a huge part of their CBA rotation (70+%). The continued rise of LDU and Simpkin may mean that he takes up a more secondary role and goes back to his more standard average of mid to high 80's but I think that's the absolute least you can expect from Cunnington. After so much time out of the game over the past 3 years, he will be fresh and hungry to lift his Roos up the ladder.  He currently sits at F4 for me.

Brynn Teakle
Price: $380k
Postition: RUC
Priced @: 42.9
Job Security: Not best 22
Predicted average: 73
Range of outcomes: 70-80
Ownership: 1.59%
I know what you're thinking… this guy ain't gonna play round 1 unless Lycett and Finlayson both go down. I hear you, at the present time the man with the best name in the AFL is not in Port's best 22. Scott Lycett is clearly the number 1 man at Port but he's a number 1 man who knows how to get injured. As for Finlayson, I'm not sure whether Port would run with him as the number 1 ruck for long periods in 2023 although it did work pretty well at times last year. So, if Lycett picks up a niggle throughout the preseason, Teakle needs to be on your radar!
Remember, after being drafted in the 2022 midseason draft Brynn Teakle came straight into the seniors in round 14 and looked good early before breaking his collarbone. Upon his recovery he played a second game in round 21, laying 8 tackles on his way to a handy 86 before being dropped for round 22.
It looks like the Power rate Brynn highly, if he is not named for the one-off preseason game against Fremantle you can forget about him but track the news and keep an eye out for big Brynny. If Lycett goes down, Teakle at R2 becomes a valid alternative to the set and forget ruck setup!
You can catch more from Sam on the Category B Podcast. Follow @categoryb_pod on Twitter and listen wherever you get your podcasts.