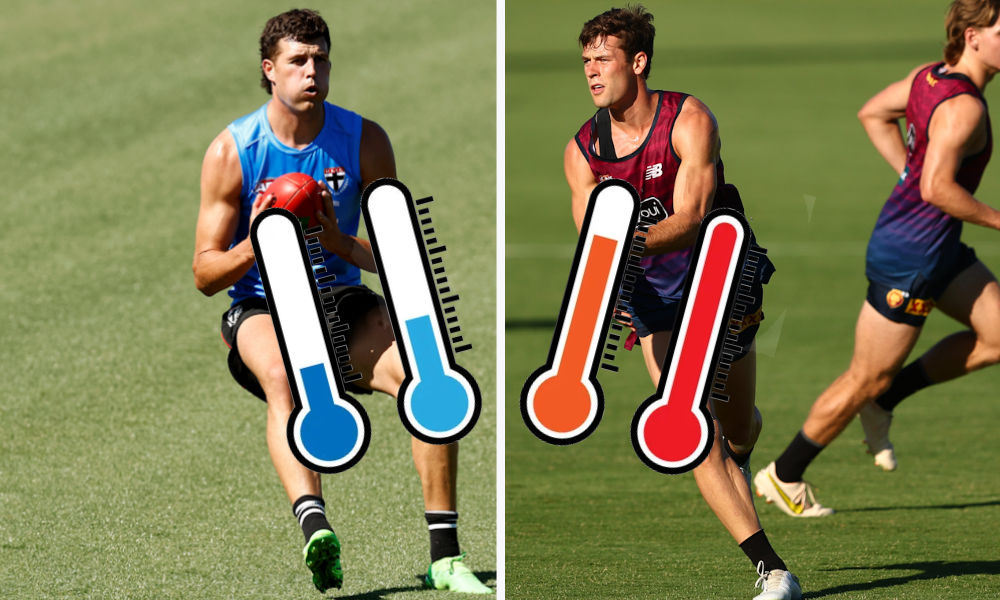 Picking fantasy teams early in the season is always a bit of a guessing game. We make watch lists and keep our ears pricked for which players are tearing up the track, who has been dominating time trials, or rumours of more mid time. Every time we add a player to our side it comes with the caveat that we need to see what happens in the rest of the pre-season to be convinced to pick them.
In this article I will try to take a metaphorical temperature test of the fantasy landscape as it stands at this point in the pre-season. Hopefully we'll be able to re-visit this concept after we've seen some interclub practice matches and pre-season cup games. We'll look at four categories of players.
Hot: Those players that haven't put a foot wrong and at this stage of the pre-season seem to be locks in our sides.
Warming: Players who are rapidly convincing us that they should be in our sides or at least strongly considered.
Cooling: Players who have been on our watch lists, but we are cooling on and are falling behind other options
Freezing: Players who would usually be fantasy relevant, but for a variety of reasons, are now seeming like they will be less relevant this season.
Josh Dunkley (Mid $963,000) – After a much-publicised trade to the Lions, and an even more publicised maintaining of his AFL Fantasy forward status in 2023, Josh Dunkley hasn't put a foot wrong. Coaches at Brisbane have talked about him slotting straight into the midfield, which will be a great role in a high scoring team. He's been in ripping shape in the gym and looks set for a career year, which is certainly something given he averaged 108.8 in 2022. At this stage he is an absolute lock in my fantasy side, and my number one pick in draft.
Jack Macrae (Mid $916,000) – While Dunkley and the Lions will certainly benefit from his trade, it also means there are some sweet, sweet CBAs up for grabs at the midfield-stacked Bulldogs. Enter Jack Macrae. Every year in the last 5 that he's been the main man in the dogs' midfield, he's gone over 110, with a ceiling of 122.6 in 2018. With Dunkley out the door, I couldn't be hotter on Macrae this year. Lock him in for a return to a 115 point average and throw away they key. He's also well under priced at that range which is another bonus with so much value on offer this year.
Sam Docherty (Def $977,000) – Although expensive, Doc is running red hot at this point in the pre-season. Averaging 110 last year, including a last 3 games averaging over 120, and a last 5 averaging 117.8, Sam Docherty was moved into the midfield late in the season when Hewitt and then Kennedy went down. This saw his already elite scoring go bananas. The word on the street this year is that with Walsh out to start the season, Doc will reprise his role from late 2022, giving him those all-important CBAs and the upside of being potentially the top scoring defender by 20-30 points.
Toby McLean (Mid/Fwd $401,000) – Another potential beneficiary of the midfield crater left by Josh Dunkley at the Dogs, Toby McLean has not put a foot wrong since returning from an ACL injury. In a huge boost to fantasy owners, he saved his return game for an elimination final (thus leaving his price super low) and duly notched up a hundred running through the middle. When given the role previously, he's averaged 85 and 94, so I'm super excited at the prospect of getting him in at this price, or in the second half of a draft.
Will Phillips (Mid $270,000) – Priced below a lot of rookies, Phillips was by all reports tearing up the track in match simulations last year before falling victim to glandular fever and injury. Luckily for fantasy owners, he's back to where he was, with an extra pre-season under his belt. While it's hard to know what sort of midfield mix the kangas will go with, he should have job security, a more mature body, and a scoring ceiling that puts him head and shoulders above anyone else at that price. If his pre-season was any hotter, he'd be on fire!
Honourable mentions: Clayton Oliver, Callum Mills, Tim English, Touk Miller, Angus Brayshaw
Christian Salem (Def $693,000) – As an under-priced defender, Salem is incredibly tempting. While his role and injury history from 2022 don't fill me with a lot of confidence, a quick look through previous seasons shows that he's a solid 90s defender, and at his price will be really tough to pass up. He's only 27, and if reports of Brayshaw maintaining his midfield role are true, there's no reason that Salem won's bounce straight back with an uninterrupted pre-season.
Aaron Hall (Def $797) – Could we do it? Can we put ourselves through the pain of being on high alert for even the slightest twitch in his hamstring? If Aaron Hall didn't have the potential to be one of the highest scoring players in the game, the answer would be a resounding no. Alas, while he finished 2022 with an average of 90, he averaged 110 in his last 3 and showed he is still the king of the seagulls, racking up possessions across half back like he was picking up chips on the beach. Injuries aside, the main thing holding me back had been his potential role under Clarkson, however he's training at half back, his soft tissues are holding together, and I'm finding myself warming to him yet again.
Darcey Cameron (Ruc/Fwd $725,000) – When value is so often the name of the game, it's hard to go past a guy who started the season as a completely irrelevant key forward then had a dramatic role shift (he averaged 47.8 in the first 5 rounds). The role is secure, so a bump in scoring should be guaranteed (first ruck Mason Cox doesn't really roll off the tongue). The flexibility of moving him between our ruck and forwards lines is also incredibly appealing. I'm still not convinced he'll be a top two or three ruck at the end of the year, or a top six forward, but he's close, and that might just be enough!
Brandon Ellis (Def/Mid $761,000) – Possibly leading the award for pre-season hype, Ellis has reportedly come back in absolutely ripping shape. He's setting new PBs in time trials (which is no mean feat at 29 years of age) and blowing his competition for that all important half back spot off the park. Ellis has also shown his fantasy chops in the past, averaging 102 all the way back in 2015, and 93.8 in 2021. Before we confine those scores to history, in his last six games, Brandon averaged 102.7, with a top score of 130. He'll be a bargain in draft, a huge point of difference and source of value in Fantasy Classic, and as I write this I'm struggling to think of a reason not to pick him!
Tom Green (Mid $752,000) – If Ellis is leading the pre-season hype award, the runner up would be Tom Green, for no other reason than the pictures coming out of the GWS gym. The eye test certainly shows he's ready to go up another level and monster the puny humans around him in the midfield. He started the same way last year too, averaging a whopping 116.3 in his first three games. While he tapered away towards the end of the season, Green has a juicy role with the departures of Taranto and Hopper. If he can make the jump to being a premium midfielder, his price makes him very hard to ignore.
Honourable mentions: Elliot Yeo, Dom Sheed, Hayden Young, Marcus Bontempelli, Dayne Zorko
Rowan Marshall (Ruc $808,000) – When AFL fantasy opened, RoMar was one of the first players I picked in my side. His relatively low price for someone who has the potential to be a 100+ averaging solo ruck made him an absolute lock. Then came a trickle of injury news from the Saints that soon turned into a torrent, with forwards going down left, right and centre. While there's still a chance that Marshall rucks solo from round one, the prospect of him playing as a forward has me wary. He might be someone I look to upgrade to when the Saints' forwards return.
Liam Duggan (Def $740,000) – Duggan went bang at the end of last season, storming home with a last five average of 106.6 thanks to some fantasy friendly kick to kick with Shannon Hurn in the Eagles' backline. On the back of that late season form, I was super keen on him, however he's had a sluggish start to the pre-season, struggling to overcome yet another knee injury. His potential is huge if he can stay on the park, but until he's fit and firing, I'm cooling on him.
Christian Petracca (Mid $908,000) – A generally reliable uber premium (he averaged 110 in 2021), Petracca is a player I'm cooling fast on, mostly due to the makeup of the Demons' midfield at the end of 2022. If you include finals games, his last four produced an average of 85.75. While I think he'll average well over that for the season, it shows that when Brayshaw plays in the midfield and they shift Petracca forward, his scoring can certainly suffer. Given the players at a similar price, and the value we have in players like Tom Green, he's someone that I'm getting colder on by the minute.
Harry Himmelberg (Def/Fwd $708,000) – One of the biggest questions on fantasy coaches' lips at the moment is where the heck does Harry Himmelberg Play? If he plays as a defender, the sky's the limit. We could be looking at an Aaron Hall type superstar without the injury risk! He averaged 100 in his last 12 games with a ceiling of a massive 160. Unfortunately, there is a Jekyll to his Hyde, with his first 10 games averaging just 55…Yuck. He's training with the forwards at the moment, which has me pretty cool on him, however there is a glimmer of hope. The word out of GWS recently was that if their forwards are all fit and firing, he may go back again. Definitely a watch this space, and a potential upgrade target throughout the year.
Darcy Parish (Mid $888,000) – I love the idea of Darcy Parish. His potential and ceiling is huge, and without some injury concerns last season, he might have come close to averaging 110. Unfortunately, Essendon have one of the deepest midfields in the league, with question marks over what their midfield mix will look like. As a player who relies on bulk possessions to score, the role will be vital to DP3. While I don't think he'll burn coaches who select him, I'm not sure at this stage if he has the upside we're hoping for.
Honourable mentions: Nat Fyfe, Patrick Cripps, Max Gawn, Mitch Duncan, Daniel Rich
Adam Treloar (Mid $854,000) – Anyone who can average over 100 for six straight years would normally be fantasy relevant, however the last three years of Treloar's career have been dominated by patchy scoring and injury. If he was fully fit and held dual position status, he's someone I would consider, however he still isn't training with the main group, and without a pre-season once again, looks to be someone who won't hit anywhere near the heights we'd demand for such a pricey selection. Ice cold at this point.
Dustin Martin (Mid/Fwd $677,000) – Dusty is at a seriously tempting price point, and with all the positive news coming out of Richmond, it may be a little harsh to have him at this end of the list, but with Hopper and Taranto incoming, it's hard to see where this aging superstar fits into what is becoming a packed midfield. He may have a great season and impact games as only he can, but unless pre-season games show otherwise, it's hard to see Dusty as more than an forward who has a midfield rotation every now and again. A hard pass for me.
Isaac Heeney (Fwd $787,000) – Warm sunny days, pictures of players in the gym, news about rookies winning time trials, and articles about Isaac Heeney getting more mid time have all been staples of the AFL Fantasy pre-season in the last few years. This year, it's been all quiet on the 'Heeney is a midfielder' front, which makes sense when the Swans have a team boasting Mills, Parker, Warner, Rowbottom, and Gulden. It's not that I think he'll have a terrible season, but it looks like Heeney will do what he does every year. Have some good scores, have some shockers, finish outside the top 10 forwards and play less and less in the middle as the year goes on. At least this time we're not being fooled into picking him as the next Callum Mills.
Darcy Tucker (Mid/Fwd $457,000) – At the time of year when we're hearing that usually injury prone players like Elliot Yeo are absolutely flying, it stings to see someone who offers so much value sustain yet another injury and miss yet another pre-season. I really hope his body lets him get a decent crack at it eventually, because Darcy Tucker has shown glimpses in the past of his fantasy potential, but at the moment, even at his low price, it doesn't seem to be his year.
Sean Darcy (Ruc $760,000) – In an era of set and forget ruck options, Sean Darcy has really tried to break into the top bracket of fantasy relevant rucks in the last two seasons. Injury is still a concern, however the main issue this year is his pairing with Luke Jackson. As a solo ruck, Darcy has been amazing, however, when paired up, things haven't gone his way. In the three games that Darcy paired with Lloyd Meek in 2022, he averaged a poultry 50.3. When rucking solo, that shot up to 92.5. It is possible for dual rucks to score well, but it's certainly not ideal, which is why I'm cold on him at this point.
Honourable mentions: Travis Boak, Jarryd Lyons, Taylor Adams, Jade Gresham
Is there anyone I missed? Are there players who you're hot or cold on? Hit me up on twitter @NickbWest.