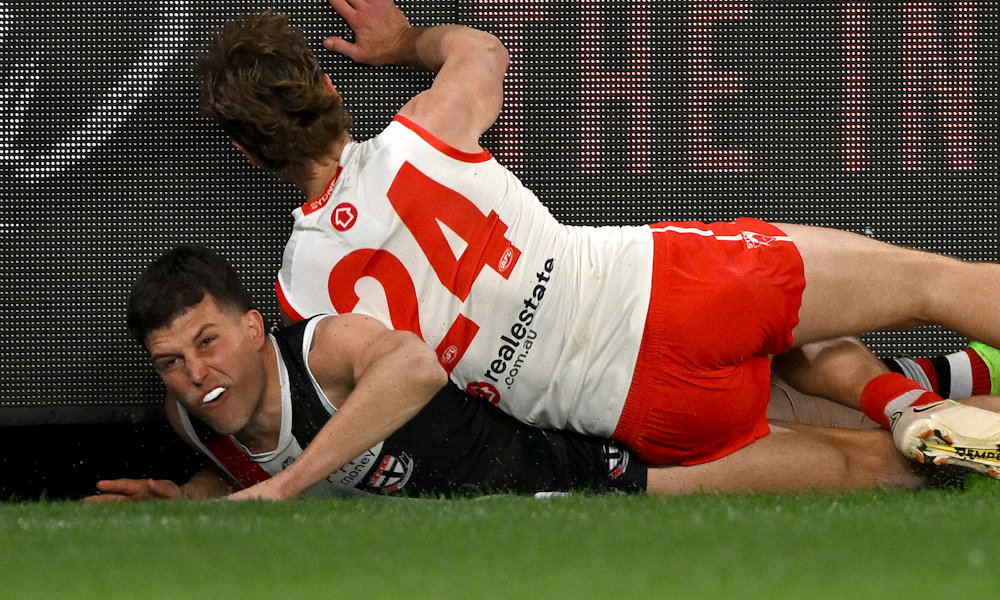 And just like that we say goodbye to the 2022 Fantasy season… Hopefully you were able to bring some respectable scoring to the table to finish the season on a high, unlike yours truly who has been in complete damage control since about R10! Congratulations are in order for thousands of coaches who got the W while thousands of others will be heading into Mad Monday wondering where it all went wrong.
Without further ado, here is your final 'The Weekend That Was' for season 2022!
Brisbane Lions vs Melbourne 
Studs
Neale (109) – One of about a handful of Lions that can hold his head high… Was allowed to roam free and cashed in with 29 disposals, 3 marks and 6 tackles!
Petracca (107) – In a class of his own when it comes to the big stage. Seemed to be taking the mickey with some of the stuff he conjured up on Friday night! Looks set for another huge final series (not that that really matters for us Fantasy coaches!).
Oliver (106) – Niiiiiiice Clarry! A classic Oliver performance with 30 touches, 20 contested possessions and a whopping 13 clearances in the Dees engine room.
Duds
Gawn (77) – Gee that was hard to watch… Never really recovered after a poxxy 10pt Q1! The Dees didn't really need him but Fantasy coaches did. I'd love to say "lift!" but do we really need to see the Dees go back to back?
Zorko (69) – Passenger. A f*cking unique passenger at that! What hope are we when you were more concerned with starting a physical or verbal fraca than getting a kick, Dayne?! Head couldn't be further up your ass.
Rich (68) –
Gordon's reaction to coaches who took a punt on Dan… Richly deserved!
GWS vs Freo
Studs
Brodie (117) – Gun. Capped off a stellar Fantasy season with another typical Will Brodie performance. You come to appreciate how good the lad is at stoppage when you actually get to a game live! Has to be a frontrunner for mid-pricer of the season.
Taylor (109) – Completely irrelevant in Fantasy but just quietly…. 3 votes S.Taylor. Giants lose by six to eight goals without the one man brick wall!
Duds
Brayshaw (89) – Not sure if it was the comparatively cooler conditions, but it was as if Bray lost all concept of how to play footy in the first half with a measly 26 to the main break! Thankfully, he pulled his finger out whilst copping a bit of attention from the defensive-minded Perryman.
Cogs (80) – Borderline fraudulent. This was Cogs' worst score since R9 and of course, for the first time in about ten weeks he just happens to be a unique… Awesome! No where near good enough, particularly when the Big Dance matchup gives your Bradbury vibes (read 'The Juggernaut Review' from last week for context!).
Taranto (71) – Just quietly, kicked an elite goal right in front of bay 11 but that won't get the job when it comes to the cut and thrust of the Big Dance, Tim. Was probably looking ahead to Mad Monday after an insipid second half…
Whitfield (70) – Mediocrity was the order of the day and apparently Sh*tters Whitters got the memo… 15 disposals and 1 goal from the resident astronaut! May have even done enough to land on a few coaches 'Never again list'!
Himmelberg (67) – Coaches would have been cock-a-hoop when they found out Himmelberg was warming up with the back-six pre-game… Fast forward two and a half hours and he not only took 15 minutes to get his first touch, he got rag dolled in the ruck and even went forward in Q4…
Darcy (61) –
Pep had Darcy unique after his monstrous 147 last week…
Green (57) – We had Duds popping out of the sprinkler on Saturday arvo in Canberra and the man with his own f*cking fan club didn't fare any better!
Norf vs Gold Coast
Studs
Swallow (140) – The heart and soul of the Gold Coast Suns who, just quietly, finished the season with three out of four 100+ scores! Talk about coming up clutch! Several of our spuds could learn a thing or two from him…
Taylor (116) –
Greenwood (115) – Talk about taking the P155 out of the system… Basically walked from Gold Coast for a pie and coke zero in one of the biggest steals in history. When you're asked to define "daylight robbery" without using the words "daylight robbery", this is it!
Anderson (114) – Now this bloke can play. Averaged 98 in his third season in the game in a mediocre team! After another big preseason under the belt (pending no setbacks!), could Ando be one to breakout to elevate himself to an elite midfielder? Only time will tell but I'm sure plenty of Fantasy coaches will be watching him closely over the preseason!
Duds
Literally no one relevant… You'd think it's a bit strange but given we are dealing with the two most irrelevant clubs going around, not that hard to fathom! At least Norf have finally landed a big fish…
Geelong vs West Coast 
Studs
Hurn (118) – Make that 6/7 tons for the evergreen veteran! Cheeky POD who has been well worth it over the past eight weeks of footy.
Duggan (108) – Probably the least impactful 108 fantasy points you will ever see! Akin to Jack Ziebell of 2021, chipping it around in D50 until they are forced to flog the ball as far away as possible, only for it to come back within the minute! A couple of tons on the trot for any draft owners out there.
Tom-a-Hawk (107) – Anyone chasing a bag of goals would have been well pleased! Could have been 120+ if Scotty didn't pull him off deep into Q4…
Danger (75) – 300 games, legend. Love him or hate him, Danger will go down as a pioneer of our great game when it's all said and done! No longer Fantasy relevant but a credit to him that he continues to impact games at the ripe old age of 32 (probably about average age down at the Kardinia Retirement Village!).
Duds
Stewart (84) – This game was perfectly set for Stew to dine out on bulk +6's… In his defence, the ball rarely entered their D50!
Guthrie (40) –
Essendon vs Richmond 
Studs
Prestia (129) – Not Fantasy relevant, but the Human Meatball is heating up at exactly the right time for Tiges fans! Huge for draft owners!
Lynch (127) – Much like the Tom-a-Hawk, coaches chasing a bag would have been tickled pink with Big Tommy finishing the night with five snags! This could have been 150+ but he was subbed out in Q4… Hopefully for Tiges fans this was nothing more than tactical.
Merrett (125) – Now that's more like it, Zac! After a pair of mares, Merrett roamed free with a huge first quarter comprising 15 touches. He didn't slow down, finishing the night with 37 touches and 6 tackles!
Duds
Redman (47) – Crab. Yours truly must have well and truly been braindead the day this flog got a mention as a 'Buy'. Since then, Redman has averaged 59… Yeah, just let that sink in!
Bolton (40) – Not sure what happened here but I don't think Richmond will give a rats tossbag… As long as Bolton is at his devastating best come proper finals in a fortnight's time!
Port Adelaide vs Crom 
Studs
Rozee (144) – Boom! A worthy winner of the showdown medal with a huge night at the office. 34 disposals, 8 tackles and a goal in what Port fans will hope is a teaser for what is to come in 2023 and beyond. If you managed to have him unique in a GF match-up, this could have been the difference!
ROB (128) – Shat all over the ruck-less Port with 50 hitouts to go with 18 touches and a sausage roll! Kudos to those paying attention to the match-ups!
Wines (123) – You know what they say: Better late than never! Talked the talk during the week and backed it up by walking the walk. A shame the square bonce decided to lift once the Port flogs season was done and dusted… A three round average of 120 to finish the season.
Butters (121) – Little p*ssant! The fact I could have traded him in this week makes it even more excruciating… Another week he'll be living rent free in my head.
Laird (116) – A mark of a true fantasy legend is when they find a way when the chips are down… Laird had Willem Drew for company most of the night and was one of only three Crom players to eclipse 70! An insane season from the Desk Rig (or Desk Pig?). Has to be a good shout for Fantasy MVP!
Gray (70) – Congrats on a brilliant career, Robbie. As a Saints fan, I still have nightmares of R19, 2017 when Gray came up clutch off the back of someone brilliant Paddy Ryder ruck work!
Duds
Dawson (67) – Virtually unsighted in the second half… Must have been on beer run duties? Saved his worst for last!
Houston (64) – Seriously, you couldn't be more inconsistent if you tried! Fun fact: In his past seven outings, Houston has 4x scores <65 and 3x scores 110+… Baffling.
Keays (49) –
No caption necessary…
Hawthorn vs Western Bulldogs
Studs
Sicily (151) – "A pity he's 100% owned" – Every astute Fantasy coach on earth… Trust yours truly to miss the most obvious starting selection in living memory. Living proof that the concept of a 'never again list' is a hoax.
Dunkley (132) – F1. Enough said.
Treloar (116) – Yes sir! A shade of the Trelly of old in this performance with 25 disposals, 10 tackles and a nice snag approaching 50 on the run.
English (114) – No Martin/Sweet? Say no more! This is more of what we come to expect from the two metre ghost! Turned up when it mattered most with 17 disposals, 8 marks and 5 tackles.
Duds
Mitchell (84) – 72% time on ground?! We knew Sitch hated him but that was an all-time low! Certainly not the elite, premium bacon that he once was…
Marecrae Macrae (81) – For a so called 'uber-premium' to go nine weeks without eclipsing 110 is just not acceptable. A blessing that 45% of the competition also copped this military mediocrity! May be the last time coaches select J.Macrae – I'm not willing to put a line through him, but I'm sure many will.
Sm(n)iff (74) – Fair to say Baz needed more than the Booger Sugars to shake the clamp of Hack Finn Maginness. Stevie Wonder could have seen this tag coming from a mile away… Another dogsh*t decision from yours truly to 'match' a unique in the Big Dance!
Dale (74) – I would say irrelevant but guess who had this prepubescent spud as a unique in the Big Dance?! Genuinely laughable to think I went through with trading this flog in.
Carltank vs Collingwood
Studs
Doch (137) –
Doch owners delayed reaction after taking 13 minutes to register a score!
Cerra (129) – Any draft owners out there?! Cerra was back like he never left but will now be on leave for the next two to three months after a monumental choke from the "Flagbaggers".
J.Daicos (125) – All class. Nice to finally give Daicos of the Josh variety a bit of love! 28 disposals, 8 marks and 3 tackles in a brilliant all-round game.
Elliott (62) – Sh*thouse Fantasy score but Doggies fans far and wide loving his work right about now! Ice in his veins.
Duds
Crisp (72) – I labelled Cogs Fraudulent… get a load of this clown: No tons since the bye after 10 in the first 13 rounds! Beyond laughable.
N.Daicos (69) – A rare mention in the duds after a brilliant rookie season! Plenty would have held for the entirety of the season, a testament to his scoring prowess and freakish talent.
De Goey (62) – Unsurprising given how close we are to silly season… Also known as "De Goey's Domain". Look out next holiday hotspot!
Walsh (-) – Proper crook. Their would have been plenty of coaches heading into the final day of the season with the upper hand in their Big Dance match-ups… Only to have it taken away in the blink of an eye with Walsh a late withdrawal! You suspect it may be a decision the "Flagbaggers" live to rue.
St Kilda vs Sydney
Studs
Steele (139) – Clutch. Steeley bought the season to a close with a huge performance comprising 27 disposals, 10 marks, 9 tackles and a snag! I imagine he would have got a few coaches out there over the line at the death.
Long (138) – Wow! Where did that come from?! Prior to Sunday evening, Long had never tonned in his 79 game career. He put the superman cape on to accumulate 27 disposals and a huge 17 marks! You wouldn't read about it!
Hannebery (107) – Yeah good player over the journey but cost St Kilda about $120K per game… I'm going to leave it at that as even hearing his name triggers me!
Duds
Mills (81) –
How many claps is about how many kicks you had, Callum.
Parker (73) – Well… that was weird. Lowest score since R4 for the consistent beast! Clearly an anomaly and his style of footy will hold up come legit finals.
Mareshall Marshall (47) – Disgusting. As soon as Tommy Campbell was named Friday arvo, alarm bells were ringing! Despite this, I didn't think Marshall would turn into a Pelican and dish up that utter tripe. Couldn't even hit the ton with his score doubled… Mind boggling!
The Juggernaut Review
2124. In a word: embarrassing. In case you didn't catch the salty vibe throughout the article, got d*cked in my only GF match-up… Let's just say, thank f*ck we're not playing for percentage in finals! This was even with my opponent copping the Walsh bullet and captaining Rowan Mareshall Marshall.
Dictionary enthusiasts far and wide, another change is in order for the definition of the phrase "One-hit wonder". In case you missed it, here is the recent history to get you up to speed:
Definition of one-hit wonder to Thursday 7 July 2022: "Someone who achieves mainstream popularity, often for only one piece of work, and becomes known among the general public solely for that momentary success."
Definition of one-hit wonder from Friday 8 July 2022 to Sunday 21 August 2022: "(F)Luke Jackson." This was off the back of his flash in the pan 125 in R15…
Definition of one-hit wonder from Monday 22 August 2022 until further notice: "John's Juggernauts."
In the space of 52 weeks, the self-proclaimed Fantasy Fanatic with a head the size of a house has plunged into complete Fantasy insignificance. To illustrate this, my ranking has gone from two digits to five… And before you ask, no you're not getting the raw numbers!
All gags aside, congratulations to all coaches who came up trumps in the Big Dance and claimed ultimate bragging rights in the process! You are now the hunted but Mad Monday with the boys will be white hot! Special mention to Benny Smart and his "Smartmen" who, from go to woe had one of the best squads in our league, a richly deserved W! Even bigger special mention to Matt Mottram and "Mottram's Marvels" for being the undisputed king of Fantasy for 2022 with a grand total of 50,996!
As an aside, I just wanted to say a huge thank you to all my loyal followers for getting around my content in 2022! Your support means more than you think and hopefully you got some value and a few laughs out of my articles! To Warnie, Calvin, Roy and the whole DT Talk community, it has been great fun pumping out these articles for such a good crowd.
Stay tuned for some bonus off-season content… On that, if you have any elite content ideas, I'm all ears!
Bring on 2023!
Thanks again legends and for the final time in 2022, flex how you went in the comments!
Yours in Fantasy,
Fantasy Fanatic #70
https://www.facebook.com/Fantasyfanatic7021/