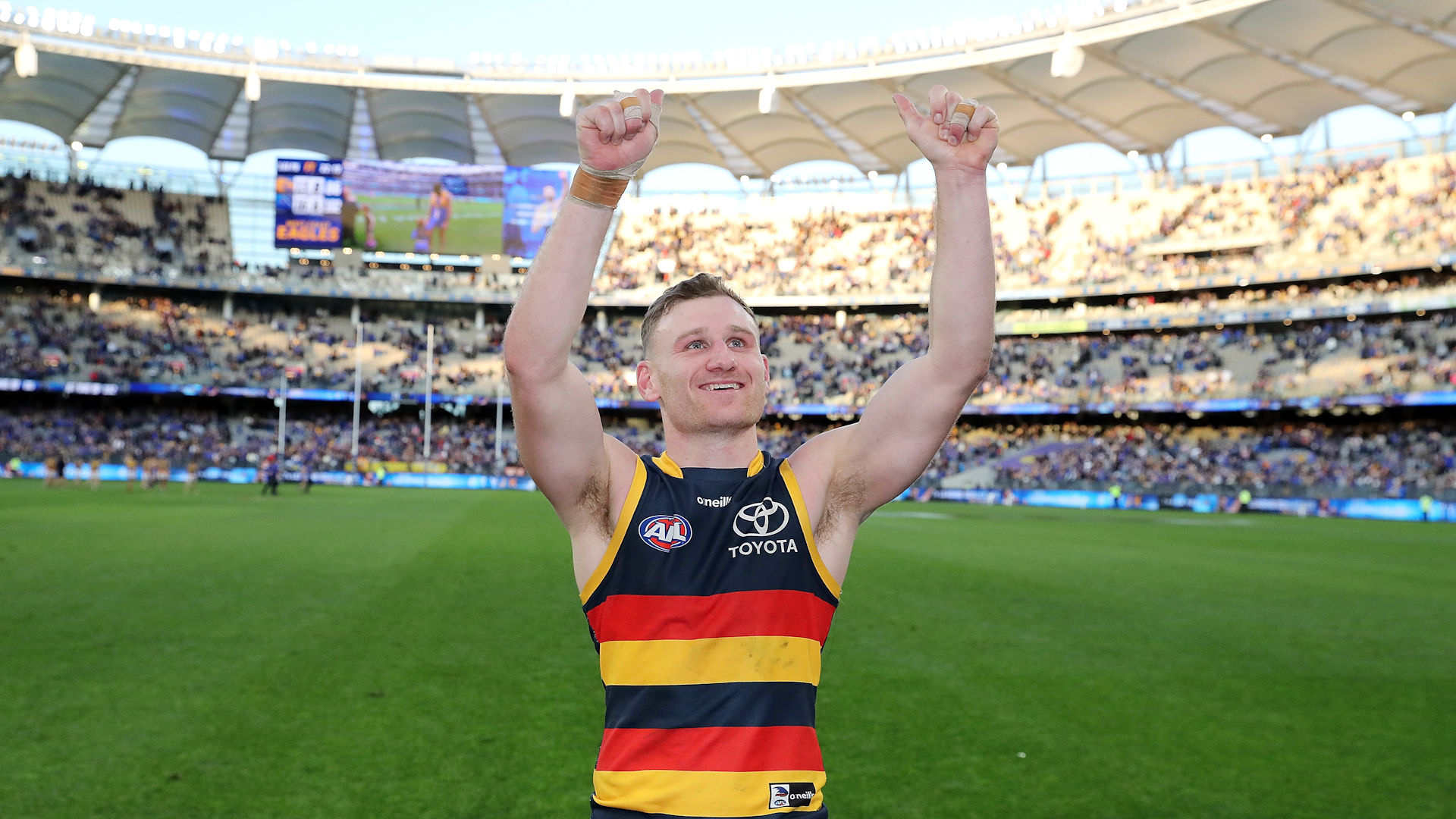 They say that finals footy is "a different kettle of fish". I'd argue that extends to AFL Fantasy circles – win, lose or draw, there were many a stud rising to the occasion and many a dud succumbing under pressure, seemingly inexplicably! We had some massive individual scores, premiums channelling their inner rookie and a whole bunch of crabs in between!
Time to vent… I'm sure there are thousands of coaches out there that need this!
21 down, 2 to go… Time for The Weekend That Was.
Melbourne vs Collingwood
Studs
Max (152) – Colossal. Gave the Cammo/Cox combination a bath. You get the feeling the big fella knew it was a big weekend for us Fantasy coaches and boy did he deliver! 31 disposals and 10 marks… That's half back flanker type numbers!
Oliver (139) – The yellow pill seemed to be attracted to Clarry and his ginger bonce with a lazy 42 touches. Not sure how many of these were useful to Melbourne on the night but coaches won't give a tinkers cuss!
Trac (120) – I feel like the saying "big-game player" should extend to Fantasy circles (if it doesn't already!). While Melbourne didn't get up, owners will be as happy as a pig in sh*t!
N.Daicos (108) – Prodigious. Very rarely you use the terms "rookie" and "season long keeper" in the same sentence! Daicos has gone against the grain to put together one of the better rookie season in living memory. He's now simply toying with coaches who have recently flicked him!
Duds 
Langdon (69) – Gee life comes at you preeettty quickly! Fair to say he got his "duck dinner" about 20 seconds into the game… Quack.
Cameron (52) –
Footage of a coach with Cammo unique in a sudden death semi-final…
Hawthorn vs Gold Coast 
Studs
Hollands (118) – Wtf was this sorcery?! You can see why the Suns have huge wraps on the kid after this breakout performance. 23 disposals, 9 marks, 2 goals and thousands of coaches highly aroused after activating a cheeky emergency loop!
Witts (108) – Enormous! Has low key flown under the radar this season but resides in 17% of teams with an average of 90. His durability has been a standout having not missed a game! You could have done a lot worse.
Sicily (101) – Typical. Another week of Sic making a mockery of yours truly after being declared a 'fold' mid-week… Another big F you to John's Juggernauts and the other potatoes that gave him the flick.
Duds
Miller (88) – Battled hard with Maginness basically dry humping him for 120 minutes… 0 marks really hurt for Touk but he buttered up with 10 tackles. Hopefully you didn't whack the C on him!
Mitchell (83) – The Pig at Pig Park not bringing home the bacon? Rare. Seemingly ran around in circles hoping the ball would land in his lap after half time…
GWS vs Essendon 
Studs
Whitfield (112) – Vintage Whitfield! For all the stick I have dished him this season, that was a clutch performance in a time of need. 29 touches, 8 marks and a sausage roll!
Himmelberg (104) –
Duds
Preuss (60) – Incredibly, this is about the only thing we haven't seen from Juicy Preussy this season! A bitter, not so juicy pill to swallow for owners who knew they were playing with fire… And got burnt badly.
Marett Merrett (55) – Season defining. That was f*cked, Zach. Owners would have been strutting around like a peacock after last weeks 172, only to come crashing back to earth as quickly as the Cryptoverse… Condolences to anyone who chucked the C on this mega spud.
Redman (54) – Give a guy a pump up and this is what he does to you! Maybe there's a reason you're only 2% owned, Mason… Jeepers I hope you didn't take my advice and gamble on this tool. Probably started more melees than he had legitimate kicks on Saturday arvo!
Western Bulldogs vs Freo
Studs
Ryan (151) – Not overly fantasy relevant but that was epic! Cashed in under the roof at Marvel with a whopping 15 marks. Draft owners… Must be very nice!
Sm(n)iff (110) – Yes sir! After a putrid 65 last week, Baz put in a shift for his owners with 30 touches, 5 tackles and a goal.
Dunkley (109) – He's almost relevant and irrelevant at the same time (if that's even possible!) given his ownership of 70%! Anyone taking this game seriously has Dunks locked and loaded at F1/F2. Another industrious performance with 33 touches and a snag!
Bray (109) – If you told me at the start of the game Bray had 21 touches, I'd be thinking 'Sh*t, here comes a mediocre 80-90…' I'm forgetting our man has elevated himself to giddy heights this season and his Fantasy scoring has reflected this. You just wonder what kind of psychological mindf*ck distress Gold Coast were in when they traded away pick #2 in 2017!
Duds
Bont (83) – It was an 'almost' evening for the Bont and the Dogs… He had a lot of good moments where he made his team mates look a million dollars but this did not translate to an elite fantasy score. Better player than he is Fantasy player if that makes any sense!
Brodie (73) – Amazingly, this is Brodie's second lowest score of the season… Terrible timing but hard to be too salty with a guy that started the season <$400K!
Treloar (69) –
Geelong vs St Kilda
Studs
Crouch (123) – Talk about peaking at the right time! Crouch has gone bonkers of late with a three round average of 133! Massive POD for 4% of the competition. A couple of tough fixtures to finish the season but could be a huge smoky for an underdog needing something different!
Marshall (118) – Never. In. Doubt. Ryder out = Marshall domination. Simples!
Duds
Stewart (46) – Disaster. Seriously, any danger Tommy? He had 4 points to half-time. That's right, 4. Didn't realise we were paying $800K for a rookie! About as useful as a screen door on a submarine.
Port Adelaide vs Richmond
Studs
Butters (116) – My loyal followers know all too well my thoughts on this pint-sized pillock. This is his highest score since round 2… 14.6% of the competition kissed on the d*ck!
Wines (113) – Long overdue. It's been a frustrating ride for Box head owners having only chalked up the one ton in his past five outings… Fair to say he owes coaches a few big ones to finish the season!
Houston (110) – Houston… We don't have a problem! Back in after a concussion a fortnight ago and showed exactly what he is capable of on his day. Cue a score in the 60's and 7% of the competition with heart palpitations in R22!
Duds
Rozee (64) –
Norf vs Sydney
Studs
Simpkin (120) – Norf as a club about as relevant as yours truly to AFL fantasy this season but credit where credit is due! I imagine Jye's shoulders are abnormally sore carrying all those spuds. Just a lazy 31 touches, 5 marks and 6 tackles in what was a complete fantasy game.
Parker (115) – Gun. Excruciating to watch Parker run around and take the mickey as a unique in one of my sudden death semi-finals… 29 touches and 9 tackles in a light training run.
LDU (111) – I'm sure there are coaches out there that were lowkey hoping UDL would slow down to make him more affordable come 2023… Another trademark performance typified by his burst out the front of stoppage. You'd think the tags are coming in future but he is certainly one to watch in 2023 and beyond!
Duds
Mills (89) – It was a downright dogsh*t week for picking captains (if you suck and don't own Laird!) and Pills Thrills was no exception… He only managed 15 points in the last quarter and a half after a flying start to the game! Hopefully didn't cost you a prelim final berth.
Brisbane Lions vs Carlton 
Studs
Neale (117) – Like shelling peas… Back to his old ways of running around unopposed picking up loose ground balls and possessions at will! Some may have been in a position to 'luxury trade'. Fair to say it most likely backfired with a suite of uber premiums channelling their inner rookie!
Zorko (94) – So I figured, this little man is living in my head rent free so you know what f*ck it, I'm bringing him back in! Helped the Juggernauts over the line in one sudden death semi-final so gets a shoutout for that alone… There's a reason why there is no such thing as a 'never again' list (not even for Zac Butters!).
Duds
Walsh (89) – This military mediocrity from uber premiums seemed to be infectious and Walsh owners were not spared! Five round average of 103 is nice but nothing to crow about…
Rich (67) –
Coleman (56) – Blimey… You were never a long-term prospect Kiddy, but coaches didn't pay upwards of $600K to watch you run around for two hours doing circle work by yourself, without a footy!
West Coast vs Crom 
Studs
R.Laird (127) – With nothing better to do on a Sunday arvo, I figured I'd sit down and watch Crom vs Eagles and the Desk Rig in action. Within four minutes, West Coast had put together the greatest demonstration of social distancing known to human kind… Somehow allowing Laird to kick two snags on his way to 24 points in the opening four minutes! Role, tick. Pig-like tendencies, tick. Opposition that don't even know you exist, huge tick!
Josh J Kennedy (120) – Vintage JJK. What a fitting send off for the West Coast great who was initially the 'steak knives' in the Chris Judd trade to Carlton back at the end of 2007… Kennedy would go on to play 250+ games for the Eagles and become their all time leading goal-kicker! If today's 8 goal performance is anything to go by, he could definitely play on. Happy retirement, Josh.
ROB (100) –
Duds
Keays (45) – Not entirely his fault but that does nothing to soften the blow for thousands of coaches who were relying on their 'premo' to come up clutch! Arggghhh Nicksy, we've had our issues previously but playing your gun inside mid as a forward takes the cake. Only possible explanation is Nicksy's semi-final opponent must have had Keays unique…
The Juggernaut Review
2180. Pox score but somehow scraped into a prelim in one of my two leagues… For the sake of my ego let's just run with "I'm still alive in my most important league!" It's a dire state of affairs when you come to the realisation that 3/4 teams sitting in the semi's of the 'consolation finals' had you covered with ease…
Special shoutouts are in order for:
Zach Marett Merrett – Congratulations Zach, you lost all concept of how to football and in the space of seven days went from hero to zero. I'll be keeping the faith but f*ck me, it'll be curtains for the Juggernauts if he carries whatever that was into the coming weekend!
Matty Nicks – Yeah good onya champ! Let's just d*ck around with the magnets and chuck our ball winning bull on a half-forward flank! Turning into Bevo without hair.
Looking ahead, coaches still alive can just about taste victory as we launch into prelim final week! Your trading strategy hinges on a) Negotiating forced trades (hopefully none!) b) Looking at players with favourable match ups and c) Sizing up your opponents squad and if required, cancelling out one of their guns! Of course this week I am up against a lucky bastard an astute coach that owns R.Laird. Assuming limited chaos, I will be looking to neutralise given his 127 at the weekend was his lowest score in seven outings!
Happy trading and good luck to all coaches who find themselves in a prelim. May the best team progress to the Granny!
Thanks again legends and flex how you went in the comments!
Yours in Fantasy,
Fantasy Fanatic #70
https://fantasy-fanatic.com/ – go check it out legends!
https://www.facebook.com/Fantasyfanatic7021/