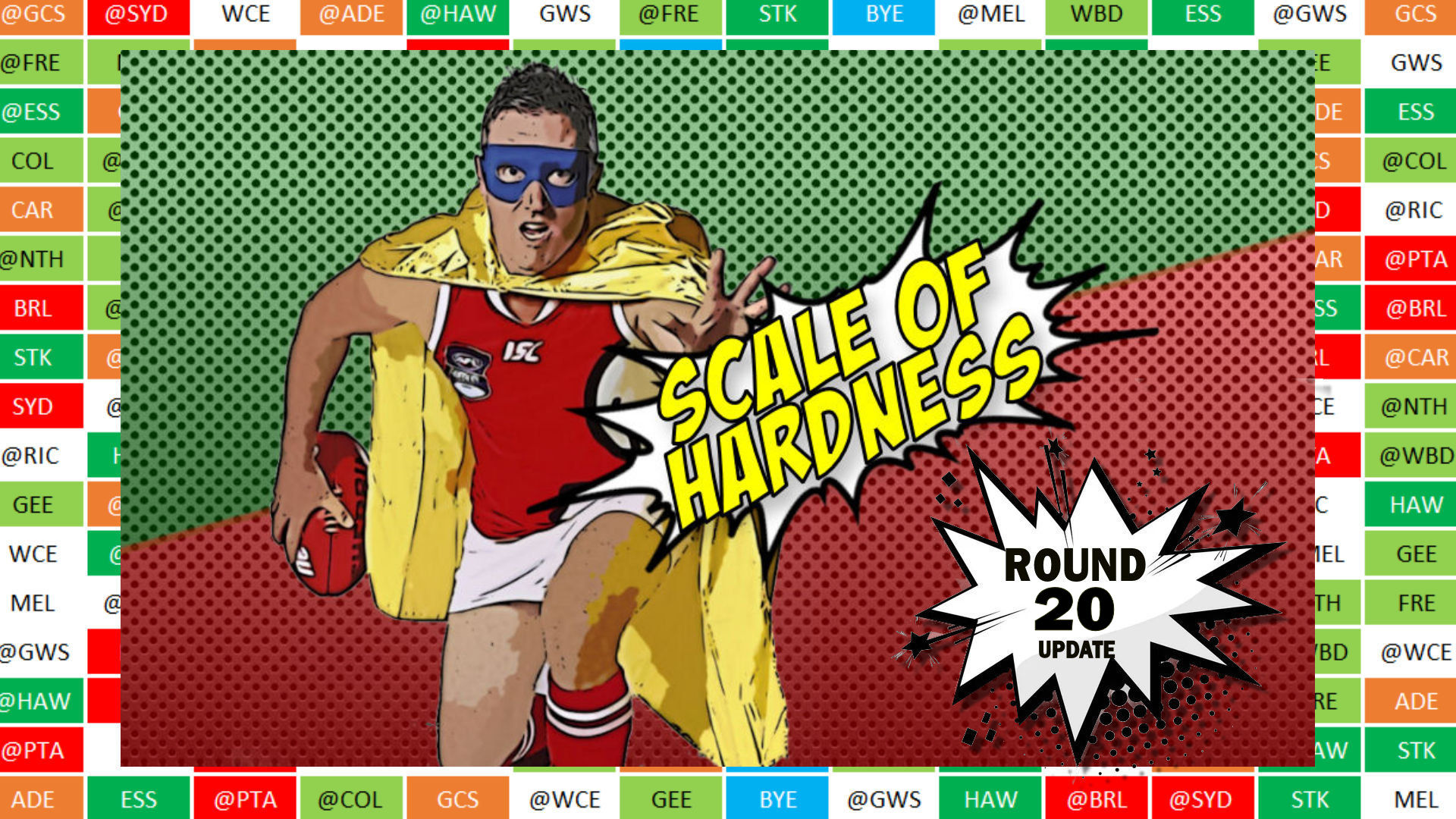 Let's fire up the old Scale of Hardness with the final revised version for the run home. By now… we all know how it works and to be honest, this has been one of the most successful seasons for the scale and it's accuracy.
Obviously there hasn't been a lot of changes, but slight adjusts from what has come so far.
DEFENDERS
To be honest, there isn't a great lot to take away from the run home of the defenders. With Tom Stewart returning, maybe he could be a target, especially now that he is unique. He has the Dogs this week who rank at #2 easiest for defenders this year, a trend that has continued over the last five weeks as well. Maybe as for Nick Daicos, maybe now is the time to sell. He has been awesome but his run home doesn't look that pleasing. He is still a bloody jet and has Melbourne coming up which is an added bonus.
MIDFIELDERS
Sydney's run will continue and for those who jumped on Chad Warner last week for his 115, well done, this is a move that the Scale of Hardness ticks off. Sam Walsh is an interesting one. He tweaked his ankle last week but played on, and his draw is elite. He is another name to consider, with them best match-up possible in round 23. Touk Miller also should have a super run home and needs to be targeted if you don't have him already. He has West Coast (100), Hawthorn (105, 160), Geelong (98) and North (112, 130) to finish and in brackets are his last scores against them.
GWS have the worst possible run coming up. Guys like Stephen Coniglio and Tim Taranto could find the scoring a little more colder than usual.
TAGGERS
It's worth noting some taggers who have popped their heads up over the last few weeks. Now… this can be very tough to read but here are some names worth noting for their runs moving forward.
St Kilda – Windhager … did a massive clamp job on Tim Kelly (17pts) last week
Sydney – Clarke … loves a "back tag"  – Went to Dawson and then Brodie Smith last week
Hawthorn – Magginess … went to Simpkin (52) last week and will do more jobs this year
FAQ – Where are the forwards? Well at this time of the year, the only forwards you should be considering are midfielders anyway!
RUCKS
Take out of this what you will. Max Gawn's run home is horrible… but then again, this is Max Gawn. The Scale is not answer to all players, it helps with 50/50 calls. Now, Max is coming off a nice 133 and even shared the rucking duties again with Jackson., with a 24/11 split. It didn't matter (even though this has increased for Gawn), Max took 8 marks with 25 touches and will fire up home ready for AFL Finals.
As for my mate, Big Juicy… we'll he'll have a day out on the Swans this week. Hickey is their man at the moment and last week, ROB (104) was solid enough against him thanks to 51 hit outs. After that Sydney games though, he does have it a little tougher, but hey… it's Juicy and anything can happen.
EVERYONE'S FINAL RUN HOME