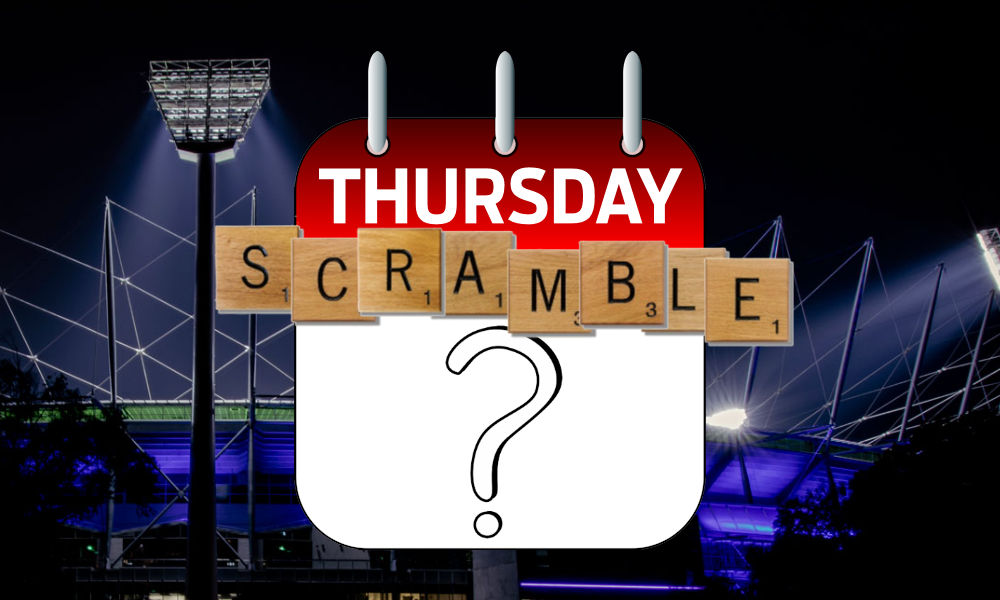 The Byes are behind us but that doesn't mean much!  Things are just as hard now as they were before as we have injuries, suspensions and underperformers to deal with still. We may have more premiums to choose from but choosing the right ones never gets any easier. We have just 5 more rounds until most leagues start their finals and just 9 more rounds to make our run to be number 1!  Let's Scramble!
More Ruck Issues
This season the old Set and Forget went out the window a while ago and we have been playing Ruck Roulette for a while now.  This week we have more issues to work around but the tough bit really is finding two ruckmen that are actually fit and able to play this week! Many of us thought we had our benches covered with guys like Sam Hayes, Brynn Teakle, and Braydon Preuss but sadly all have gone missing recently.  Without going through who you should actually pick as you all have different sides, here are a few of the different strategies that you could employ to get you back on track and my thoughts on the guys that are missing.
The guys missing….
Max Gawn – still listed as being 2-4 weeks away.  If the Dees can get a few wins on the board without him and get closer to locking in the top four then they are likely to give him all the time he needs so he is right to go for finals. I still think he will be closer to the longer end than the shorter and I also think they will limit his time and put him up forward when he returns given they have Jackson. So I would be trading Max if you haven't already.
Tim English – Incredibly unlucky to cop that concussion on the weekend. He certainly didn't look right after that big tackle from Preuss. He is listed as 1-2 and I won't be surprised whatsoever if it is the 2 weeks. Unlike the Dees though, the Dogs are still fighting for a spot in the 8 and they will need their big man back. I will be holding English and swinging him up forward and putting him on the bench there so that he can be a bench loop donut option for you this week and it gives you more options for backup.
Braydon Preuss – This guy is the gift that keeps on giving for us this season, this is his third suspension and I think it is his second injury of the year. Word is that he will return after his suspension, but do you really want to take the risk?  The odds on him playing the remaining 8 games after this week off are fairly minimal based on the evidence we have so far. If you can use him as a stepping stone to get up to one of the guys that are more reliable and are likely to play then that is what I would be doing.  I traded him out a while ago and have no desire to bring him back.
Just a word on Brynn Teakle in case you missed it he is going to miss up to 8 weeks (so basically the rest of the season) with his collarbone injury. You can keep him on your bench though given his Fwd/Ruc eligibility so you can manouvre guys like English around.
So What should we do?
Well as I have said above, I would trade Max and Preuss but I would hold English if you can. In AFL Fantasy of course we have our two trades per week and you could look to trade out English given he is likely to be two weeks away. This is an entirely valid play given we think he will be likely to miss more than 1. The only caveat I would put on that is that just beware that there will be other carnage coming and you may not be able to get him back in when you want. So just be completely prepared for that.
There will be the temptation to trade out English or Max down to a cheaper ruck like a Jackson, Draper, Hayes (if named) or even Chol. If you do that you can use your excess funds and deploy them elsewhere to upgrade someone else. Just remember that when it comes time to get Tim or Max back in, you will need some cash from somewhere. So have your plans in place on how you are likely to do that.  The ideal situation of course is that the guys you bring in will rise in value but we know that isn't always the case.
In trading these guys out my aim will be to bring in someone like Sean Darcy or dare I say it, Reilly O'Brien (who is averaging 90.2 and is the 4th best on average). Someone that you are happy to run with for the rest of the season and then if something else happens and you can get English back in the do so, but you will need the cash to come from somewhere.
Darcy Cameron will be a very popular choice to bring in as he is having a stellar run (after I said he wasn't going to be any good, that aged really well!). He would be one that you could most certainly bring in, but just remember, Brodie Grundy is only 4 weeks away and when he returns I expect Cameron's scoring to go back to its previous levels.  Scott Lycett is targetting the 9th of July for a return in the SANFL so his is still at least 4 rounds away as well.
So in summary….. what I would (and will) be doing.  Trade Max, Trade Preuss, Hold English, Bring in Darcy or O'Brien, Use the cash you make if it is a downgrade elsewhere to make your team better.
The Run Home
Early in the year we use Cal's Scale of Hardness as a bit of a guide for who we should look at and who has a good run in the coming weeks. The closer we get to the end of the year the more important it gets as teams play less other sides and things aren't as even.
A few articles have been around that assess this (I am sure they stole their info from Calvin) and Adelaide are the clear winners with two games against North (one this week) and one against West Coast in their last 9 games.  This should mean that if you don't have other issues to deal with (which would be unlikely) then you should be targetting Crows and Laird would be the number one target on my list (if I didn't have the aforementioned other issues to deal with). He is having a great season and if he didn't hurt his hand in the preseason he would be in plenty more teams than he is right now.
So I would implore you to look at the Scale of Hardness and any other articles out there that concern themselves with looking at how hard a team's run home is. It can help you gain some valuable points on the run home.
Not Again Butters!
Butters just can't stay on the park this year, he keeps having collision injuries that are derailing his season. But I would rather a player have a collision injury than a soft tissue one. He has an MCL strain at the moment and is apparently out for just the one or two weeks with a bit of luck. However, I am still going to trade him out.  And I can hear it now, But you are saying to hold English and he could be out for 2.  However, we know that Butters hasn't been the most consistent player this season and many of us were looking at him as our first upgrade once we had a fully upgraded side and had no rookies on the field. This is the prime chance to make this change! I will be trading him out as this is one of those injuries that could drag an extra week and even then when he comes back there is no guarantee that he will score well.  The annoying thing is that he had a great first quarter against the Swans and was on track for one of his better scores.
Things to Remember
Draft players…. Wake Up…… You are back on!  If you didn't play the byes you may want to check your teams for any injuries that have occurred in the last three weeks and adjust your lineup accordingly.
Just 5 more games til League Finals start. Get those wins and lock in your spot. Assess your opponents and it may affect your trades.
There will be more injuries. So those in the Trade Limited forms of the game, don't go blowing those trades on just anything. You will need them on the run home.
This is going to be a testing time for coaches as we come out of byes with a few injuries and a few of our bench players either being the sub, injured or just not getting a game. You may have to just ride some of them home as you deal with some bigger issues!
I will try and get a Scramble out for you next week but it may be a shorter one, sorry in advance.
Have a great weekend and enjoy having 9 games of footy back again.  Oh, and get your tickets for the Traders Live and I hope to have a beer with some of you at the Adelaide shows!