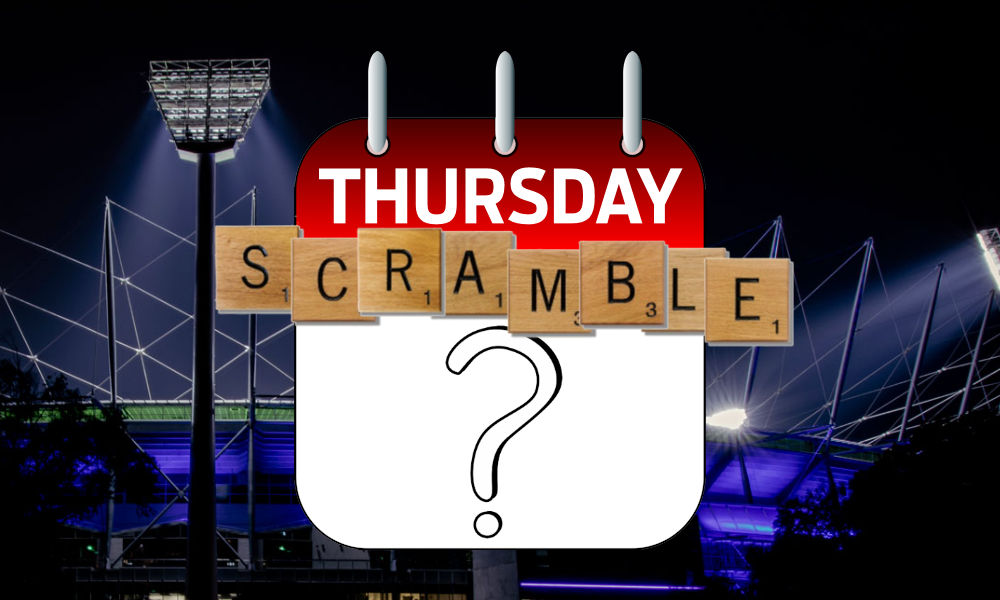 All those best laid plans hey!  Injuries, Suspensions and Concussions!  If R14 was meant to be the easy round then someone should have told the Fantasy Gods!  A lot of people are sweating on selections tonight to see what happens before they can finalise their trades, I know I am one of them.  Let's Scramble!
Is Syndesmosis contagious like Covid?
It seems that Ankle Syndesmosis is contagious just like Covid with the big man Max Gawn the latest to go down with this dreaded injury. Now I hear you saying, but he was on his bye this week anyway and I saw them say 3-5 in the media, well, don't believe a word you read. If I put my Dr's hat on (note: I am not even close to a doctor), I reckon he will be closer to 4-6.  I think if Melbourne can get a few wins with him out they will give him more time to recover given how important he is to the side.
No matter what happens he is a trade.  Simple as that. This can definitely work to your advantage given it is the last bye week.  The most popular trade in for him will be Witts or English. If you already have both of those guys then you are set and can use Gawn to upgrade somewhere else in your team.  This is the situation I am in and I will be using the Gawn money to improve my team so that when I come out of the byes I can have a fully premium team on field with some really good cover. With Gawn being one of the more expensive Rucks you can certainly utilise this cash to improve your team somewhere!  Whilst having to trade Max is annoying it can give you an advantage if you can use that cash elsewhere effectively.
If you don't have Witts or English I would be targeting English first only because you can swing him forward at some stage and if your DPPs are set up right you can use him to cover any injury in your Ruck line in the run home.
How Owen-lucky can you get?
We were all praying last week that Mitch Owens would hold his spot and give us something on field. We cheered when he survived, then we cried when he went off with concussion and just a handful of points. Whilst we certainly hope he is ok and look forward to seeing him back out there next week, we are kind of stuck as many of us were relying on him playing in this last of the bye rounds. The other problem we have is that he hasn't made us much money so trading him is also difficult unless you are side swapping to another rookie price player. We always try and avoid that where we can and if this was any non-bye round we would say just stash him on the bench and hope that he can make us some more points next week. The problem is that his BE is also going to be affected by that 11 last week for a couple of rounds which will stifle his value growth.
My advice with him is if you need to move him to get yourself to 18 then do it.  No questions asked.  If you have no other trades you can do and moving him gets you to 19 or 20 then it would be worth doing. However, if you are lucky enough to have 21 or 22 playing this week without moving him on then you could easily hold him and just hope that he comes back in and be a good bench cover player.
More Suspensions and other news
Did you trade out Bailey Smith last week?  If you didn't then you should be doing so now. He has two weeks to serve and that is a chance to get longer as the AFL haven't announced their findings on his photos yet but it isn't likely to be good news.  With the Dogs playing again and 6 other teams on the bye you need all the premiums you can get.
Speaking of players you must trade out, if you hadn't traded out Jason Horne-Francis yet then his bye this week should have been enough to do it but with 2 games slapped on the end of that there is no doubt he should not appear in any teams from here going forward now. He has done his job and has to go.
In other news, anyone still holding Nick Daicos? We all thought he was done a while back and there was talk of him having a rest!  Well he has shown us and gone on a tear in the last two weeks and is almost begging you to hold him through his bye. It is a tough sell and if you need the dollars to get to a premium then you should be doing it. However, if you have 21 players already this week, Daicos is doing enough of late to warrant staying in your side a bit longer. He could be your D6 or a player you look to Loop off the bench as we go into the run home. Just be ready to pull the trigger on him at any sign of a form drop.
When you are trading players in this week, make sure you keep your structure for Round 15 in mind. There is no point having 7 guys that are full premiums in your defence or forward that could get stuck there meaning you have a premium on the bench. Just make sure you are taking into account all of your DPP and player permutations when you are making your trades to ensure that in R15 and beyond you can get all of your premiums on the park at the same time.  No point having 7 premo's stuck in your defence when you have no way of moving them around to allow you to get that Rookie F6 off the field.
Things to Remember
We have a game tonight so you won't have long between teams and first lockout to make up your mind on what you are going to do.
Plan for the finish line now.
Draft coaches, time to wake back up!  Only one more round til you get to play again.
Have a great week everyone and remember, it is how you have moved up the ranks after all three bye rounds that matters, so if you have had one poor week so far, don't worry, treat the byes as one long round and look at what you have achieved after this week.