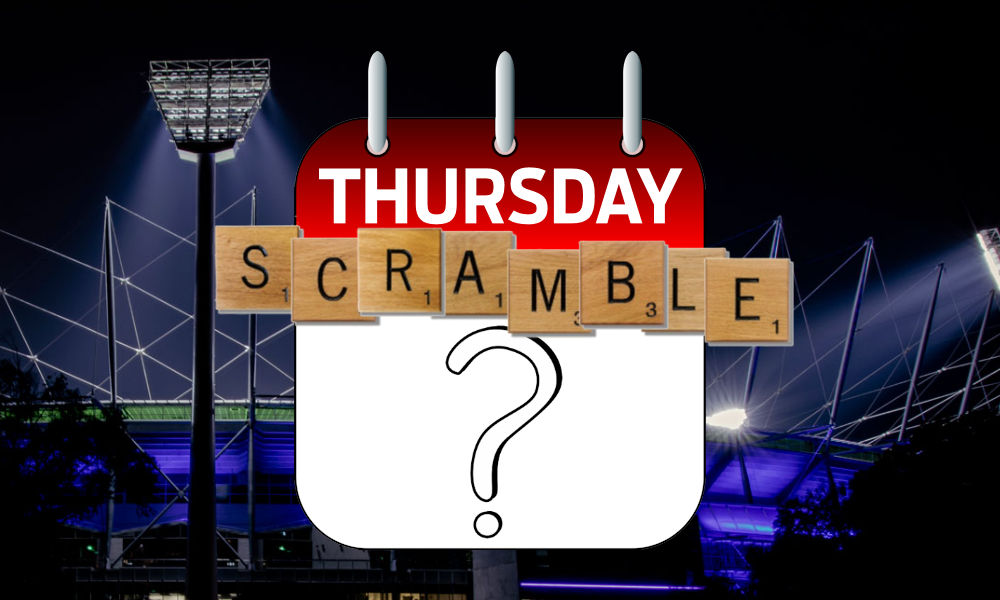 We've been talking about them for a few weeks now and they are here. The first of our bye rounds has arrived and with it comes the realisation of weeks of planning your team and the hard work getting a good bye structure together. Or, it could come with the realisation that you have left your run too late and you are going to be copping donuts this week!  Let's Scramble!
Bye Round Reminders
I know you all know what you are doing in this space. But hey, it doesn't hurt to have a reminder. And there could be some people that are new to the world of the Byes so here are a few thoughts.
Move the players on byes to the bench. In RDT and SC they are very easily identifiable by the Blue Dots.  In AF they have some weird lounge icon in a very pale teal (not the good teal).  Sorry Warnie, but it is a bit weird and a dark blue dot is much easier. Put them on the bench before you start to do anything and don't move them from there!  IF you happen to roll back your team from trades at any point make this the first thing you do again.
Players on byes don't lock til the last game. So they are perfect loophole opportunities.  If you happen to have a full line with one player on the bench also playing, have a go at the emergency loophole.  Every point counts!
Anyone you trade in this week will have a bye at some stage. But this doesn't mean you shouldn't trade this week. Take advantage of this week to get rid of some red dots even if both players are on their bye this week.
There are no concurrent games. So this should make it easier for you to manage any loophole action.
These rounds are a huge opportunity in Draft. In Draft your league is more than likely not playing across the byes, but that doesn't mean you go to sleep! This is where the waiver wire mining is possibly at its best because there will undoubtedly be half of your league that fall asleep at the wheel and could miss a player that has started a hot streak.  So keep watching and finding guys off the waivers.
Be sure of the job security of rookies you bring in. With the Mid Season draft last night there are a few new bargain basement players for us to select, and if they get named this week some will be tempted to bring them in. But just make sure you do some research because these guys are new to the system and are usually brought in for injury cover so they may not hold their spots for too long.
#AskDunny
21 playing with a guy like Angus Brayshaw/Jed Anderson. Or play 20 and do the upgrade to a Rd 12 guy like Sinclair or Andrew Brayshaw that will be a top 6/8 in their line. Realistically going to have 20ish each week and keen on some of the premos with the bye this week.

— sam fuss (@FussSam) June 1, 2022
Great Question Sam. Sounds like you have managed your preparation for the byes really well and this topic is one that I definitely wanted to cover today. If you are looking like having 21+ players this week and you might be a touch light in another week then this is a great play. By trading out someone like Angus Brayshaw you are going to have one less player this week, but his scoring can be a little hit and miss so it is possibly a good time to move him on, and you will be bringing in someone that will not only cover the next two weeks but will also be in the top 6/8 in their line at the end of the season.
Whilst it is great to have 20+ playing each week, a better measure is to have as many premiums as you can have playing each week. The more premiums you have the better your score.  You may have 20 guys playing but the bottom three scores could all be 50 or less or you could have 19 playing and the last two scores could be a 100 and a 50.  This way you are maximising the points that count for you this week and also maximising your scoring after the byes.
Remember one of the main aims of the bye period is to come out of the byes with a better team than you entered them with.
Or can cash up, then do a double upgrade in rd13.

— sam fuss (@FussSam) June 1, 2022
Good Follow up question Sam.  Yes, this is also a great option. You could cash up by doing a double or triple downgrade this week and then go hard in round 13 to pick up the guys that have had their bye in round 12. By doing this you are going to be able to give yourself the flexibility to bring in pretty much whoever you want in round 13 rather than being constrained by the amount of cash you may or may not have.
Of the two options presented above it is hard to pick as they are both very situation dependant. I really like the idea of option 1 there of bringing in a premium this week that might be on the bye (assuming you have more than 19 players playing of course) for someone that is playing this week. By doing this you are not only getting a bit of a jump on your plans but you are also ensuring that you have all three trades available to you next week to deal with any carnage that may happen either through injury this week or selection issues next week.  You never know what is going to happen and it is usually bad news.
Things to Remember
Have a plan for all three weeks of the byes.  This gives you the best chance to improve your team.
Don't take your eye off the ball. Just because you don't have league match ups, overall ranks are still at stake.
Enjoy watching the footy.
Thursday Night Games return in round 13. So there isn't as much of a break next week.
Thanks for reading again everyone, I do hope your bye rounds go smoothly and you can get yourself to a fully upgraded team by the end of round 14 and we can then attack the run home only having to deal with injuries and suspensions. If you have any questions for me don't forget to hit me up on twitter @pkd73 and I can try and answer them there or on here next week.  See you all next Thursday!