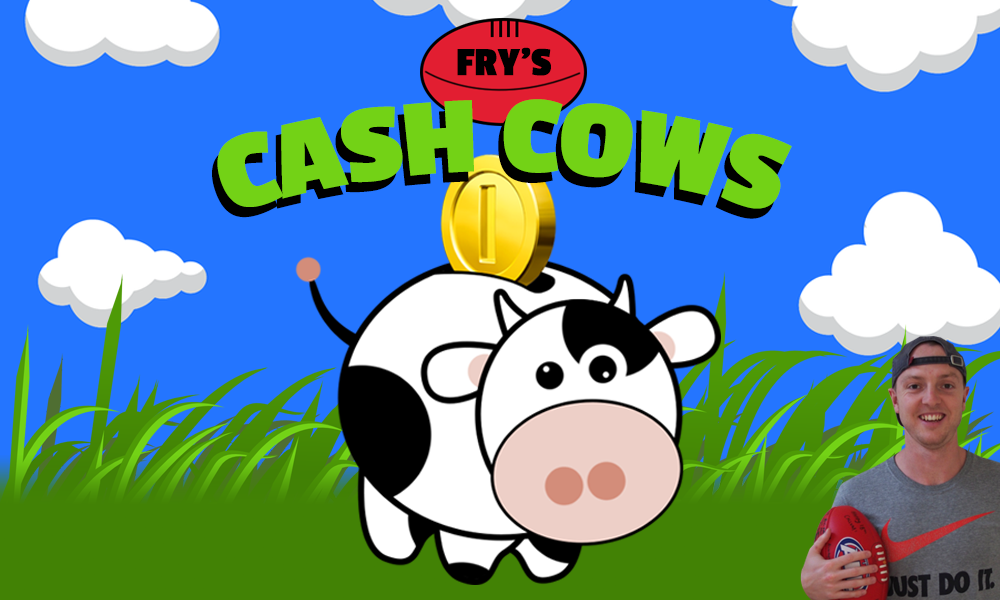 9 down, 14 to go!
With the bye rounds just around the corner, there are a lot of coaches chasing as many green dots as possible. The Jack Steele dilemma will throw a spanner in some trade works and there are bound to be some curveballs thrown our way on Thursday, but a few downgrade targets are emerging as targets this week. With only a handful of trades left before the best of 18 rounds begin, make sure you've got your ducks in a row across each line before it's too late.
Rookie/cash cows picks are players who start the season at $300,000 or lower
---
Mooooving On
Part of the weekly trade focus is to remove the rookie-priced players who are no longer making money. When a cash cow sees their average fall in line with their breakeven or they find themselves on the outside looking in for multiple weeks at a time, that's a good time to give them the axe.
Fattened cash cows
Josh Rachele, Crows ($435K, AVG 60, BE 75)
Connor MacDonald, Hawks ($356K, AVG 47, BE 45)
Marcus Windhager, Saints ($303K, AVG, 42, BE 38)
Hugh Dixon, Eagles ($360K, AVG 49, BE 46)
Nick Daicos, Magpies ($621K, AVG 84, BE 94)
Injured/non-playing rookies
Nathan O'Driscoll, Dockers ($464K, AVG 62, BE 49)
Jason Horne-Francis, Roos ($509K, AVG 67, BE 75)
Jack Hayes, Saints ($408K, AVG 61, BE 66)
Josh Ward, Hawks ($411K, AVG 55, BE 50)
Jackson Mead, Power ($306K, AVG 45, BE 20)
Power Ranking Cash Cows – Round 9
After nine weeks of action, these are the top-10 cash cow performers in season 2022!
Power Ranking #AFLFantasy Cash Cows Round 9

1. N.Martin – ↔️
2. N.Daicos – ↔️
3. G.Clark – ⬆️ 5
4. S.Hayes – ⬆️ 1
5. B.Hobbs – ⬆️ 1
6. T.Stengle – ⬇️ 3
7. C.Hamilton – NR
8. P.McCartin – ⬆️ 1⁰9. C.Durdin – NR
10. N.Erasmus – NR

NR = not ranked last week pic.twitter.com/ik48b86IxM

— SportsbyFry (@sportsbyfry) May 17, 2022
Cash Cow King – Round 9
It was hard to find a reliable cash cow in Round 10, with Blues goalsneak Corey Durdin (79) the unlikely high scorer on the weekend. A slew of other rookies posted scores in the 60's with Nic Martin (65), Nick Daicos (63), Ben Hobbs (63) and Luke Cleary (64) all around the mark for a nomination this week. The first trio in that group are all popular cash cows, hence the reason Cleary misses out and given the light week of bumper scores, I'll give Durdin the nod for his efforts against Adelaide.
Loading ...
Round 10 Rookie Rankings
DEFENCE
With Nathan O'Driscoll ($464K, DNP, BE 49) ruled out for the foreseeable future and Nick Daicos ($621K, 63, BE 94) looking every bit like a rookie, there aren't too many DEF cash cows I trust in fantasy right now. The mainstays atop the rankings for the past few rounds are on the chopping block and the downgrade targets on offer come with plenty of question marks. Bulldogs youngster Luke Cleary ($217K, 64, BE -2) currently finds himself as the most traded in player, but with Tim O'Brien, Hayden Crozier and Jason Johannisen waiting in the wings there are understandable worries about his job security.
His teammate, and re-invented forward Buku Khamis ($235K, 57, BE -1) appears to have a more stable spot in the side, although he needed three goals to score just 57 points last weekend. Personally, I rate Cleary higher as a potential cash cow although the possibility of Khamis gaining DPP makes him a fine target as well. Hopefully they can both string 3-4 games together and at least provide us with green dots through the bye rounds.
Top-5
Nick Daicos (Magpies)

Nasiah Wanganeen-Milera (Saints)*

Paddy McCartin (Swans)

Luke Cleary (Bulldogs)

Buku Khamis (Bulldogs)
* if named
The third most popular player in the game Sam De Koning ($332K, 47, BE 19) still has some room to grow as a cash cow, with Paddy McCartin ($391K, 55, BE 29) in the same position after gathering 15 possessions against the Bombers. It's still unwise to invest in Brodie Kemp ($281K, 49, BE 25) or Rory Thompson ($208K, 25, BE 20) and if you're one of the 20,000+ coaches still holding on to Josh Gibcus ($401K, DNP, BE 33), he's every chance to clear health and safety protocols and keeps his cash generation climbing.
Best of the Rest
These players may or may not be in the selection mix this week, but be sure to keep them on your 2022 watchlist in case they burst onto the scene. In no particular order:
Darcy Wilmot (Lions, $260K)
Josh Fahey (Giants, $208K)
Isaac Chugg (Magpies, $190K)
Josh Eyre (Bombers, $190K)
Garrett McDonagh (Bombers, $192K)
Bodhi Uwland (Suns, $190K)
Jacob Wehr (Giants, $190K)
MIDFIELD
The triumphant return of Greg Clark ($313K, 61, BE -20) was a welcome boost for nearly half the completion and the popular West Coast MID managed to toil hard for a solid score. In a 74-point loss to Melbourne, Clark still battled his way a 60, attending the third most CBA's for the Eagles behind Tim Kelly and Jack Redden. He should be trustworthy on our field despite West Coast's struggles with some coaches still fielding more than one rookie in the midfield.
The M8 spot might belong to Ben Hobbs ($408K, 63, BE 24) with even fewer coaches fielding Neil Erasmus ($379K, 57, BE 33). The Dockers draftee seems to have shakier job security, but as long as the 2021 draft peers are playing, there's every reason to trust them to produce a passable score. A second chance for Jake Soligo ($211K, 59, BE 13) could see him emerge as a fine trade target after impressive SANFL form saw him return against Brisbane. The Adelaide youngster appeared in the first two games of the season (one as a sub) and scored just 28 total points, but as long as the Crows give him full games, I've got faith Soligo can score in healthy bunches this time around.
Top-5
Greg Clark (Eagles)

Nick Daicos (Magpies)

Ben Hobbs (Bombers)

Neil Erasmus (Dockers)

Jake Soligo (Crows)
We love it when players kick their first goal in AFL footy 😍

This week it's Freo youngster Neil Erasmus making his mark on the big stage 🙌#FootyOhWhatAFeeling | #AFLSunsFreo pic.twitter.com/hs7Px7i10A

— AFL (@AFL) May 15, 2022
The likes of Robbie McComb ($340K, 38, BE 23) and Jack Carroll ($313K, 31, BE 18) lost their spots inside the top-5 after poor fantasy showings in Round 9. The pair finished as the lowest scoring player for their teams and more efforts like that are bound to raise concerns over their job security. Geelong youngster Mitch Knevitt ($278K, 24, BE 25) somehow managed to be worse, registering just 7 touches in the Cats' loss to St Kilda. Cooper Stephens ($210K, DNP, BE 6) featured as the unused sub for Geelong and those who rolled the dice would love to see him lose the tracksuit and run out a whole game. There aren't too many teams rocking with Finn Callaghan ($385K, 52, BE 31) as the Giants rookie approaches his max value, with him and Marcus Winghager ($303K, 49, BE 38) decent trade out candidates if you need a quick bit of cash.
Best of the Rest
These players may or may not be in the selection mix this week, but be sure to keep them on your 2022 watchlist in case they burst onto the scene. In no particular order:
Arlo Draper (Magpies, $202K)
Cooper Murley (Magpies, $194K)
Matty Roberts (Swans, $224K)
Matthew Johnson (Dockers, $250K)
James Tsitas (Suns, $190K)
Josh Goater (Kangaroos, $248K)
Hugh Jackson (Power, $190K)
Tom Joyce (Eagles, $190K)
Bailey Laurie (Demons, $190K)
RUCK
It was an uneventful rookie ruck round, with Sam Hayes ($372K, 54, BE 26) providing the rare highlight. It's hard to call 54 points a highlight, but the Port Adelaide ruckman continues to ammas a high number of hitouts which only means good things for his fantasy floor. Speaking of the fantasy floor, don't go expecting too much more from Hugh Dixon ($360K, 39, BE 46) despite his persistence as a late in for the Eagles. He managed to outscore Callum Jamieson ($236K, 34, BE 7) but there's nothing wrong with axing Dixon if it helps facilitate another move.
Oh, Aiden Begg ($269K, 13, BE 26) also had two touches and five hitouts on Friday.
Top-5
Sam Hayes (Power)

Aiden Begg (Magpies)

Hugh Dixon (Eagles)
Best of the Rest
These players may or may not be in the selection mix this week, but be sure to keep them on your 2022 watchlist in case they burst onto the scene. In no particular order:
Paul Tsapatolis (Cats, $190K)
Jacob Edwards (Kangaroos, $190K)
Mac Andrew (Suns, $282K)
Max Heath (Saints, $190K)
Alex Mirkov (Blues, $190K)
FORWARD
The small forwards were out in force in fantasy circles last weekend with Corey Durdin ($361K, 79, BE 21) finishing as the best scoring rookie FWD. Durdin earned himself a Rising Star nomination for his 19 disposals and two goals against the Giants, with over a quarter of the comp happy he's in their side. On the other side of that result, GWS youngster Cooper Hamilton ($291K, 61, BE 1) managed to fill up the stat sheet and score at a reasonable clip and a game against West Coast on the horizon could see him up the ante.
Even though a score in the 60's is uncommon for Nic Martin ($621K, 65, BE 65) he kept his spot at the top of the ranks in the forward line. There are some who are considering cutting ties with Martin and while I can see the appeal, the Essendon rookie is the cash cow I have the most faith in. Besides, he deserves another chance; a week can be a long time in fantasy. Just ask Tyson Stengle ($579K, 45 BE 62) who slid back down the order after a measly score against the Saints. His 114 in Round 8 deserves recognition, but more scores closer to 45 are what you should expect from Stengle.
Top-5
Nic Martin (Bombers)

Cooper Hamilton (Giants)

Corey Durdin (Blues)

Tyson Stengle (Suns)

Josh Rachele (Crows)
I was shocked to learn that roughly 37% of teams still own Josh Rachele ($435K, 37, BE 75) even though his scores keep going from bad to worse. Should you read this and still find the Crows cult hero in your side, then make it a priority to give Rachele the flick this week. While his crappy score didn't help, there's no need to be as hasty with Maurice Rioli ($288K, 18, BE 24). As a small forward, his average will likely hover in the 50's and hopefully he can return to form against the Bombers next round. You could throw Connor MacDonald ($356K, 39, BE 45) in a similar boat and even though he's a decent trade out candidate, if he keeps featuring in the Hawthorn side (even as a sub) he could be a handy player during the bye rounds.
Best of the Rest
These players may or may not be in the selection mix this week, but be sure to keep them on your 2022 watchlist in case they burst onto the scene. In no particular order:
Ely Smith (Lions, $190K)
Elijah Hollands (Suns, $190K)
Jesse Motlop (Blues, $238K)
Jai Serong (Hawks, $190K)
Sam Darcy (Bulldogs, $288K)
Ned Long (Hawks, $190K)
Joel Jeffrey (Suns, $196K)
Shannon Neale (Cats, $190K)
Sam Philp (Blues, $205K)
Arthur Jones (Bulldogs, $206K)
Ash Johnson (Magpies, $190K)
Maurice Rioli (Tigers, $190K)
---
FOLLOW ME ON TWITTER: @SportsbyFry for all things AFL Fantasy (and more)! Feel free to hit me up with any questions you have throughout the season. Good luck! ✌️