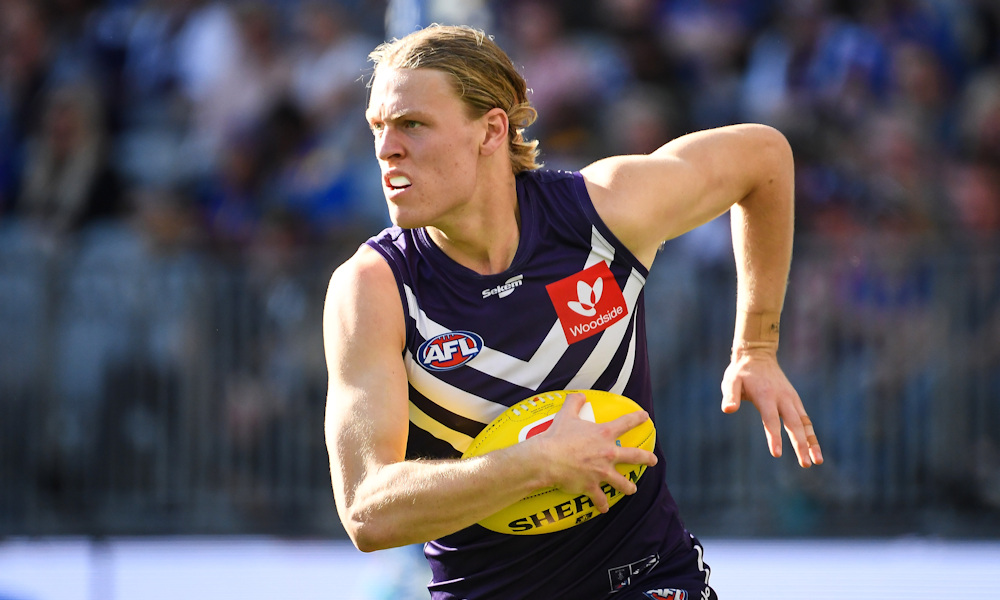 Name: Hayden Young
Team: Fremantle Dockers
Position: DEF
Price: $543,000
Bye round: 14
2021 average: 68.9
2021 games played: 8
Predicted average: 77
Draft range: D3-D4 target in deep leagues
Click here for 2022 Fantasy prices.
Why should I pick him?
Death, taxes and Fry trying to sell you Hayden Young.
For the 3rd year in a row, early February marks my Deck of DT piece on Fremantle's dashing defender and why he's going to be important in the upcoming season. In 2020 I tried to convince you that Young was the best defensive cash cow up for grabs. Last season, I was at it again, declaring the Docker would "matter in 2021 from a fantasy standpoint". Obviously things haven't come to fruition for those of us who bought stock in Young as he has been restricted to just 13 games in his first 2 seasons in the system. That could be about to change.
Diehard Hayden Young fans will know all about his ability to kick the ball, a weapon deemed so dangerous Fremantle refused to let him slip past their first pick at #7 back in 2019. While there is only a small sample size, it's clear that he is keen to dispose of the ball by foot every chance he gets with EXACTLY two-thirds of Young's career disposals coming via kicks. Half of those have been direct +6's with Young's intercept marking another feature of his game through his short AFL stint.
His ability to rack up plenty of mark/kick touches was on full display during the final three weeks of the 2021 fantasy campaign with a healthy Young flourishing off halfback. Over that stint, he went on to average 17.3 touches, 8.6 marks and 90 fantasy points a contest, providing coaches with an insight into what he can do. A week before those performances, Young earned the Rising Star nomination for his 23 disposals against the Tigers and there's no reason why he won't continue to cement himself as an integral part of Freo's back-6 as they look to mount a climb up the ladder.
Priced around the mid $500k mark, there are a few other mid-priced defenders who have put their hands up as viable options for fantasy coaches in the upcoming season. With Hayden Young set to turn 21 early on this season, you could argue that he has the highest upside of the players around that mark and I won't be shocked if he pushes his average into the 80-point range and aids a climb up the ranking for a big chunk of coaches.
Why shouldn't I pick him?
Straight off the bat, Hayden Young's injuries have to be addressed. A syndesmosis complaint saw him manage just five games in his rookie season while a serious hamstring complaint robbed Young of 14 matches during the middle portion of the 2021 campaign. Even this preseason prior to the New Year he missed a small amount of time after undergoing a non-football related surgical procedure. He's shown flashes when he's on the park, but fantasy coaches are well aware that a player's best ability can often be availability.
While there are bright moments throughout his fantasy career, there are also a handful of contests when Young has seemingly gone missing. He'll be competing for spots and touches in a backline that boasts All-Aus defender Luke Ryan, another up-and-comer in the mould of Heath Chapman, plus Nathan Wilson, James Aish, and new addition Jordan Clark. There's still a high likelihood that Young starts alongside most of those players and emerges as a bonafide best 22 player for Fremantle, but all of a sudden there are no guarantees he'll be helping himself to a ton of +6's given the other players around him.
His awkward starting price might be the biggest turnoff for naysayers, with Young's $543k salary hard to justify paying up for. You could opt for Wayne Milera and save yourself over $150k, while another popular pick in James Sicily also costs less than the rising Dockers defender. Those who take the punt on Young to start the year wouldn't view him as a season-long keeper and even in a near best-case scenario that saw Young burst onto the scene and average in the 80's, his price tag will probably still be shy of the $700k threshold.
Deck of DT Rating.
QUEEN
Thanks to his purple patch late last year, there are now more cons than pros when it comes to selecting Young in 2022. If his price was sitting closer to the $400k mark then there would be a lot more coaches bullish on starting with him. Still, the talent is there and coaches who are playing keeper leagues will view Young with a much more 'glass half full' mentality. I'm currently one of the 2000+ coaches who has slotted the damaging Docker into my backline, but he'll have to wow over the rest of the offseason to hold his place and convince others he is worth the gamble.
FOLLOW ME ON TWITTER: @SportsbyFry for all things AFL Fantasy (and more)! Got something to say about the deck or AFL Fantasy in general? Join the conversation and use the hashtag… #AFLFantasy.