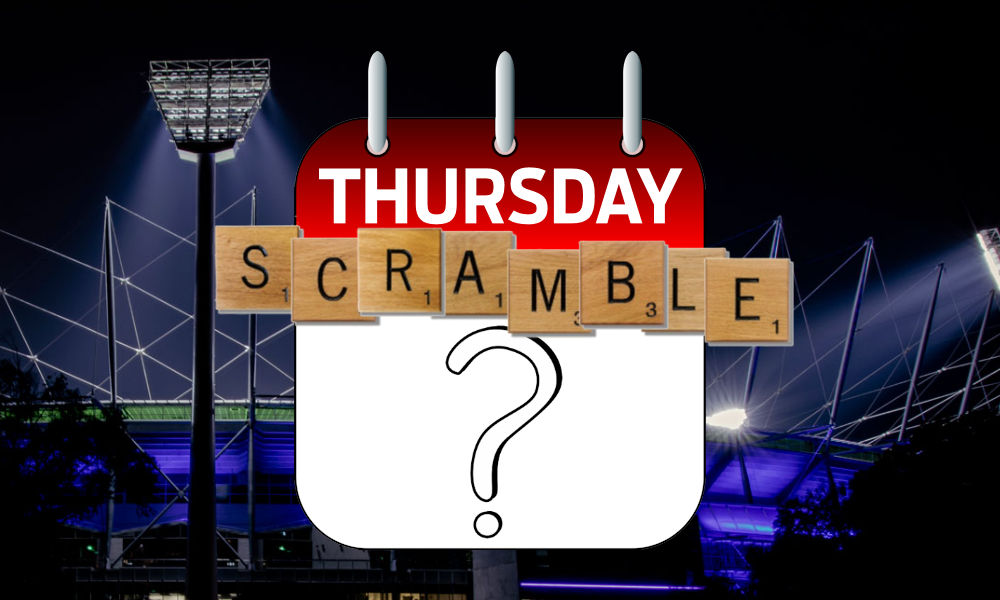 If you had asked me at the start of the year whether we would get through 23 rounds this year with everything going on I would have been very doubtful. For us to get all the way through here with just the one fixture issue during the year when the bye week was changed for the Tigers and Eagles is a bloody good effort. But what it does mean that we have had a full season of Fantasy and heaps of fun throughout the year! But we still have one week to go!  So if you have been lucky enough to make the GF… for one last time this year… Let's Scramble!!
Be Prepared For Anything!
We saw it last week and don't be surprised if we see it again this week. There will be players out last minute and it is going to hurt our teams. Thankfully we found out about Tom Stewart on Friday afternoon so that let us make the necessary changes but be prepared things will probably not be as kind to us this week.
The main concern that we have is when there is nothing to play for we may see some resting going on. The main concern for this is Brisbane. If the Doggies get over the Power on Friday night (I hope not of course) this means the Lions can't make the top four and hence may rest a few players, the main concern is Zorko of course or maybe Neale.  But anything can happen in the last round and now that we don't have the pre finals bye we could see some resting for those teams that may not be able to move as the weekend goes on.
Thankfully most of the teams have something to play for!
Just make sure that you have thoughts about what you can do and as best you can keep your DPP options as open as you can for as long as you can over the weekend. Last week I talked a lot about loopholing and the things you should keep in mind. Hopefully you rehearsed all that last week so you can use it this week.  This is especially important in RDT and SC where I know the vast majority of coaches have already run out of trades and are relying on moves like this to get them through any carnage on the weekend.
Do I cover off or go unique?
When you get the the GF and you have trades like we do in AF or if you have some left in the other forms you will always ask yourself, do I cover off my opponents advantage or do I pick up someone unique and try and beat them that way. My advice on this has always been pretty similar. If you think you are the underdog and you need something big to get you the win then go unique, but if you have the game well in hand then you may want to cover off their unique gun.
In AF this year this is a bit different to previous years with the rolling lockout. You don't have to guess what trades your opponent will make and lock it all in on the Friday, you can let the weekend unfold and hold your trades for as long as you need to and hopefully by then your opponent has revealed their hand and you can make your trade based off of what they have done.
The other thing you can do is play your captain this way. Last weekend in a Supercoach Prelim I was in front heading into Sunday and we both only had one unique each left to play. I had Petracca and he had Oliver. I had locked in Macrae as my VC score to be my Captan and he had the VC on Macrae too. But he had also put his C on a Hawks player knowing they played late in the round which gave him options (I couldn't do that as my only non player was on the Sat avo). So when he saw he needed Oliver to outscore Petracca by 48 points to get the win he threw the hail mary and threw the C onto Clarry in that Sunday Afternoon game. Now he didn't get the win but what he did was take a situation that looked lost and gave it a shot by trying something a bit different. This is the sort of play that you need to be prepared to make as the round counts down. This week you could look at maybe a Rory Laird or an Aaron Hall in that very last game of the round as your C if you need to get the win with a bit of a miracle.
Things to Remember
Have a couple of options for your VC and C just in case!
When considering your VC options make sure you have a non playing player you can use to take that score. Nothing worse than seeing a big VC score you can't use.
Of all weeks, this is the one to stay close to social media for the late outs and be ready to react!
Final Thoughts
If you are in the GF, then just go for it and throw everything at the final to try and get the win. If you have been knocked out, don't spit the dummy, keep going for one last week and have some fun. Trade in a bloke that you love to watch playing footy and then sit back with your favourite beverage on the weekend and just enjoy watching them rack up the points for you. As I have said many times throughout the season, it is just a game and it is meant to be fun!
For those of you at the very top of the rankings in AF, RDT and SC, congratulations you are certainly better coaches than me! I have had a good year in SC this year, moderate in AF and not as great in RDT. But that is what it is all about, we can't all be Selby and just keep winning this game. Take what you have learnt this year and be ready to apply it in pre-season next year to try and get yourself up the top of the tree.
I just want to thank all of you for reading my random thoughts each week. I do hope that in some way I have helped you all be better coaches this year. My aim is to try and give my thoughts on some strategy and help you all along the way. As you all know I can't get to the comments on this post during the day due to work but I do try and read them on a Thurs night or over the weekend (when a response is usually way too late) but I do appreciate all of you coming together and helping each other out because that is what DTTalk is all about, a community helping each other.
Thanks to Warnie, Roy and Calvin for not only what they do as the Traders but for once again allowing me to dribble on here at DTTalk for another season!
So for the last time in season 2021 thanks again for your readership and best of luck in Round 23 and I look forward to seeing you all back ready to Scramble once again in season 2022!!