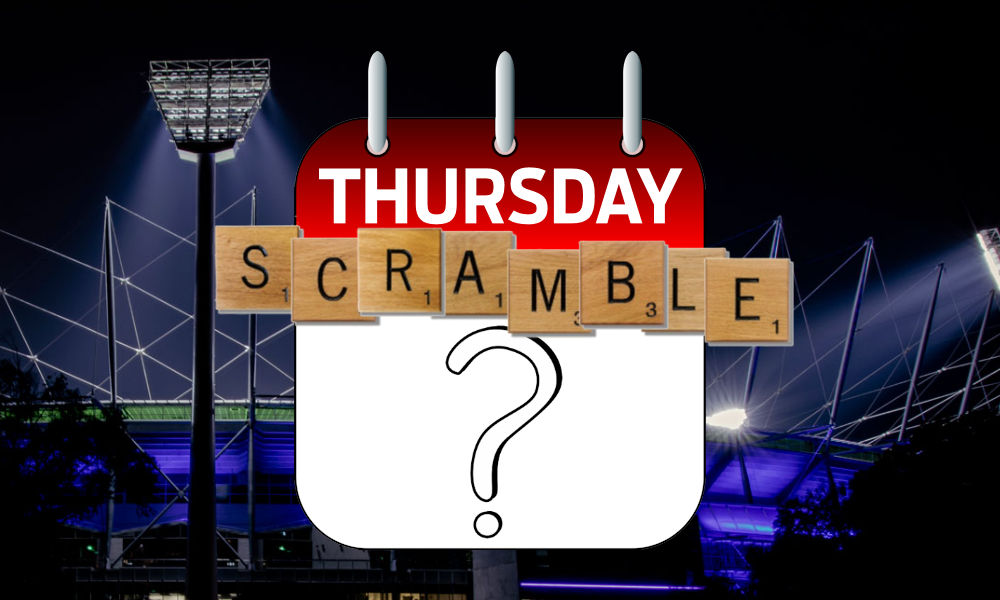 Well, here we are again. Round 1 is upon us and it all starts tonight!  So here I am on a Wednesday to try and help you out. Normally I will be here on a Thursday even if there is a Wednesday night game, but for round 1 I thought I would jump in early with a few reminders for round 1 and the season coming up. I am sure you have all been all over the preseason content and are all raring to go for the season ahead!
Rolling Lockouts
As we had last season, we have Rolling Lockouts in place for the 2022 season across all versions of the game. This will be the second full season of Rolling Lockouts in AFL Fantasy. For those that are new or don't fully understand this, it means that all players are locked out from the moment the ball is bounced in their game each week. This means you can't do any of the following once their respective games start:
Trade a player out or in;
Move them on your field using DPP;
Change their C, VC or E status (whatever they have at the time of their game they are stuck with).
So it is very important that you check what is happening with your side and be ready.  I would recommend that you always check in at least 45 mins before the game starts to make sure that there hasn't been any late ins or outs and that your player is actually playing.  Teams are finalised 60 mins before the bounce in any given match so you will know at that point who is in and who is the concussion substitute.
So for this round, you need to make sure all your Dogs and Demons are as you want prior to first bounce. This could lock a few things in for you and the big one will be your ruck strategy. If you don't have Gawn in your team by then you will not be getting him into your starting squad.
As we go through the season it is up to you whether you hang on every single lockout or whether you make your trades and then just live with the consequences of not checking over the weekend. I usually find that if I know I will be unavailable for a particular lockout then I have checked my team setup as close to the bounce as I can. If that is outside that 1 hour window then so be it, don't forget about the real world.
R1 Team announcements should be:

Wednesday MEL v WBD 22s – Tues 6:20pm

Thursday CAR v RIC 22s – Wed 6:20pm

Friday/Saturday 22s – Thurs 6:20pm

Sunday squads (26) – Thurs 6:20pm

Sunday 22s – Fri 5pm

Final team sheets 60 mins before bounce.

All times AEDT. #AFLFantasy

— Adam 'Warnie' Child (@WarnieDT) March 14, 2022
Rookies and Selection
Round 1 selections are usually the most anticipated of the season and this year is no different. We are all hanging on to find out which rookies are going to get a game in the first week of the season as they are going to be some of our most important players. The cash generation is the key part these players will play for us.
With the long stretch between the first game and the last (Wed through to Sun) this gets a little tricky.  We have the Wednesday teams now and then we will get the Thursday teams just before the start of tonight's game. We will then get the rest of the teams on Thursday night, but as is always the case, the Sunday teams will be squads (See the tweet from Warnie above for all the exact times). So if you are relying on a rookie that is scheduled to play on Sunday then you will be sweating it out until Friday evening to find out who has made the squad and who hasn't.
Don't Panic!  We say this every year at this time, if you see a surprise rookie get named that you haven't heard of all pre-season…. anywhere….  then don't just throw them into your side because they have been named.  This is now often referred to as the "Relton Roberts Rule".  A heap of coaches jumped on Relton when he was named out of the blue and then not long after we never saw him again which made it very hard to trade him out as he hadn't generated any cash for us.
Loopholes for R1?
With the Rolling Lockout comes the ability to use Loopholes. But to undertake a loophole you need to have a non-playing player in your team.  I am sure by now you have heard Calvin banging on about having 30 Green Dots (Playing Players) at round 1.  I know that Selby is also a big fan of this.  Why? Well the key to this game is building your cash as quickly as you can so you can upgrade your rookie and mid pricers to absolute premiums as fast as you can. If you have sacrificed a position on the bench to use as a loophole then you are going to be behind everyone else. The only time you might want to do this is for someone that is going to make a heap of cash but are suspended for R1. So maybe you roll the dice on Preuss? But for me it is a no.
In the past the R3 position was a throw away position, but over the past couple of seasons and indeed this season we are seeing cheap rucks actually getting a game meaning that we can now use them as cash generators. I will be using one of the Hayes boys in that position I suspect.
There will be plenty of chances going forward within the season to have a non-playing player on your bench so at that time you will be able to use them for this role. Don't try and force it in Round 1.
Just quickly on the Loophole process, remember there are two ways you can use it. One is to do it with your VC and C and the other is with your rookie players using the Emergency loophole. However, the Loophole isn't something to be used lightly. If you don't fully understand it and execute it properly it can cost you heaps of points.  With a rolling lockout it can be even harder to execute.
Briefly the Captain Loophole requires you to VC someone early in the round and then if they have a great score (usually 130+) you would then bring on a non playing player onto the field and give them the C which basically ensures your VC score is the one that is doubled. The key points here are to make sure that C is not going to play and also to remember to put the E on the player that you have put on the bench.  Where you can get caught out is to use a player as the Non Player who is listed as an emergency in a game, if they become the sub and then enter the game, they become your captain and you can get dealt a horrific score. Best to use someone that is either suspended or has a clear injury which would stop them from playing.
Covid thoughts
Unfortunately Covid is still a thing and it is going to be a thing all throughout the season. We are going to have players miss games due to it. Thankfully in AF we have two trades a week and in Supercoach and RDT you have extra trades and the Trade Boost to help accommodate this situation. Do Not expect the powers that be behind these games to issue more trades to combat this. It is 99% not going to happen as everyone is in the same boat and we all know it is a chance to happen, it won't be a surprise.
When you lose a player to Covid protocols you need to treat it just like any other 1-2 week (depending on when they test positive and the associated quarantine timelines at the time) injury and either hold or trade accordingly.  If it is just the 1 week then you would be wise to hold and cover from the bench as best you can. If it looks like longer (which would be doubtful) then you do have to consider the points you will lose and possibly trade them out. Just remember though there is no doubt you could be trading into someone that gets Covid the following week. It is going to be just that unpredictable.
The only thing I am doing with my starting squad (and I did with my Draft teams) is to try not to go too heavy on one team because if Covid rips through a club and they are still forced to play that week (like we saw in the BBL) then you could find yourself with too many holes to cover.
Things To Remember
This is the most nerve wracking week of the season, but you will get there, just keep your nerve, trust your research and back your gut!
Keep an eye on game start times and team announcements.
Don't panic select any players.
Give yourself options, have a plan B in case someone doesn't get named.
Make sure your leagues are full!
Have a fantastic season everyone, I will try and give you all some good advice and my takes on things as we go through the season. I will try and take more of your questions this season and as always I will try and focus on strategy and some of those type decisions and help you where I can. If there is anything particular you want me to cover, either tweet me or leave some comments below as to what you would like from this column this season.
If you have spots to fill in your league, post your league below and I am sure it will get filled pretty quickly.
I have created a league in each format for you to jump in to.  Please just jump into one, so that everyone gets a chance.
AFL Fantasy – PA6CDELZ
RealDreamteam – 896464
Supercoach – 884613