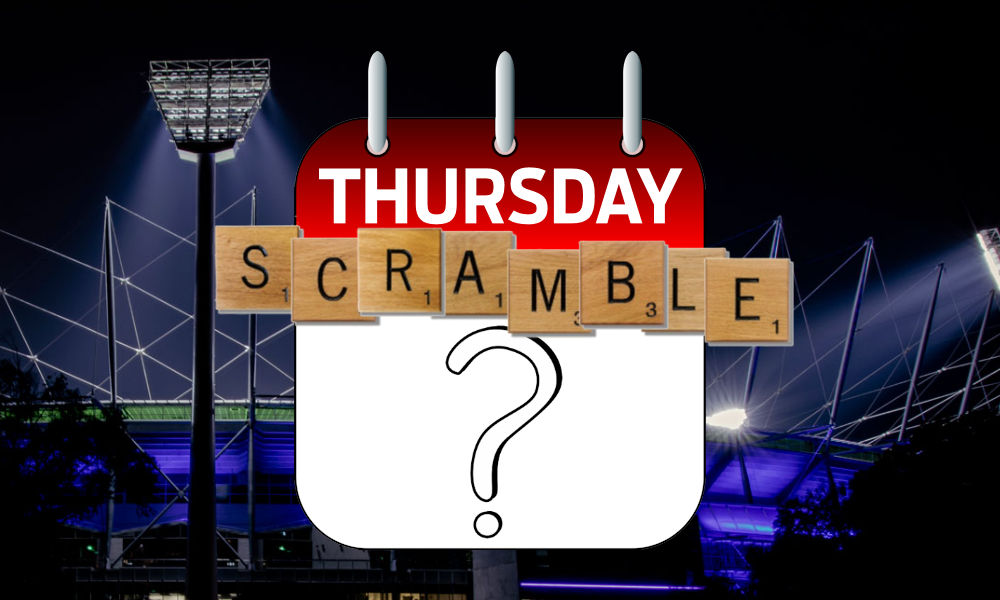 The best laid plans hey!  You had your team set to go and then you come up with a few injuries!  And if you are playing the trade limited versions of the game hopefully you have a few left so you can Scramble!!
What to do with Whit??
Whitfield was someone that we all brought in over the last few weeks as he was very well priced but now this seems as though it is a chance to backfire on all of us. Whitfield has been ruled out of this week's game but it does appear as though he will only be out for the one week. As Warnie mentioned on the podcast this week this equates to 1/6th of the remaining season. That is a  big proportion of your remaining season and available points. Add to that you could be battling for an all important finals position you may not be able to afford to be running with a bench player.  Here are a few strategies and ideas for you.
Limited Trade Games: The advice for these games is obviously slightly different than Fantasy. This is going to rely on the amount of trades you have left and what level of cover you have on your bench (which I will cover in the options below). But in regards to trades, if you have more than 2 you could consider trading him, but I wouldn't want to go down to any less than 2 trades with 5 rounds to go.  Ideally I would like to have 3 trades for the final 5 rounds.
Hold and Trust your bench cover? This is obviously going to come down to who you have on the bench. In the limited trade forms if you are down to 3 or less and you have someone reliable like a Tom Highmore (there is a sentence I didn't think I would say 6 weeks ago), then you could probably take the risk and hold him. In AFL Fantasy (and the other forms) a great option would be to try and loophole someone off your bench. This is a little tricky from a couple of standpoints. One being that the Giants play the first game on the Saturday so if you want to trade him out then you will have to do it before then. The other being that the player most have on the bench, Highmore, doesn't play until Saturday night. So if you want to hold him and you have plans to use your bench you may not be able to use Whitfield as your loop zero.  So really the only way you can do this is if your bench cover option is playing on the Thurs or Fri night to be safest.
Do you have Laird in the midfield? If you have Laird in the midfield you could consider trading out Whitfield and bringing in a midfielder. But this is likely to require you to either double trade or have some cash in the bank if you want to get to some of the top players.
Who are the best defensive options? Laird is probably a bit out of the price bracket unless you have plenty of cash as he will cost you an extra $100k. But if you have $80k go for Mills. If you are strapped for cash and need to go down then a good option should be Short.  With Houli now missing that leaves a lot of the backline ball for Short. Stewart is about $30k cheaper than Whitfield and another great option but you need to pull the trigger fast as he plays tonight My other option is Ridley. He is one you can grab and make some serious cash as he had a quiet run a few weeks back that really dropped his price.  If you make this move you will then have some nice cash to utilise elsewhere.
What's your focus? Are you playing for rank or are you playing for leagues? If you are playing for rank you will want to find a way to maximise your points here and now every single week. However, if you are playing for leagues only this could change things a little. If you are battling to get into the finals you may need to go down that 'get every point you can' path. But if you are firmly locked into the finals you may want to play the odds that he will return next week, take a bit of pain and work on upgrading any other weaknesses in your team.
Trading Strategy recap
I got a couple of trading strategy questions this week so I thought I would just recap a couple of things…..
Best trading strategy from here.  Should you go for the best available or go for the best in the position? If I had a choice I would try and get the player that I think will score the most for the rest of the season. However, if you are strapped for cash you may want to look to grab a bit of value. So to make it simple, you need to have a bit of an eye for the future in your trade which would mean looking for value but if you are willing to take a bit of a risk and exhaust all your cash then absolutely get the best you can afford.
Cash generation vs throwing positions. As each week counts down the risk involved in throwing positions gets less and less. The possibility of generating enough cash to up and downgrade someone is also getting less and less as the weeks progress. At this stage you aren't likely to get a big amount of cash so you need to play the BE game really hard, look for the absolute lowest BE you can find and then look at their matchup over the ensuing two weeks and hope that they will get two really big scores and then cash them in for a bargain basement player. At this stage I wouldn't throw a position just yet but if you have a brilliant bench cover position who is no chance of getting dropped then you could risk it.
Two $700-$750k players or one $850k and one $650k player? Use the matchups. Look at the matchups and see if you can find a $650k player that is going to score well on the run home and if you can it would be the way to go. Put simply I would be looking to get the best combination of players that are going to score the most on the run home.
Things to Remember
Just two more rounds til finals. Do what you can to get there.
If you are looking at loopholing players off the bench then have your plans laid out. It is easy to get wrong.
Don't get greedy with your VC scores.
Not long to go now til the end of the season so keep your eye on the prize. This is where you can make up some real ground on the competition in rankings. As teams can't make finals they will fall by the wayside and give up, you can find yourself shooting up the rankings. Have a great weekend of footy (hopefully your tipping goes a bit better this week) and I will catch you all again next Thursday.