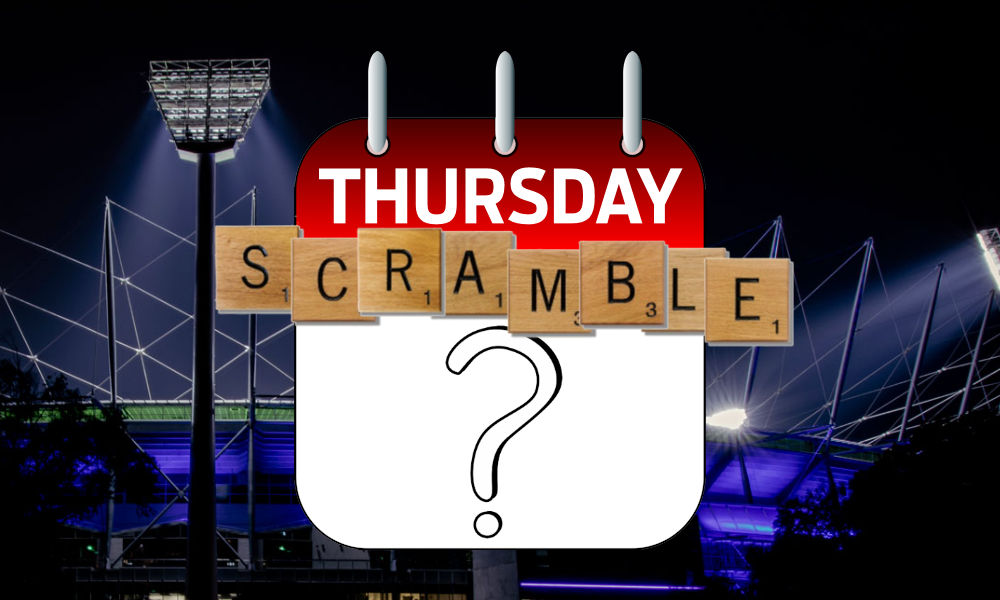 Injuries, Big Scores and only a few weeks to Fantasy Finals. It is all happening and this is what we have trained for all season. Add to that a Monday night game and it gives us more reasons to Scramble!!
The Importance of Bench Loopholing
We all know about the Captain Loophole that Calvin has told you about many times, but this week we saw how the rolling lockout can help us with Bench Loopholing. We saw on the Thursday night a shocker of a score from CCJ with 3 in DT or a 5 in SC. If you had to play a rookie at F6 and you had a couple of rookies to choose between the smart play was to have CCJ as your emergency on the bench and then see how he scores before switching between a non-playing F and your other rookie F on the field.  As the season goes on further we will probably have more of these non playing players that will allow you to do this. If you were able to do this last week you would have gotten a huge jump on other teams who played him straight up on the field.
Ideally of course we don't want to have to play a rookie on field anymore, but if a premo goes down for just the one week and you have to hold them and you have two playing rookies on the bench then this is certainly the strategy you should be employing.
As for CCJ, time to trade him out for some cash to improve your team where you can. Who to trade him down to is a tricky one, I will be keeping an eye on team sheets tonight to see who gets named and then try and use them as my downgrade, hopefully a first gamer in AF and then someone that has played a couple and is on the bubble in RDT and SC.
Trading Strategy on the Run Home
We always put it out there that we want the best available. But, as we close in on the last few weeks with little cash available we need to take other factors into account.
Value. I have been banging on about value all year. When we are struggling for dollars we need to look for value whilst still maintaining our points production. This is where we may give up 10pts in average if the player is $50k-$100k cheaper. If you can do that and then use that cash to upgrade someone else next week who is worth more and will pick you up more than that 10 points then do it.  One of the questions we were asked on the SupercoachCoach podcast this week was someone tossing up between taking Hawkins and Marshall or going Dangerfield and Bergman. This is a classic situation of two value players vs a super premo and a first year player. Whilst Danger has a massive upside, is the difference between he and Hawkins going to be more than the drop between Marshall and Bergman. Similarly you need to consider the consistency. Is Bergman assured of playing all the games on the way home? He looks like he should but Hawkins and Marshall are always best 22. So these are the things to consider here.
Point of Difference. This can separate the good players from the great ones. Taking a punt on a point of difference can make or break your season. If you get it right you get a huge leg up on the rest of the comp, but getting it wrong can ruin you. Remember, that a POD doesn't have to be a completely left field player, a POD can be not selecting someone that the rest of the competition has in their side. With many teams having brought Danger in last week or this week, not bringing him in can be just as much of a POD position. If you are at the pointy end of the rankings you may want to do a bit of looking around at the teams of the top sides to see who they have and know that if you pick that player you are just keeping pace with them, but picking someone different means you can maybe go past them.
League vs Rank. This can be a big decider for your trading. If you are going for Rank you will want to push hard and possibly exhaust your trades in RDT and SC and then just hang on. But if you are playing for Leagues in those two formats you may want to hold some trades for the finals where you can get a leg up on your opponents if they have run out of trades. In AF you will want to use your two trades every week of course but if you are playing for leagues you may want to have a look at your opponents teams each week and use that to try and make your trades advance your team over theirs.
The Run Home (Scale of Hardness). Now we only have 7 games left it is well worth looking at who your trade in target plays over the coming weeks and especially in the finals. For example you may not consider Buddy Franklin as someone you want, but when you take into account his last two games of the year are against Gold Coast and North Melbourne, he may be worth having a look at. As the season gets closer and closer to a close this becomes more and more important as each player's scale of hardness of opponents will become far more relevant.
Team Balance. If you are unloading one of your non playing rookies for another very cheap player, keep in mind that if you are going to get a bargain basement player that isn't going to play, try and make that player a DPP player so that you get far more flexibility from that trade. The more links you can have open for DPP it will make it easier for you to cover for injuries later on in the season without having to use a trade.
Things to Remember
We have a Monday Night game this week! So you won't have final teams until Saturday night.
Your downgrades can be more focused on bench cover than cash generation now as they don't have time to fully appreciate.
Keep an eye on your League Finals, they start very soon!!
Just a few weeks til we get to Finals now for Fantasy (3 more minor rounds left). So have one eye on that and one on your rank.  Use the next couple of weeks to set your team up for the run home!  Enjoy the weekend of footy and let's hope for another weekend of big scores!