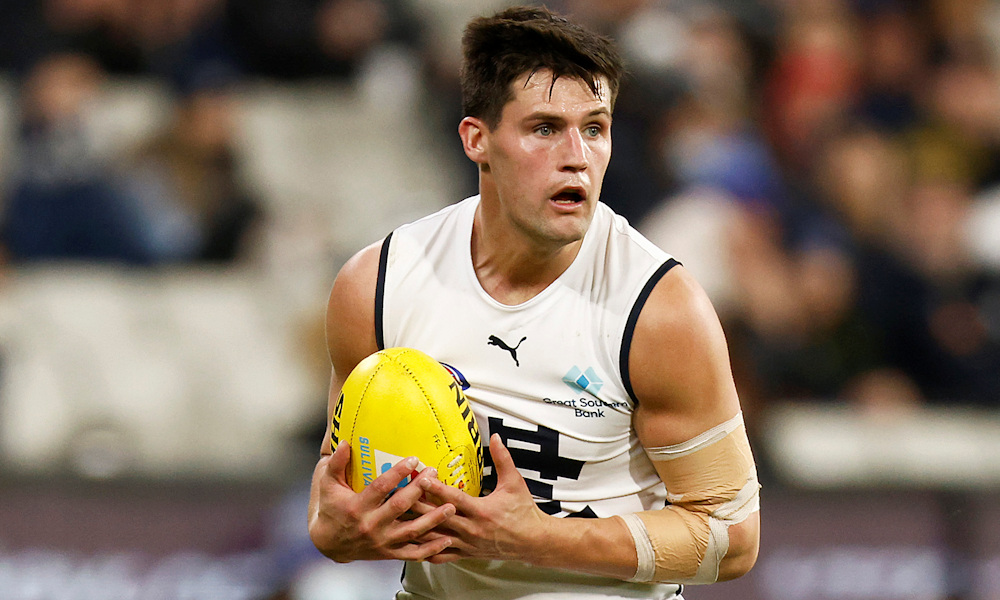 Hunting for value, especially when you don't have the cash to just get in an 800K midfielder, is where a lot of our teams are currently at. The aim is to assess some value options and their potential trade in value. I am determining value as a player who satisfies both criteria below (next week we'll look at the opposite- namely players who are value because of low scores and or injuries):
Below 700 K (this is because if you are reading this article, you probably can isolate the top players already).
My projected run home projected average for the player is significantly higher than their current average (or in cases of injury returns- their last 3 or 5 run average) and a low Round 17 BE.
To save time and space if you are interested in De Goey, M. Kennedy, Stringer, T. Kelly, and Yeo then read last week's article.
Patrick Dangerfield
$671k
R16 149
AVG 90.7
BE 63
Like many coaches who didn't bring in Dangerfield last week, we were planning of bringing him in this week.  Probably less analysis the better here- just buy him. Geelong play Carlton, Fremantle, Richmond and North and with Danger mainly playing midfield time, it is just an immediate trade in this week. The only danger is his dodgy ankle which got jumped on, so even though he played out the game, if Geelong are cantering to a top 2 spot by the end of the season there is a chance Danger could get a rest. Many will recall Danger resting forward late in the season last year to ease his body toward the finals; continue to monitor Geelong team news.
Jack Bowes
$539k
R16 98
AVG 87
BE 78
Bowes' 5 game average of 63 is reflective of a defensive role he was employed in (especially when Collins is out) and the 42 he scored against the Lions. The last two weeks he is back to a role much like at the start of the season. And if sides start to put work into Lukosius then Bowes should average around the 90-95 mark. The Suns play GWS, Bulldogs and Melbourne over the next three weeks.  GWS are not known as a front half restricting team with Salem 126, Rivers 90 and May 84 whilst the Bulldogs allowed Tarrant and Hall to rack them up.
Nic Newman
$595k
R16 115
AVG 86
BE 56
The injury to Dochety has achieved two relevant reasons to buy Newman: job security and role. Apart from the GWS game where he scored 48, he has scored 75-115. Upcoming fixtures against Geelong, Collingwood and North should allow for plenty of play in Carlton's backline. The advantage for the Carlton distributor is that Weitering and Jones who take the intercepts generally are wanting to dish off and this is where Newman can get those easy plus 6's (apart from kickins). Probably a better buy than Bowes because of his role, Plowman is the third tall and Newman will not playing a lockdown role on anyone.
Adam Cerra
$574k
R16 98
AVG 80.7
BE 80
The upcoming fixtures will be critical with Fremantle potentially having a run of three games at Optus in a few weeks' time, which makes Cerra a watch. But I think many coaches will look at Fremantle and West Coast players if they start playing at Optus.  T Kelly and Yeo are better options because of their upside, but Cerra is still value if he can eradicate the odd 56 type game he dished up against Collingwood. Upcoming games against Hawthorn, Geelong and Sydney who concede high scores to midfielders before games at Optus (if you have the cash Brayshaw is an option, but he is not massive value- except for his potential to average 110 for the run home).
Lance Franklin
$511k
R16 92
AVG 72
BE 63
I don't think I've ever owned Franklin because of his injury history, but he is value for anyone who loves risk. Sydney play Bulldogs, GWS and Fremantle and maybe Lance's desire to kick 1000 goals might give him the impetus to score heavily in one of those three games. North forwards looked dangerous with Zurhaar after half time, and Goldstein plus the GWS defence looks shaky with Buckley's injury.  I couldn't do it, but he could get 6-8 goals in one of those games and score 130 (he could hurt a hamstring and get 25 also).
Matthew Rowell
$442k
R16 71
AVG 51
BE 59
I thought I'd include Rowell because there might be some coaches who have no cash to upgrade from Byrnes and Poulter, and Rowell should average more than them on the run home. He looked tentative 4 weeks back against Fremantle (48) and also against Port (64) and North (57), but he looked better in both his running capacity and tackling (4). He played 98 minutes of 119 against North two weeks ago, but just looked average whilst against the Tigers he played 103 of 121. I would consider Rowell as a sideways upgrade from a maxed-out rookie if I had limited other options. For example, you could get rid of an under-performing Sidebottom or an injured mid to Dangerfield and instead of dropping from Poulter to Connolly you could go from Poulter to Rowell if it meant not having to field Connolly on ground. The main caveat would be, what will his role look like when Greenwood returns?
Upshot: I was traveling ok with my De Goey and Kennedy trades until Macrae as captain reminded me why I should have VC'd Merrett- them's the fantasy breaks. 2167 and 1779. This week I am probably going Dangerfield (depending on his dodgy ankle) and a rookie like Connolly or some yet to be named rookie and punting both Poulter and Byrnes. Good luck everyone!