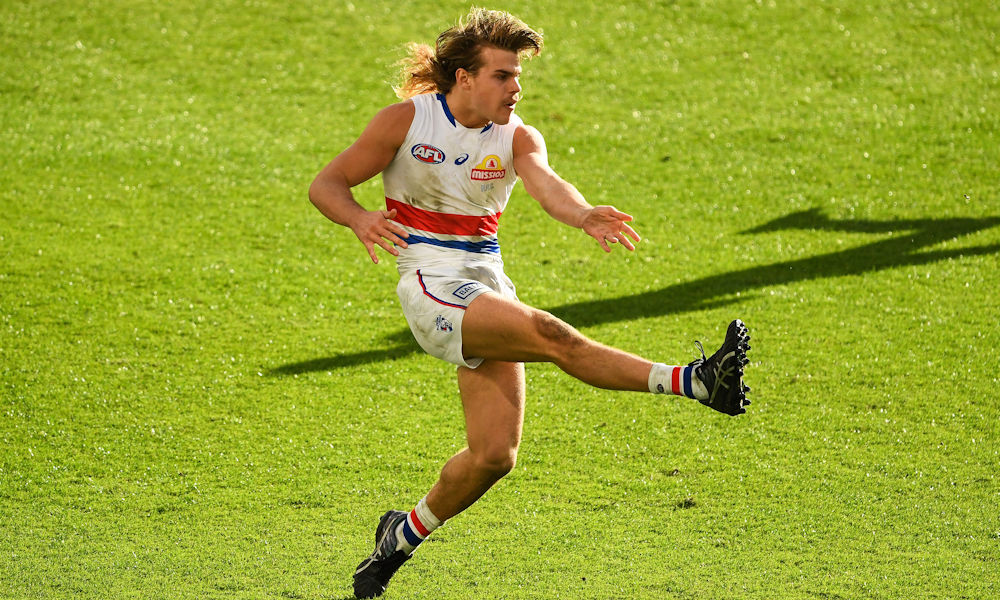 G'day. I have with me some more PODs to consider for the last half or so of the season. I generally opt for players who represent value even if a little bit which is why I've avoided players like the Jarryd Lyons, Ben Keays and Cam Guthrie types. They may be PODs, but they're the first players you think of when you hear "POD" so they're gaining the same sort of traction anyway. I haven't selected an ownership cutoff but just playing it by ear on how often I hear these players talked about. I have included each player's top 100 ownership (courtesy of Heff from The Keeper League (@Heff_KL)) which I feel is a slightly better representation of a players true ownership though most of them end up being 0% anyway.
In each players bio, I've also included an average differential for their fixtures for remainder of the season. This differential is essentially how much a team concedes to a certain position relative to that players season average. e.g. Melbourne have a ruck differential of -10.1. This means that on average, rucks against Melbourne scored 10.1 points less than their season average. So if a player has a larger positive differential, that means an easier run home. This looks at data from this year only and looks at the top three ranked players per team per game. Thanks to Morts at DFS Australia (@DFSAustralia) for this data. (go check out the website, unbelievably useful https://www.dfsaustralia-apps.com/shiny/player-team-stats/)
DEFENDERS
BEST BET: Shannon Hurn ($642k DEF; priced @ 88; 0% owned; +5.6 differential)
Has been quietly getting it done for his (apparently non-existent) owners averaging 97.6 since returning from injury in Round 10. Would actually be averaging 101.5 if discounting his injured score of 6 which makes him the seventh-highest averaging defender (including DPP guys like Ziebell and Hall). Is on the wrong side of 30 age-wise but you can't argue with the numbers he's putting up. Has a monopoly on the kick-ins as we know. His floor is great with a low score of 77, two in the 90s and the rest 100+. Hurn has yet to play with Witherden in the regular season but still took 67% of the kick-ins in preseason compared to Witherden's 22% and scored the 91. Has been traded in by 290 coaches at the time of writing.
PUNT ON: Luke Ryan ($654k DEF; priced @ 89; 0% owned; +4.1 differential)
A 91.6 average in his last five and 100.3 in his last three, Luke Ryan has quietly been in some great form. His 86 last week would have probably been higher had he not come off for a bit with a knock (84% TOG when he had been 89%+). Does have a ceiling in him with a career-high 138 in 2017 and has tonned up in 3/11 games this year. Has had a few role changes depending on the availability of the key backs but Pearce and Logue look to be alright so Ryan should return to his intercepting best. Plays CAR and HAW in his next two who have +3.0 and +4.8 average differentials respectively. Has been traded in by 14 coaches at the time of writing.
FOR THE BRAVE: Daniel Howe and his wing role.
MIDFIELDERS
BEST BET: Taylor Adams ($723k MID; priced @ 99; 0% owned; +11.1 differential)
While I think most will go for Lachie Neale, sitting at $6k less is one Taylor Adams. I guess the main concern is his durability but at this point, you've gotta take a risk somewhere and hoping Adams stays fit for another eight games isn't too bad. His scoring has never been in doubt as he showed with a 116 against Fremantle last week. What's most encouraging though, is his season-high 85% TOG on his first game back from a knee injury. Has averaged 114 twice now and is priced at only 99. Next three games are fairly easy with STK, RIC and CAR coming up. Has been traded in by 303 coaches at the time of writing.
PUNT ON: Travis Boak ($717k MID; priced @ 98; 2% owned; +10.8 differential)
Boak at his best can be a 108+ midfielder. He went 106 in 2019 and that was with a worse second half. Has copped a bit of attention this year (98 v GEE) most recently against the Swans where scored 119 (27 first half before being let off the hook for a 92 point second half). Can't really see him getting tagged for the rest of the year except for the GWS game but then again we saw de Boer not go to anyone last week so who knows? I can see him pushing that 106 again which makes him eight points underpriced. Has been traded in by 126 coaches at the time of writing.
FOR THE BRAVE: Bailey Smith but keep in mind Luke Beveridge exists.
RUCKS
Let's not stuff around in this department.
FOR THE BRAVE: Reilly O'Brien and pray he goes 114 again.
FORWARDS
BEST BET: Kyle Langford ($708k MID/FWD; priced @ 97; 12% owned; +8.7 differential)
His CBAs have dropped significantly the past two weeks (26% vs 69% from Rounds 9-12 inclusive) but can still pump out a big one as shown with his 114 v MEL last week. Hits all the stat lines which is comforting to see and plays that high TOG (85%+). Upcoming fixtures is a bit split between hard and soft matchups but that shouldn't faze Langford too much. Can be a 100 guy for the rest of the year which makes him three points underpriced. Has been traded in by 220 coaches at the time of writing.
PUNT ON: Jake Stringer ($526k FWD; priced @ 72; 0% owned; -1.1 differential)
Players you didn't think would be Fantasy relevant in 2021 – Jake Stringer joins Aaron Hall in this very rare club with scores of 96 and 136 in his last two. This is a direct correlation with CBA percentages of 84 and 85 in his last two. Peep the table below. (The GWS game has been omitted since he was injured early)
| | >50% CBAs | <50% CBAs |
| --- | --- | --- |
| n(Games) | 6 | 3 |
| Average | 92.17 | 52.33 |
| Ceiling | 136 | 64 |
| Floor | 77 | 37 |
We're assuming this role for Stringer continues so we should get numbers akin to the left column. The floor of 77 is really encouraging, at worst he will make you a bit of coin (27 BE) if he doesn't fire like we think he will. Can be 20+ points of value. Has been traded in by 951 coaches at the time of writing.
FOR THE BRAVE: Matthew Kennedy and Jordan de Goey/Goat.