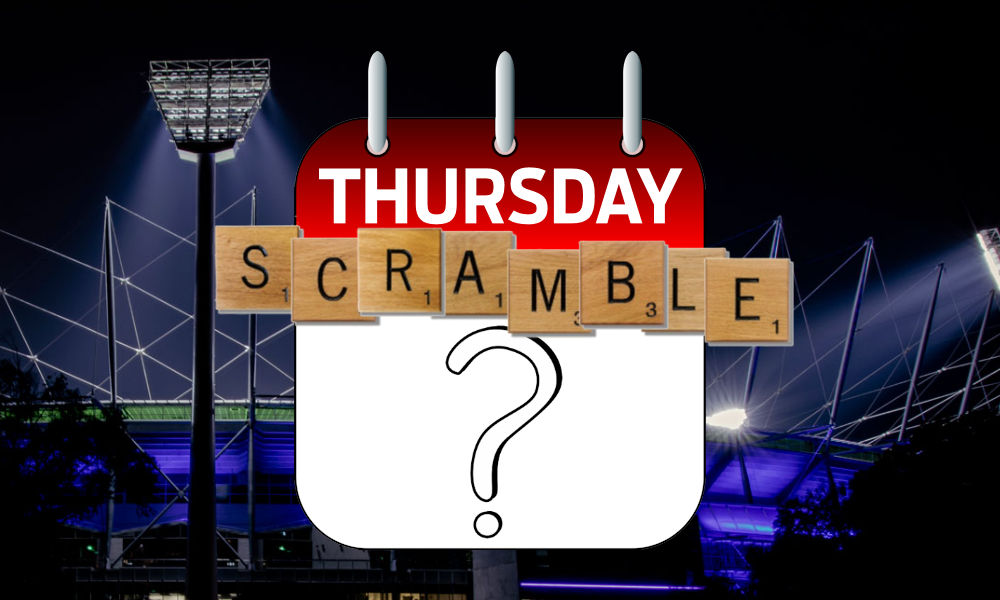 Is it just me or is this season just getting harder and harder! We just keep getting thrown injury after injury and the new concussion protocols give us some certainty as to a player being out but it still doesn't help us.  6 rounds down and 17 to go.. sounds like Scramble time to me!
Injury City!
Wow, what a round this one was.  I don't think there would be too many teams that aren't affected by any of the big name outs this week. Dunkley and Neale are the big concerns this week as they will be missing some significant time and must be traded out. Dusty is one that you can hold if you need to (definitely hold in RDT and SC) as we know he will be back after one week…. or do we? We have now found out that he has been playing injured and is it an opportunity for the Tigers to rest him for an extra week? To be honest, I don't think so. They play the Cats on Friday night in round 8 and it is a must win game for them given they have lost a few early.
So with Dusty, if you can move him to the bench and hold whilst you fix up other issues, go for it. This is the same rule we have had for a long time, a one week injury/suspension is always a hold.
Dunkley and Neale are the interesting ones. And there are a few reasons they are interesting too. I am not really going to go into who the best replacements are as there are a lot of different permutations on this and it will come down to a few factors like where you have them playing and how much cash you have in the bank.
What I find interesting about them is the fact they open up a heap of opportunities for you.  With the DPP status of Dunkley it means that it doesn't matter whether you had him in your mids or in your forward line you can use your DPP to switch things around and get the best result. Here are a couple of scenarios that I think you should consider.
If you have only Dunkley. Regardless of where he is on your field, a great plan of attack is to look to "Downgrade" him to another premium player. What I mean here is, don't just go to the most expensive player that you can find who is performing. Be a little smarter than that and look to trade him to a player that is having a great season and is averaging well but is a little cheaper than most. What this then allows you to do is use that excess cash and trade in one of your maxed out rookies (Sydney rookies I am looking at you here) and you can possibly get one of them up to a premium player too. The best place to look here for that "cheaper premium" is possibly the forward line as they don't tend to be as expensive as the big dog midfielders. This is the beauty of Dunkley.
If you only have Neale. You can follow exactly the same advice I have for Dunkley above, however, if you are going to use some of his money to go to a forward "cheaper premium" just take into account that this means that you will need to flip one of your DPP players up to the mids. The concern here is just look at who you are moving and who does it mean you now have to play on field. If you flip up a rookie DPP they will go into Neale's spot on field so you need to either take them or move one of your mid rookies onto the field. So just be careful here.
If you have Dunkley and Neale. Go Nuts!!  This should give you plenty of cash to swap these guys to two other premiums and you won't even miss a beat!!
Whatever you do, just think through the trades carefully and look at what it means for the rest of your side.
Something else to consider here too is the byes. We aren't too far away from them now and these guys that you are trading in are ones that you should be planning to hold through the bye period so if you are tossing up between two players here perhaps consider bringing in the one that results in the better bye structure for your team.
Are these guys Cash Cows or Cash Donkeys?
I don't know about you but the cash generation this year seems to be a lot slower than what we have seen in the past. When this is the case you have a couple of options. Neither of which are brilliant but hey, gotta work with what we have right?
First option is to accept less from a downgrade. That is, we trade out a rookie before they are fully priced or we trade out to a more expensive "rookie" and just take what we can get. Sometimes you just have to do this as you have no other options.
Second option is to take the lower amount of cash and upgrade to a player that doesn't cost quite as much, so you aren't going to the absolute top but to a player that is doing well but they are a bit cheaper than the top of the tree players. This is a bit like what I was saying above with Dunkley and Neale.
Third option is to just wait it out. Not really the preferred option as it means you are stuck with guys that aren't scoring too much for longer than you want to be and it will stop you achieving that overall ranking that you are looking for.
Things To Remember
The Byes. All trades you make from here on need to have one eye on the byes.
Loopholes. You can use them for your rookies too, not just your captains.
Everyone else is having the same bad luck as you. Well maybe not Everybody, but most of us!
Don't despair, hopefully the trades you make out of these injury issues will see you catapult yourself into contention for your league and well up in the rankings in the respective game you play!  Have a great weekend everyone and see you all again next Thursday.