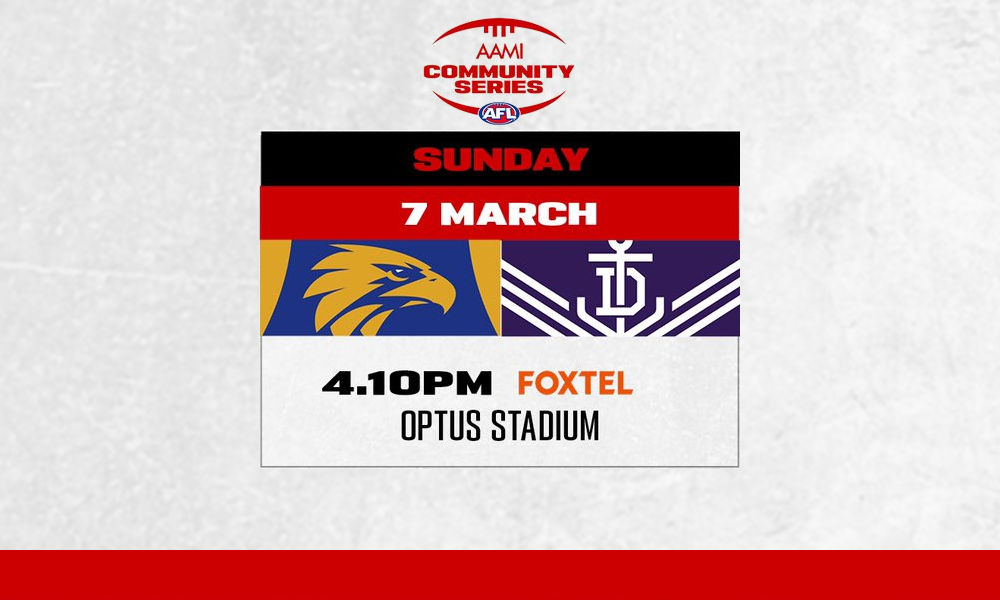 A very open contest with a fair bit of fire which has turned into a possible injury crisis.
You know what they say though, where there is crisis, there's opportunity, or as the germans call it 'crisitunity'
Here are all the players you asked me to keep an eye on, if I've missed anyone feel free to hit me up on twitter!
Who's missing: Josh Kennedy, Tim Kelly, Elliot Yeo, Jarrod Brander and Brendon Ah Chee
Alex Witherden (DEF, $654,000)
83 points from 77% time on ground.
Took a few kick outs and got involved in the kick/mark game across the backline. Went at a tidy 93% disposal efficiency which should help solidify his role.
Definitely worth consideration.
Liam Duggan (DEF, $661,000)
88 points from 82% time on ground.
Played primarily as a mid and on the wing with 8 centre bounce attendances for the game to go with his 22 disposals.
While he's trained with the mids all preseason, his role still concerns me. Mainly due to Shuey only playing half a game and Kelly coming back in time for round 1. Add to that Sheppard may miss round 1 due to concussion and we might see Duggan get sent back to cover.
All that said, really brought pressure to the contest for West Coast.
Jermaine Jones (FWD, $366,000)
60 points from 79% time on ground.
Played as a high half forward, definitely had less midfield time this week. Good defensive forward pressure and should be named in round 1.
Would expect 60's to be about average for his scores though.
Luke Shuey (MID, $657,000)
75 points from 54% time on ground.
Only played half a game before being put on ice after rolling his ankle. Business as usual, 10 cba's while getting silver service from Nic Nat's ruck taps. In all honesty I didn't realise how cheap he was… only 1% ownership… ok, I'm now considering him…
Andrew Gaff (MID, $831,000)
98 points from 83% time on ground.
Cruised up and down the wing all day on his way to 31 disposals, open style of play really suited him today with an opposition player rarely near him. Seemed to take his foot off the pedal in the last quarter.
Jack Redden (MID, $554,000)
75 points from 89% time on ground.
24 disposals helped Redden keep a respectable score. Had the least amount of CBA's for West Coast showing others are definitely ahead of him in the midfield pecking order.
Harry Edwards (DEF, $170,000)
Pinch hit in the ruck for the second week, he's really getting thrown around in terms of positions as he's well behind McGovern, Barrass and Rotham for his natural key back role. Can't see him getting a game every week.
Who's missing: Luke Ryan, Caleb Serong, Adam Cerra, Griffin Logue and Nathan Wilson
Hayden Young (DEF, $337,000)
72 points from 82% time on ground.
Had kick in duty for most of the game and used it well. Fremantle were looking to get the ball in his hands when coming out of defence. Only concern is this was without Luke Ryan and Nathan Wilson. All 3 play very similar roles.
Josh Treacy (RUC/FWD, $170,000)
24 points from 75% time on ground.
Quiet day but could be a heartbeat on your bench early if Lobb looks like missing a few games. Pinch hit in the ruck but spent majority of the game forward, had opportunity but just wasn't his day.
Lloyd Meek (RUC, $170,000)
70 points from 83% time on ground.
If Sean Darcy isn't ready by round 1 the the Meek shall inherit the Ruck!
Compete really well in the ruck today and certainly did enough last week. Also gets involved in backline kick to kick which you love to see.
My only question is if he plays round 1 his opponent is big Maxy Gawn, if he doesn't hold his own and Sean Darcy is ready by round 2, does Meek keep his spot?
Heath Chapman (DEF, $244,000)
20 points from 16% time on ground.
Only played the last quarter but got busy in that time. Definitely has a fantasy game but it's a hard backline to break into.
Nat Fyfe (MID, $720,000)
98 points from 79% time on ground.
Was the most dominant midfielder on the ground. Played the first half as a pure mid, the third quarter as a lead up forward then was put on ice for the last. Hasn't missed a beat and looks ready for a big year.
Lachie Schultz (FWD, $481,000)
77 points from 88% time on ground.
At times he looked like Fremantle's most dangerous forward.
Pushed up high to finish with 17 disposals means he isn't relying on goals to supplement his score. Could see a bump if Walters hamstring keeps him out a few weeks. Risky but could work…
Blake Acres (MID, $646,000)
89 points from 83% time on ground.
Cruised up and down the wing all game for 22 disposals. Possibly matched up on Gaff, would explain a lot.
Open style of play really benefit him, pushed forward to take a few shots at goal.
Connor Blakely (MID, $485,000)
47 points from 58% time on ground.
Played across half back early, moved into the midfield once Fyfe moved out.
Made the most of his limited opportunity.