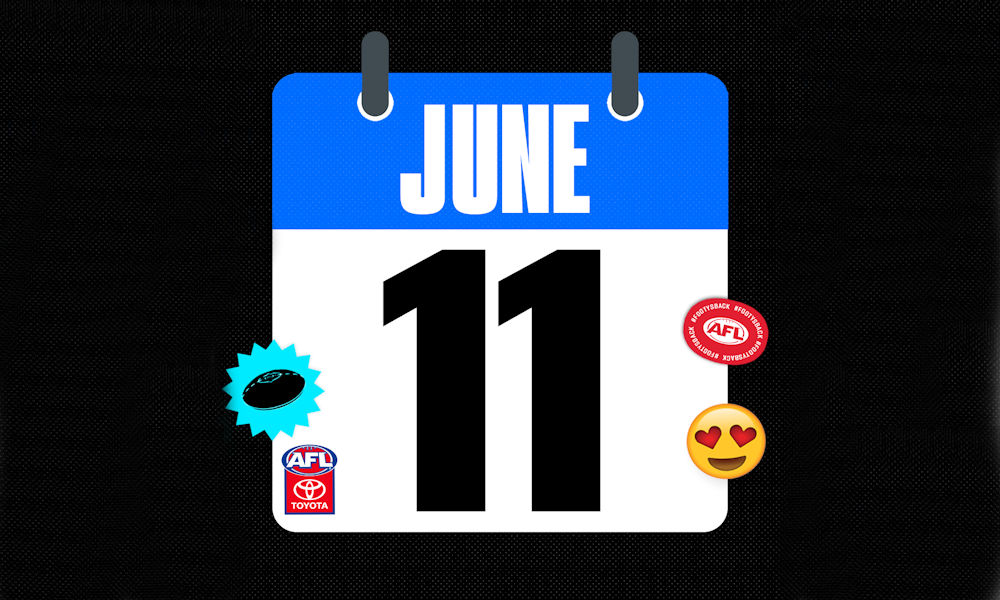 Gillon McLachlan announced today that footy will be back on June 11. You can obviously catch all of the news around it on AFL.com.au or other sites, but the main things we need to know as Fantasy coaches are outlined below.
Normal round-by-round competition
Apart from the resumption date for round two, Gill saying that we would be having a 'normal' round-by-round competition is music to ears of us Fantasy coaches. When it was floated that games would be played every day of the week and the possibility that rounds would be thrown out the window, Fantasy would have been a much different beast. No need to think about double game weeks (for now) and we will be, generally, looking at a Thursday-Sunday round as we see for around a third of the season anyway. We can thank the broadcasters for that.
Fixture announcement
There is currently no fixture as yet. It will be announced over the next week. It has been suggested that the first four-to-six rounds will be put out there and all games will be announced in 4-6 round blocks. The first one is likely to announce 4 weeks of games due to the Queensland hub. It might get hard to plan ahead for grabbing players with a good fixture but we do know that each club will play the others just once.
QLD Hub
Due to border controls, we will see the SA teams (Adelaide and Port Adelaide) head to the Gold Coast to set up a training camp and they will stay there indefinitely once the season starts. The WA teams (West Coast and Fremantle) will head there in the week leading up to June 11. These four teams alongside Brisbane and Gold Coast will play each other over the opening month. It would have been the opening 5 rounds, but Port played the Suns in round one. If their stay is to be extended, the next group of games would feature the Sydney teams and possibly Melbourne clubs. More will be known after the first block of the fixture is announced next week.
One thing is for sure, the Eagles (and Lions) will have it pretty good early on.
Quarter lengths to remain at 16-mins
Although I can't find a direct quote, it is believed that the quarter lengths will remain at 16-minutes. This means we have to get our BCV calculations happening. Remember 80 is the new 100. Multiply your "Coronaball" score by 1.25 to get the equivalent to the number we are used to.
No extended bench
It was floated that we could possibly have benches of 6 (or even 8) rather than the usual 4, but from Gill's words, it looks as though it will stay at 4. This isn't confirmed, just what it seems like.
Changes to Fantasy
At the time of writing, it looks like Fantasy Classic will be staying as is. An extra trade was given in the lockdown period (up from 2 to 3). There hasn't been any word from the official channels around any change from this. We will hunt out info and hopefully chat to any changes on the podcast next week. We are aiming to record on Monday evening. Hopefully we get back to normal from here! There has been suggestions of unlimited trades. This looks unlikely. Another suggestion has been to have 3 trades for the first few rounds if we can't get a few more ahead of round 2. This, along with 3 trades each week for the shortened season, will be discussed by the big dogs. Also, if you didn't notice before, breakevens have been updated to reflect the shorter quarters.
As for Fantasy Draft (and Classic leagues), we're told that if leagues weren't on 'flexible', they will be updated for a 17 round season.
Click here to buy a Fantasy Pig t-shirt