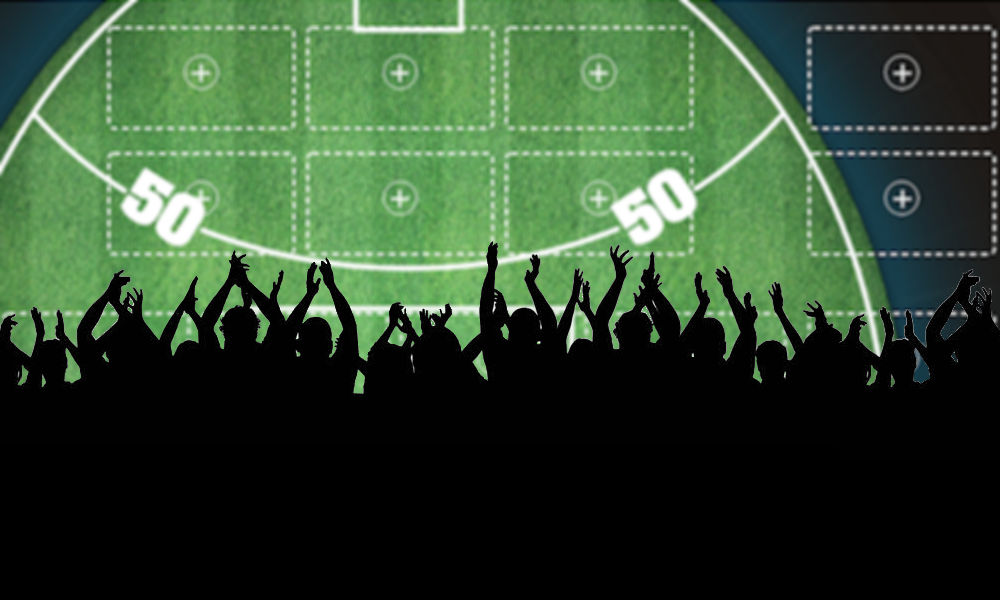 Over the past week I have been gathering your suggestions for who should be considered in the DTTalk People's Team and then running polls on twitter (@iamtimjedwards) to decide who is selected in the team. Thanks to everyone that has voted in this and helped shape the team to what it is now.
RUCKS
My first poll run was for the critical ruck spots and this one certainly gained a lot of interest with over 400 voters. The beauty of the People's Team is that you can vote for an option you might not have the courage to pull off in your own team and this was certainly the case with the rucks. The polls saw Sam Jacobs ($514,000) with 77% votes and Sam Naismith ($284,000) with 74% votes edging out Brodie Grundy ($906,000) with 72% votes (FYI, people were able to vote for multiple options hence the numbers not adding up)
The other options that didn't make the cut were:
Tim English ($572,000) 26%, Reilly O'brien ($709,000) 19%, Max Gawn ($826,000) 17%, Ceglar ($562,000) 11%
DEFENDERS
Looking at the defence there are a number of picks which are locks in most teams and it was no surprise to see them voted into the People's Team. Sam Docherty ($563,000) the biggest of them all with 95% votes, Dan Houston ($596,000) with 90% and Dylan Roberton ($327,000) with 88%. Marsh standouts Brodie Smith ($646,000) 80% and Jack Crisp ($725,000) 62% were the premium options chosen to close out a backline that would only require one rookie.
Other options that were closest to selection:
Rory Laird ($719,000) with 27%, James Sicily ($620,000) with 25%, Jeremy Howe ($515,000) with 24% and Adam Cerra ($451,000) with 24%.
MIDFIELDERS
A lot of big guns to choose from in the midfield and a lot of value around. In the end the voters chose to combine both with the top 5 voted in mids ranging from the 800k mark to the 600s. Obviously Tom Mitchell ($671,000) got the nod with a massive 96% of votes and the forward time split stated for Stephen Coniglio ($769,000) hasn't turned too many voters off receiving 86% of votes. Then the two big dogs were the next most popular with Jack Macrae ($858,000) 76% and Josh Dunkley ($824,000) 64%. There was a gap between the next most popular player, but the final midfield spot fell to value pick Jack Viney ($611,000) with 46%.
Other options just missing out:
Patrick Cripps ($753,000) 44%, Josh Kelly ($860,000) 37%, Patrick Dangerfield ($798,000) 35% and Zach Merrett ($803,000) 35%.
FORWARDS
One of the most interesting lines with a lack of premium players and a number of mid-priced options to choose from. Claimed to be a must have in the forward line, the voters have gone in the same direction with Lachie Whitfield ($844,000) having 88% of votes as the most voted for forward. Also high in the votes with a possible increase in midfield time is Andrew Brayshaw ($516,000) with 87% of votes and Hugh Greenwood ($581,000) with 61%. Finishing off the votes were then Jack Steven ($653,000) after his strong Marsh game with his new club with 57% votes and Lachie Schultz ($320,000) 35.2% of votes as a value pick.
Unfortunately, not making the salary cap was Devon Smith ($720,000) with 45% of votes. With only so many options being able to get into the team, we see Devon miss out due to his price. Other players to miss out:
Christian Petracca ($563,000) 35.1%, Bailey Smith ($513,000) 30%, Darcy MacPherson ($648,000) 28%, Dustin Martin ($721,000) 24%
THE ROOKIES
This is difficult to assess given we don't know who is going to be selected yet. I grouped all the rookies together and assuming they are all selected, asked who the voters would be starting on field. The results were as follows:
DEF: Jarrod Brander ($217,000) 78%, Lachlan Ash ($264,000) 63%, Hayden Young ($258,000) 60%, Will Gould ($220,000) 56%, Jack Madgen ($288,000) 15%
MID: Matthew Rowell ($270,000) 96%, Marlion Pickett ($170,000) 93%,Tom Green ($252,000) 82%, Noah Anderson ($268,000) 63%, Deven Robertson ($228,000) 50%, Jeremy Sharp ($218,000) 41%
FWD: Curtis Taylor ($170,000) 96%, Connor Budarick ($170,000) 88%, Tristan Xerri ($170,000) 41%, Jacob Townsend ($266,000) 11%
Based on these votings, rookies have been added to the team with a few basement priced rookies making up the remaining spots.
FINAL TEAM
These votings have then led to the team looking as pictured below. Let me know your thoughts and where you would like any changes to be, as I will be putting popular options to the polls again for potential changes before round 1. Team selection on Thursday may also have a say in who needs to be added or removed from the team. Thanks for all that participated and get ready to cheer on the People's Team!