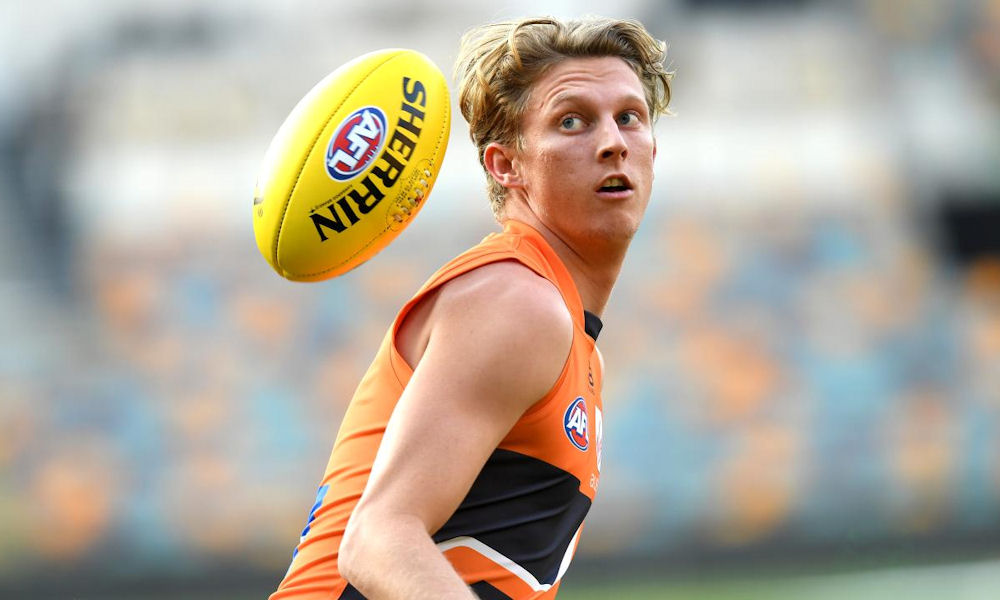 Plenty of Fantasy coaches who can't get enough of the game have started speculating what positions players will have in 2020. In AFL Fantasy, the in-season DPP additions can help with our thinking as quite a few will carry on in the new year. Champion Data make the calls on these players and their AFL Player Ratings attaches positions in most of their communication which generally reflect the Fantasy positions.
They tweet their stats weekly and we often see changes.
There are, however, some inconsistancies. Some tables may have different positions for the same player. For example in the age group leaders, Josh Dunkley is a listed as a MID/FWD, while he is a MID only on the club leader chart (posted on the same day).
Here we will take a look at a few players who are in line for position changes. There will be a lot more when they get released in early-mid December – especially when we take a deep dive into the very Draft relevant ones that could end up being steals in the latter rounds – but this can get the conversation started. Be sure to add your suggestions in the comments below… or even some nuggets of gold you may have found digging through those AFL Player Ratings stats.
WHITFIELD TO GAIN FWD STATUS
The biggest name to change position, for the good anyway, has to be Lachie Whitfield from GWS. He went into 2019 as DEF only and gained MID status at round six. He was in line to gain FWD status as his role showed him as a MID/FWD, spending significant time in a half-forward position. Whitfield has been called a MID/FWD for the majority of the year on the AFL Player Ratings and should be set to be DPP for another year… up the other end of the ground. Should be the top scoring forward and set and forget for Classic. He's going to be a popular first round selection in Draft considering what we might be left with on the premium end of the forwards.
Jack Steven looks to be changing clubs in this trade period and with it, he'll gain MID/FWD status. This is based off his role in the games he played following his time out as he battled his mental health issues. With a slight discount (9% off 2018's 96.6 average), there could be a bit of value with Steven priced at 87.9 considering he's only once averaged below that figure since 2013. Excluding that 86.4 in 203, his lowest average was 93.8. A fair bit of water needs to go under the bridge, however, before we are making any form of a call on Steven.
Jack Steven will be a very popular fantasy pick in 2020.? #SuperCoach #AFLFantasy #2020AFLProspectus

— Fantasy Freako (@FantasyFreako) October 2, 2019
TOP FORWARDS DECIMATED
Every year we lose some of our top forwards. Generally this is because the reason the FWDs (or MID/FWDs) score so well is by playing in the midfield. Using the AFL Player Ratings and other gut feel, here's the top 10 averaging forwards from 2019 and their likely positions for next season.
Josh Dunkley –

MID

– majority of season as a midfielder but there is a chance he retains MID/FWD status due to the Player Ratings calling him DPP in end season tweets
Patrick Dangerfield – MID/FWD – still a chance to retain MID/FWD status according to the Player Ratings, but it could be line-ball
Travis Boak –

MID

– was FWD only, then gained MID status in round six and that's all he played
Rowan Marshall –

RUC

– was No.1 ruck but with Ryder potentially joining, he may gain FWD again during the season
Jack Billings –

MID

– played as a wingman
Toby Greene –

MID/FWD

– holds MID status, but should gain MID for his back half of the season
Dustin Martin –

MID/FWD

– had DPP right until the end with the Player Ratings
Tim Kelly –

MID

– no chance to be a forward
James Worpel –

MID

– played all year through the midfield
Caleb Daniel –

DEF

– primary position was as a defender
Players ranked from 11th to 20th are all likely to hold FWD status with the possible exceptions of wingman Mitch Robinson, midfielder Darcy MacPherson and round six DPP addition Ed Curnow. The Blue was back in the guts when Teague took over as coach of the Blues, however, the Player Ratings called him a MID/FWD in round 23 tweets as was MacPherson.
OTHER PLAYERS OF NOTE
There will be plenty of players who change positions, whether that is being stripped of DPP or picking up another position.
Going through some of the AFL Player Ratings tweets, David Mundy as a MID only will lose his Draft relevance after being a FWD this year. Connor Rozee will be FWD only as will fellow draftee Tarryn Thomas. Plenty of other first year players have new positions in their sophomore season such as Chayce Jones named as a FWD (was MID this year). Jordan Clark will drop the DEF.
The 6-6-6 rule may impact positions slightly with clubs forced to play six players forward or back for centre bounces. This is what has probably helped Whitfield if he is to gain the MID/FWD status. It has also probably defined wingmen more. Mitch Robinson will lose that FWD status as he's up on the wing with his team mate Hugh McCluggage.
2019 DUAL POSITION PLAYER ADDITIONS
In round 6, 12 and 18 the team at Champion Data adjust the Fantasy classifications for players in a single position to reflect what roles they have been playing. From what we understand, their cut off is approximately 35% in the 'new' position (which is what we see give them DPP when they are initially set up in early December).
A total of 63 players were awarded dual position status during the 2019 season.
ROUND 6 ADDITIONS
There's no surprise that the first run of DPP additions is the largest. This not only takes in the data from the first five rounds, but all of the pre-season talk about 'new roles' that was then put into practice. A lot of these new positions, not necessarily the DPP, should stay in 2020. Players like Gary Ablett could just be FWD only, but may still have the DPP while the aforementioned Lachie Whitfield will ditch the DEF, but pick up FWD. Bayley Fritch may even have FWD next to his name.
| Player | Club | Initial | New |
| --- | --- | --- | --- |
| Oscar McInerney | BL | FWD | FWD/RUC |
| Michael Gibbons | Carl | MID | MID/FWD |
| Ed Curnow | Carl | MID | MID/FWD |
| Zac Clarke | Ess | RUC | RUC/FWD |
| Matt Guelfi | Ess | MID | DEF/MID |
| Adam Cerra | Frem | FWD | DEF/FWD |
| Gary Ablett | Geel | MID | MID/FWD |
| Tom Atkins | Geel | MID | MID/FWD |
| Wil Powell | GCS | FWD | MID/FWD |
| Jeremy Finlayson | GWS | DEF | DEF/FWD |
| Lachie Whitfield | GWS | DEF | DEF/MID |
| Bailey Fritsch | Melb | MID | DEF/MID |
| Corey Wagner | Melb | MID | MID/FWD |
| Jayden Hunt | Melb | DEF | DEF/FWD |
| Shaun Atley | NM | DEF | DEF/FWD |
| Travis Boak | Port | FWD | MID/FWD |
| Patrick Ryder | Port | RUC | RUC/FWD |
| Brad Ebert | Port | MID | MID/FWD |
| Zak Butters | Port | MID | MID/FWD |
| Sydney Stack | Rich | MID | DEF/MID |
| Dustin Martin | Rich | MID | MID/FWD |
| Josh Battle | St K | FWD | DEF/FWD |
| Jack Billings | St K | FWD | MID/FWD |
| Rowan Marshall | St K | FWD | RUC/FWD |
| Harry Cunningham | Syd | MID | DEF/MID |
| Oscar Allen | WCE | DEF | DEF/FWD |
| Aaron Naughton | WB | DEF | DEF/FWD |
| Caleb Daniel | WB | FWD | DEF/FWD |
ROUND 12 ADDITIONS
Big one here will be the man at the top of the list if he ends up as a Sun. Hugh Greenwood with FWD status could be a winner up at Gold Coast as he should definitely increase on his 78 average. This group may have a few interesting ones that could look different to what's in the table. Jordan Dawson may grab DEF status despite adding FWD at round 12. Cameron Guthrie added MID and that could be all he is in 2020. Coaches will be pumped if Andrew Brayshaw retains the DPP he added, but this is probably a line-ball decision.
| Player | Club | Initial | New |
| --- | --- | --- | --- |
| Hugh Greenwood | Adel | MID | MID/FWD |
| Levi Casboult | Carl | FWD | DEF/FWD |
| Sam Petrevski-Seton | Carl | FWD | FWD/MID |
| Aaron Francis | Ess | DEF | DEF/FWD |
| Darcy Tucker | Frem | MID | MID/FWD |
| Andrew Brayshaw | Frem | MID | MID/FWD |
| Jordan Murdoch | GCS | MID | DEF/MID |
| Cameron Guthrie | Geel | DEF | DEF/MID |
| Jordan Clark | Geel | DEF | DEF/MID |
| Tim O'Brien | Haw | FWD | DEF/FWD |
| Shaun Burgoyne | Haw | MID | DEF/MID |
| Tarryn Thomas | NM | MID | MID/FWD |
| Jack Ziebell | NM | FWD | FWD/MID |
| Sam Powell-Pepper | Port | MID | MID/FWD |
| Noah Balta | Rich | FWD | FWD/RUC |
| Jade Gresham | St K | FWD | FWD/MID |
| Jack Sinclair | St K | MID | MID/FWD |
| Ryan Clarke | Syd | DEF | DEF/MID |
| Jackson Thurlow | Syd | MID | DEF/MID |
| Jordan Dawson | Syd | MID | MID/FWD |
| Jackson Trengove | WB | DEF | DEF/RUC |
| Bailey Smith | WB | MID | MID/FWD |
| Sam Lloyd | WB | MID | MID/FWD |
ROUND 18 ADDITIONS
As most commentary said when this lot rolled out… there's nothing to see here! I don't think any name will really affect any decision making for Fantasy – especially when a couple have retired!
| Player | Club | Initial | New |
| --- | --- | --- | --- |
| Liam Stocker | Carl | MID | DEF/MID |
| Brett Bewley | Frem | MID | MID/FWD |
| Brett Deledio | GWS | MID | MID/FWD |
| Oskar Baker | Melb | MID | MID/FWD |
| Jordan Lewis | Melb | DEF | DEF/MID |
| Braydon Preuss | Melb | RUC | RUC/FWD |
| Jy Simpkin | NM | FWD | FWD/MID |
| Dougal Howard | Port | DEF | DEF/FWD |
| Mabior Chol | Rich | FWD | FWD/RUC |
| Nick Hind | St K | MID | MID/FWD |
| James Rowbottom | Syd | MID | MID/FWD |
| Matt Suckling | WB | DEF | DEF/FWD |