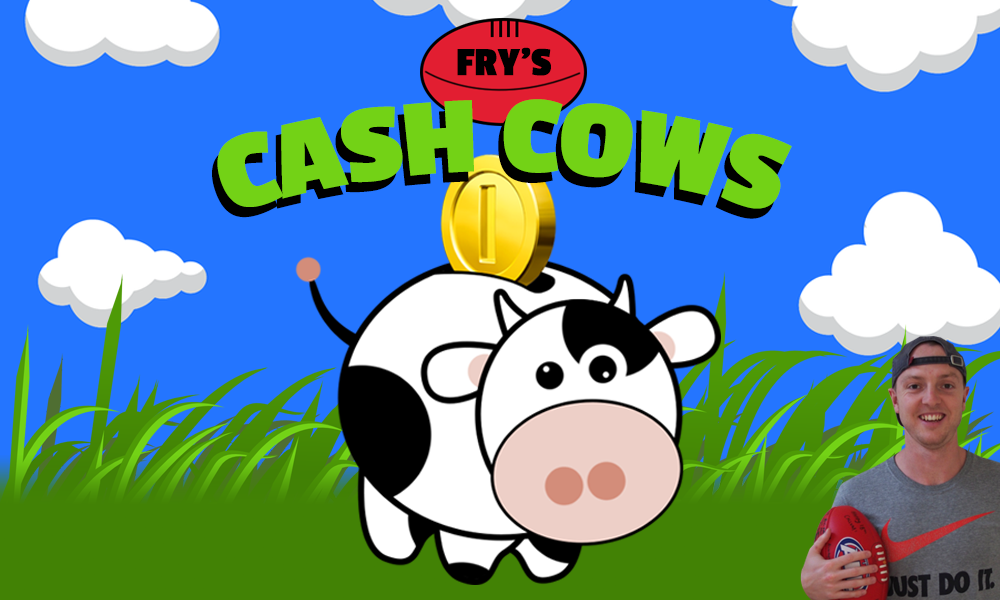 We live in a world were Reilly O'Brien is now worth more than Sam Walsh.
This is where AFL fantasy coaches find themselves heading into the first of three bye round weekends as we try out best to utilise three trades a week. There's hardly smooth sailing ahead and some coaches are negotiating rougher waters than others. However, we are all facing a similarly daunting task in the coming month, with a real 'make or break' opportunity in front of us.
Remember, maximising players on your ground for the next three weeks is going to be crucial, so it's important to find the right mix of able bodies while sticking to the formula of upgrading fattened cash cows. It's not going to be easy, but we're in this together.
---
ROUND 12 BYE
Get 'Em
Brett Bewley, Dockers ($203K, MID, 61, BE 2)
Once the Round 12 bye is in our rear vision mirror there's a chance that Bewley will be the most popular downgrade option. Still close to basement price, the Freo youngster didn't look out of place against the Pies on the MCG and tackled his way to a solid 60. Seriously consider if you aren't one of the 30% of coaches already in the Bewley club.
Dylan Clarke, Bombers ($291K, MID, 109, BE -8)
In his first game of the season, Dylan Clarke burst onto the scene like few cash cows have in recent times. Not only did he lay 10 tackles and gather 23 touches for a triple figure score, he suffocated Brownlow fancy Patrick Cripps, holding him to his lowest possession total (11 disposals) since 2017. Surely he's done enough to hold his spot in the side after their week off, but nothing's guaranteed in the crazy world of AFL fantasy.
Hold 'Em
Xavier Duursma, Power ($517K, DEF/MID, 97, BE 51)
Two 90's on the trot not only make Duurs a great scoring option through the bye rounds, but he may even still have some room to grow. Don't go culling him just yet, even if you can land a big name as a result.
Bailey Smith, Bulldogs ($489K, MID/FWD, 51, BE 79)
Once the byes are behind us my advice would be to trade Bailey Smith thanks to his lack of consistency, making him a risky field each week. That being said, he did gain FWD status this round, adding some versatility to his fantasy game. He deserves to play in Round 13 & 14, but can swiftly be axed after that.
Connor Rozee, Power ($481K, DEF/FWD, 65, BE 87)
If you're going to move Rozee on during the bye weeks, now is your chance to do it. If he isn't in your trade thinking this week, my advice would be to let him survive two more weeks until normality returns. He may bleed some cash, but his place in Port's best 22 is well entrenched and he has a decent ceiling which could lead to a handy points boost.
Zak Butters, Power ($386K, MID/FWD, 79, BE 39)
Shanghai was kind to Zak Butters with the 18-year old kicking two goals on his way to a new career-high 79 points. If you're in the minority and still have Butters, hold him throughout the byes, but make a plan to eventually cut ties.
Callum Wilkie, Saints ($366K, DEF, 50, BE 47)
Trading out players who are on their bye this round isn't the best tactic, so my advice would be to hold Wilkie. He can still help you in the next fortnight and after that point, he can return to your pine or be shipped away. He only survives by a thread though.
Lachie Young, Bulldogs (DEF, $278K, 48, BE 45)
I do wonder just how safe Young is in the Bulldogs lineup. Sitting on around 6% of coaches' benches, there's every chance that Hayden Crozier and/or Taylor Duryea can take his place once they're healthy next week. He's worth holding in the hope he plays, but plan accordingly.
Watch 'Em
Matthew Parker, Saints ($326K, FWD, 57, BE 41)
If you've held him this long, you may as well give Parker a chance to put up a few scores for you during the best of 18 rounds. Can't blame you for sending him packing though.
Mitch Lewis, Hawks ($308K, FWD, 58, BE 32)
After re-entering the Hawthorn line-up, Lewis continued his consistent par scoring, kicking two goals amongst his total in Round 11. He isn't lighting the world on fire, but it's worth holding on to Lewis as an able source of points in the next few weeks. His time is coming though.
Robbie Young, Saints ($203K, FWD, 38, BE 21)
For the second straight week, Saints small Robbie Young failed to trouble the scorers and as a result, may find himself left out of the team after their bye. A stacked injury list could see Young survive, but I wouldn't be recommending a trade in right now.
Ryan Gardner, Bulldogs ($178K, DEF/FWD, 40, BE 16)
It will be tempting for a lot of coaches to bring Gardner in this week with his spot in the Dogs' 22 far from solidified. He showed promise on debut against the Eagles with nine touches and a goal, but let's make sure he's in the team for Round 13 before we pull the trigger.
Ryan Gardner was taken in the NAB AFL Mid-Season Rookie draft on Monday night, told he'd make his debut on Tuesday night and by Sunday night he's kicked his first goal!#AFLEaglesDogs pic.twitter.com/PHPxQNzh3q

— AFL (@AFL) June 2, 2019
Drop 'Em
Jack Scrimshaw, Hawks ($387K, DEF, N/A, BE 71)
In case you aren't aware, Scrimshaw's knee injury makes him a trade out priority as he'll miss the next month or so of footy.
On The Outside Looking In
Willem Drew (Power, MID/FWD, $405K) – Can't do much more to get picked, but if he's not there in Round 13, I'd cash him in.
Will Hayes (Bulldogs, MID, $338K) – I was his biggest fan at the start of the year, but my gut tells me he'll be lucky to play in the AFL again this season.
Dylan Moore (Hawks, FWD, $291K) – Only managed 1.2 from 16 touches. Seems destined to stay in a Box Hill uniform.
Zac Clarke (Bombers, RUC, $280K) – Now is the perfect time to cash in Zac Clarke if you're one of the 10.4% of coaches who own him.
Harley Bennell (Dockers, MID, $236K) – The momentum continues to build for Bennell after 25 touches in the WAFL.
Brayden Ham (Bombers, FWD, $207K) – 3.1 for the Hamster and 81 points could see him enter selection frame in a few weeks. Could.
Will Snelling (Bombers, MID, $207K) – New Bomber Will Snelling could become very relevant in the second half of the season. 97 on the weekend from 23 touches, seven marks and five tackles is a promising sign.
Joel Garner (Power, DEF, $189K) – If the likes of Matthew Broadbent, Jarrod Lienert and Ryan Burton stay healthy I can't see Garner getting too many more senior opportunities in 2019.
Harrison Jones (Hawks, DEF, $170K) – A popular name that still seems to be on the outer.
Nick Hind (Saints, MID, $170K) – Didn't play in the two's after flying to China as late cover for St Kilda. Hopefully, he gets a berth soon, but I'm not super optimistic.
Jack Mayo (Saints, FWD, $170K) – For what it's worth, Mayo kicked one goal from 11 touches in his Sandringham debut after being drafted as a mid-season rookie selection.
Jackson Ross (Hawks, FWD, $170K) – Five shots on goal sounds alright on the surface, but Ross isn't coming in anytime soon.
ROUND 13 BYE
Get 'Em
Oskar Baker, Demons ($254K, MID, 87, BE -19)
No player made more cash in Round 11, making Oskar Baker, arguably, the No. 1 trade target right now. It's both a blessing and a curse that his 87 came from just 69% TOG, with the Dees youngster a chance to be very valuable in the next three weeks. Get him in.
Hold 'Em
Jordan Clark, Cats ($401K, DEF, 77, BE 39)
Talk about making me eat my words. After two impressive weeks, Clark moves up the rankings and is now a wise hold. Another youngster to add an extra position, Clark's DEF/MID switchability could see him be very helpful over the byes.
Noah Answerth, Lions ($295K, DEF/MID, 45, BE 41)
Players like Noah Answerth are crucial to have around during the next few weeks. While there's every chance he never surpasses $300k, he can at least provide your 15th-18th best score in two of the next three weeks, with a chance he puts up a nice 70+.
Darcy Fort, Cats ($228K, RUC, 41, BE 4)
It's a shame that Fort wasn't able to play last round and gain FWD eligibility, but sometimes that's the way the cookie crumbles. Unless a $170k basement ruck is named he's worth holding on the off chance he bobs up in Round 12 and/or 14.
Watch 'Em
Gryan Miers, Cats ($469K, FWD, 46, BE 104)
After losing a chunk of change and dipping in value yet again, it might be time for Miers to be moved. Again, I'd advise axing him only if it doesn't hamper your bye structure, even while he's losing value. Geelong may give him an extra week off and force our hand on Thursday night…
Marty Hore, Demons ($464K, DEF, N/A, BE 64)
If Marty Hore gets the recall after being a late out, I think it's wise to give him another runaround. However, there isn't a lot of growth left for the polished intercepter and he won't be in our teams for much longer if things go according to plan. The fact that Melbourne plays on Monday further complicates matters, with Hore's status likely to still be up in the air once lockout is upon us. It's a tricky one, but if there's nothing pressing in front of you, it could be time to cut ties.
Tom Atkins, Cats ($356K, MID/FWD, 47, BE 49)
If there's a week to move on from Tom Atkins, this is it. Let me be clear, I'm not saying you must trade out Tommy, but this is likely the highest he'll be valued all year and if it so suits you, then there's nothing wrong with cashing him in. Please don't @ me when he has 90 again.
Archie Smith, Lions ($231K, RUC, 57, BE 17)
Smith didn't exactly make the most of the chance in front of him. In his first game of the season, he managed to contribute nearly half of the Lions hitouts (23 out of 49), but a 57 won't likely see him stay in the side over Oscar McInerney.
Drop 'Em
Jay Lockhart, Demons ($383K, DEF/MID, N/A, BE 55)
At the time of writing, there isn't a clear update on Jay Lockhart's injury woes, despite being absent from Melbourne's injury list. I find it tough to see him getting back into the side this week even if he's fit, which means he'll be absent for at least the next two contests. Time to move on if you ask me.
Jack Petruccelle, Eagles ($344K, FWD, 44, BE 68)
Still sitting in a quarter of the fantasy sides around the globe, it's tough to justify holding Petruccelle. However, he may have one more life before axing him on his bye round next week. If you're struggling to field enough players this week, then I'd look to keep him, otherwise, it's time for Petra to go.
On The Outside Looking In
Charlie Constable (Cats, MID, $500K) – So, uhhh, Constable played in the VFL on the weekend after 'injuring' his groin the week prior. Geelong can't even give us team consistency in the reserves! He only managed 19 disposals (72 points) and I'd still advise a trade.
Corey Wagner (Demons, $279K) – HUGE in the two's with a 130 fuelled by 25 possessions and 10 tackles. Still, his inclusion appears 50/50 at best.
James Rowbottom (Swans, MID, $258K) – 24 touches and 89 fantasy points won't see him picked for the senior side.
Isaac Quaynor (Pies, DEF, $246K) – Collingwood remains a non-factor in these articles with Quaynor still an unlikely debutant chance. Never say never though.
James Rose (Swans, FWD, $223K) – Huge NEAFL numbers (141 points, 33 disposals), but another week in the reserves appears to almost be a certainty.
Josh Rotham (Eagles, DEF, $216K) – Maybe an instant Shannon Hurn replacement, but just six touches on the weekend doesn't give his chances a great boost.
Mitch Hinge (Lions, DEF, $209K) – Hinge's omission stung a lot of coaches last week and 57 NEAFL points (coming from 17 disposals) means he'll probably stay out of the side.
Toby Wooler (Lions, FWD, $170K) – 111 with a pair of goals on the weekend is impressive, but he still faces an uphill battle to get a senior gig.
Darcy Cameron (Swans, RUC, $170K) – Helped himself to a pair of goals, 20 hitouts and a 91. Still on the outs looking in.
Michael Knoll (Swans, RUC, $170K) – It's not overly relevant, but Knoll managed 23 hitouts amongst his 66 point performance for the Swans after being taken 4th overall in the mid-season rookie draft.
Cory Lyons (Lions, MID, $170K) – Brisbane's side is awfully tough to break into, and all Lyons can do is keep up his consistency (22 touches for 97 last round in the NEAFL).
ROUND 14 BYE
Get 'Em
Isaac Cumming, Giants ($244K, DEF, 75, BE 3)
No. 1 – Cumming's great score came against the Gold Coast Suns last week.
No. 2 – He had only scored 76 points COMBINED in his previous two matches this season.
No.3 – There's a high likelihood Zac Williams will be back this week and if that's the case, Cumming's score will likely dip, or worse he'll be left out of the side.
Taking all of this on board, every score in the next few weeks counts and while he's cheap, Cumming will be a popular target.
Hold 'Em
Reilly O'Brien, Crows ($553K, RUC, 57, BE 89)
A whopping five-goal, 140 point outing from Sam Jacobs means this could be the end of Reilly O'Brien's ride. After his huge $300k+ price rise, he has more than served his purpose and he can now help you get a mega upgrade across another line. Thank you O'Brien.
Sam Walsh, Blues ($552K, MID, 77, BE 91)
It's far from a disaster, but every game Sam Walsh fails to hit his breakeven hurts 60% of the fantasy world. I've seen plenty of trade plans involving Walsh, but my advice would be to hold onto him until it's bye time (pun intended) in Round 14. Hopefully he can go out with a bang and stop the slide in value.
Liam Baker, Tigers ($498K, FWD, 90, BE 48)
The gift that keeps on giving, Liam Baker looks back to his electrifying best. After a few troublesome efforts, the young Tiger cub found his way to 90 for the third time this season last weekend. If you held him during his troubling times, then enjoy his run while it lasts.
Sydney Stack, Tigers ($473K, DEF/MID, 89, BE 58)
Sydney Stack seems set to be the last upgrade for most coaches in the defensive line and honestly, there's no rush. Averaging a tick under 75 for the season, Stack's presence in coaches defense/midfield lines could see him hang around even once the byes conclude.
Michael Gibbons, Blues ($389K, MID/FWD, 65, BE 54)
He won't go winning you the competition, but there's no reason to cut Gibbons just yet. The Blue mature-ager seems to find his way to a 20-point quarter once a match and it should see him keep dropping these par scores over the next fortnight.
Noah Balta, Tigers ($387K, RUC/FWD, 50, BE 39)
Ivan Soldo coming back into the fray saw Noah Balta understandably attend fewer ruck contests than we've seen in the last fortnight. By no means is it time to move him on though, with Balta still good for 6-10 hitouts a game and his added ruck status gives 38.0% of the competition a versatile tool to use across multiple lines.
Nick Larkey, Kangaroos ($330K, FWD, 53, BE 37)
He isn't tearing up the track, but Larkey is someone that could save you if you need a player up forward with the final bye. He may only score a combined 100 points in the next two rounds, but Larkey's spot in the North lineup seems fairly set in stone.
Watch 'Em
Will Setterfield, Blues ($373K, MID/FWD, 62, BE 52)
31% of fantasy coaches were happy to welcome Will Setterfield back into the Blues' outfit and anything he can contribute over the bye rounds is a positive. He's far from a keeper, but Setters may be able to throw up a pair of 60's for you before he exits in Round 14.
Josh Corbett, Suns ($312K, FWD, 40, BE 42)
Here's hoping that Corbett doesn't slide back below $300k by the time Round 14 gets here. I wouldn't go offloading him just yet though, given his late bye, but he'll be one of the most popular trade out candidates when Gold Coast puts their feet up.
Drop 'Em
Shai Bolton, Tigers ($372K, FWD, 39, BE 61)
I gave Bolton a chance to prove himself with Dan Butler back in the side and he didn't exactly come to the party. Since his barnburner against the Dockers, Bolton has been hanging by a thread and I expect it to snap this round as he's sent back to the reserves level. If he plays though, it's worth getting the production on your field.
Liam Stocker, Blues ($286K, MID, 32, BE 41)
From a bye preparation standpoint, it doesn't make a lot of sense to trade out a player with a latter bye round just yet. Liam Stocker isn't just any other player though, with his awful scores hard to stomach. He can go.
Chris Burgess, Suns ($204K, DEF/FWD, 16, BE 49)
I'm running out of ways to explain Burgess' incompetence on the fantasy football field. I mean, technically speaking any score is a good score for the next few weeks, but my god, can Burgess really be trusted to score?
On The Outside Looking In
Jackson Hately (Giants, MID, $314K) – Just your generic Hately outing with a lazy 30 possessions and 137 fantasy points. I'm starting to give up hope of seeing in the AFL again this season.
Curtis Taylor (Kangaroos, FWD, $185K) – 60 points that included three goals won't see Taylor enter the selection frame anytime soon.
Patrick Naish (Tigers, DEF, $170K) – Three snags, 25 disposals and 113 points have Naish knocking at the door. Please Fantasy Gods, send us a gift.
Hugh Goddard (Blues, DEF $170K) – 13 touches for a sub-60 score. Not going to happen.
Nick Shipley (Giants, MID, $170K) – Still need to upseed some others on the pecking order before he'll be handed a debut.
Cash Cow King – Round 11
Once again I'm forced to hand my weekly vote to a player not in my team after my rookies floundered in Round 11. Trading Duursma out to Rory Laird six weeks ago doesn't look like such a great move now and he'll challenge for the Cash Cow King of 2019 for sure. However, anytime you score 100 on debut, especially while locking horns with Patrick Cripps, that's going to be hard to top. Kudos, Dylan Clarke.
Ranking Rookies
Taking all fantasy aspects into consideration, here are my top 3 rookie/cash cows you should own/make a move for in each of the three bye rounds.
ROUND 12
Brett Bewley

Dylan Clarke

Ryan Gardner*
ROUND 13
Oskar Baker

Noah Answerth

Mitch Hinge*
ROUND 14
Isaac Cumming

Nick Larkey

Patrick Naish*
* = if named
---
Feel free to shoot your rookie/cash cow questions through on Twitter at @SportsbyFry for me to answer in the article. If Twitter isn't your preferred domain hit me up on Instagram or Facebook and I'll get back to you as soon as I can.
Good Luck for Round 12!
✌️