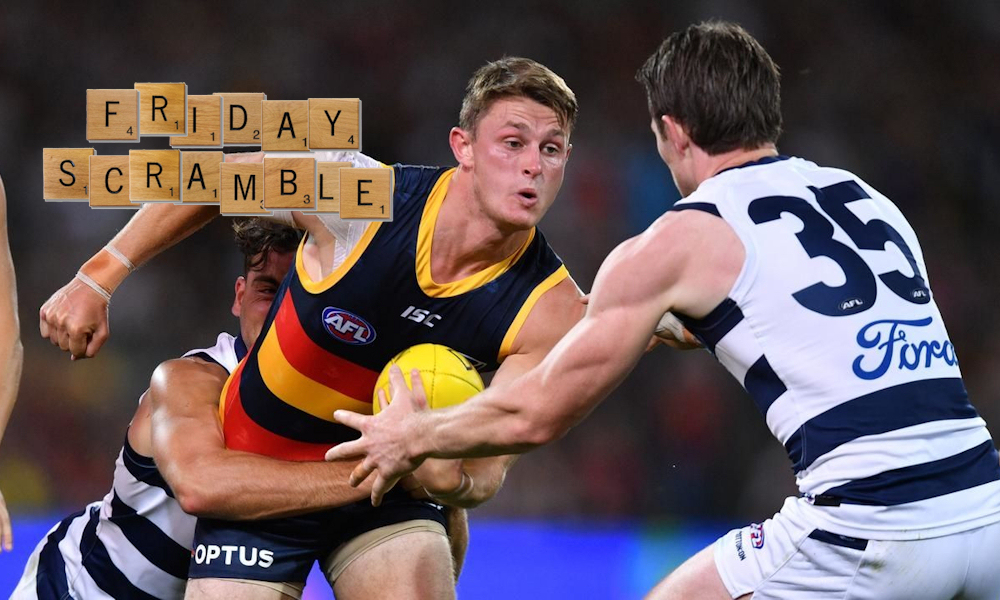 Injuries, Poor Rookie Scores and Massive Premium Scores. And that was just Round 9! What the hell does Round 10 have in store for us?? All I can hope for is that I don't have to rely on my questionable rookies again this week.  I know that I will certainly have to Scramble!  Who wants to join me??
The Byes
We only have two more rounds now until the first of the Bye rounds begins. If you haven't planned yet, this is the time to do so. For those that are new to Fantasy here is a quick run down on the strategy that you should consider.
Firstly the key is to try and make sure that you have a reasonably even spread of players on byes across the three weeks. But, ideally you will have the most players available in round 12 and then a few less in round 13 and then a few less in round 14.
This way you can trade out your rookies from rounds 13 and 14 in round 13 to players that have already had their bye in round 12 thus bringing the total number of players you have available up and hopefully strengthening your team. Similarly you do the same in round 14 with those rookies on their bye in that round.
During the byes you have 3 trades per week in all forms of the game. But in RDT and SC remember that these still come out of your overall limit of 30 trades.
Ideal bye round structure maybe in terms of uber/ premos/ rookies. And are the 3 trades made for two down one up or do you swap under performing premiums to navigate the byes too…? I've never done byes well!

— LexTurnbull (@TurnbullLex) May 22, 2019
Great question! The way you use the three trades over these weeks will really depend on what you have in your team and what you have in your Warnechest. If you can build a big enough bank before the byes or in Round 12 when we don't need to upgrade as the guy you upgrade to will probably be missing at least one of the three rounds then you can go two up and one down in that first week that we should upgrade (round 13) and that would be the best plan. As the bye periods go through you will ideally make sure that you do at least one upgrade to the best premium you can get to. As for two down one up, if you need to do that to get a premium then do it.
However, the biggest key to trading during the bye periods (and leading up to it) is making sure that you aren't just downgrading to any rookie, try and make sure that you can trade one in that is likely to actually play during the byes. It is one thing to have people that aren't on the bye in any given week, it is another thing to have them actually playing and not in the twos or injured.
Selection Table
Bloody Hell!!!  As if last week wasn't bad enough! This just keeps getting worse. It is absolute carnage and I am fairly certain there will be a number of teams out there this week with donuts in them.
Let's have a look at what the hell went on.
Premiums
Buddy's Back! However, I don't thing I would be touching him just yet. Wait to see how he goes before we even think about him.
JPK Returns to strengthen up the Swans mids but also strengthen up your midfield.
Robbie Gray is back which won't mean much in classic but only in Draft where he will be relevant.
Milera returns for the Crows which may have some impacts for Laird and Brodie Smith.
DRAMAFIELD is OUT! I blame the Warne Dawg!! This should hopefully only be one week so holding would be the way to go.
Cogs returns after that one week off. Hopefully he can stay in the side now. Teammate Zac Williams is out but hopefully this is just precautionary.
Matt Crouch misses again and this is most annoying, not only because I have him in all formats, but because in his last three against the Eagles he has smashed out some huge scores.
Rookies
Rowbottom didn't hold his spot which wasn't a huge surprise unfortunately.
Rupert Wills held his spot which is good if anyone brought him in.
Dylan Moore has been dropped which is another rookie down!
Port Rookies Garner & Atley are both out which is something I feared would happen with the return of Jonas and Gray this week. I was always sceptical as to whether they would keep their positions.
Whilst Bailey Williams returns for the dogs we see Hayes and Young both omitted. This is a huge concern for owners but something we shouldn't be surprised at with Bevo.
Collins and Burgess swap spots but to be honest they shouldn't be in your side anymore anyway.
Charlie Constable has been dropped yet again!!  Seriously Scotty, what are you doing to us. Now we wanted to use him in the byes but I'm no longer sure we can trust him to be there.  Importantly though Darcy Fort held his spot.
Hately finds him self on the extended bench again. Hopefully he gets a game this time.
#AskDunny
Are we at a point with injury info (or lack of it) that we should trade out our premiums, especially midfielders as the replacements are *usually* ok as these one-weekers can turn into longer injuries? I'm thinking Matt Crouch here at the moment.

— Adam 'Warnie' Child (@WarnieDT) May 22, 2019
Great Question Warnie! It is really painful that we don't always know exactly how long someone will be out for. If you have nothing else to do in your side then yes you can probably do a one week sideways in AF (obviously not in RDT or SC) to another mid or fwd premium. But to be honest I would say the Mids is the best place to do it unless you are missing one of the top forwards. Matt Crouch is a great example. He is one that you could do this with. As I always say though, just be careful. It isn't always easy to get the original guy back in because other things pop up (which is why I didn't get Danger back in last week, but this time it worked for me).
Is it worth chasing 750k+ premos when all it takes is 1 bad score (like cripps) and they'll be cheap as chips in 3 weeks time.

— Ben Ryan (@BenR2017) May 22, 2019
Always a tough decision. You don't want to pay top dollar for someone only to see them drop by $50-$100k the next week and everyone else gets an advantage on you. When doing my trades to premiums I always look for the value. Look for the guy that has either bottomed out or is very close to it. But there are sometimes that you need to just bite the bullet and do it. Just ask Calvin, he is the king of buying high. But this is only in exceptional circumstances.
Should we be looking to trade out rookies that have maxed out (scrimshaw, gibbons) or rookies that aren't playing atm but might come back – and are therefore not losing value – I.e drew

— Nathan Obermuller (@Obermullet) May 22, 2019
I am always in favour of trading out the guys that are over-maxed out. So this is the guys that are going to drop a big amount in value in the next week. I would usually trade one of them before one of the guys that isn't playing and won't change in price. If the guy has a BE that is close to or just over his BE then I can live with holding him if I have other issues. It is really a risk based assessment on how much value you might lose in a week.
Things To Remember
Whilst you might be facing an absolute disaster in your line up this week, don't panic! There will be plenty of others that will have the same problem.
BYES BYES BYES. Be ready for them. Check your bye structure now. Next week could be too late.
Danger and Crouch should be back next week, but as I said above if you have no other issues you can consider moving them sideways in AF.
That 's probably enough from me this week, it has been a hell of a week at selection and as I said, I won't be surprised to see a few teams with some donut shaped scores out there. Just sit tight and do the best you can with your teams and pray to the Fantasy gods that we can get normal transmission again next week.