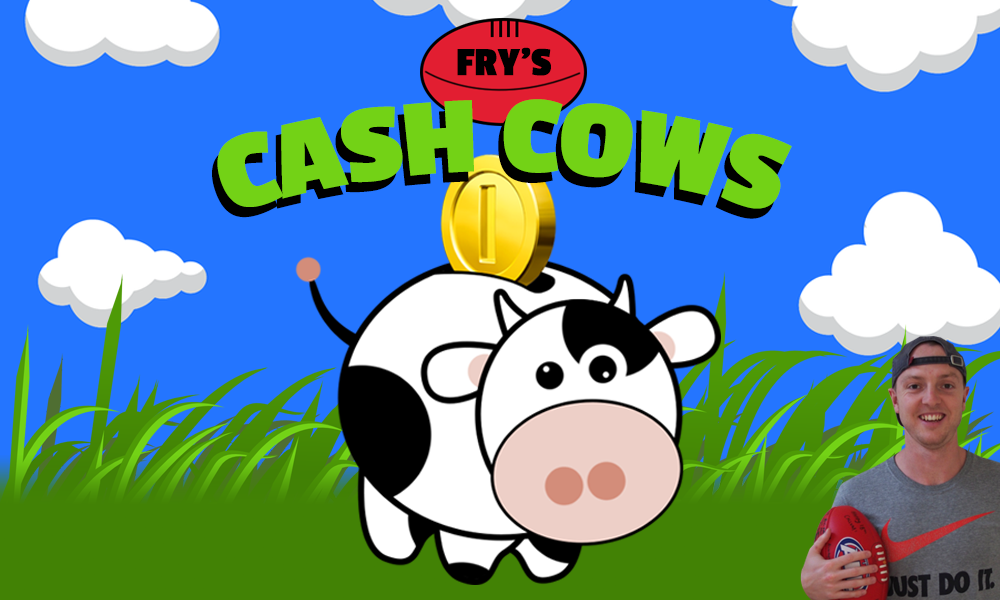 After praising our rookies in recent times, the majority of coaches fell back to Earth with a thud this week. A lot of popular cash cows chose Round 9 to severely dip in production and as a result, things are looking dire. Fear not though, there are a handful of debutants who could hold and provide downgrade targets and there are plenty of trade out candidates to couple with them. With just two weekends of footy separating us from the bye rounds, we don't have time to panic and instead need to make the final moves to prep us for three weeks of carnage.
Defenders
Get 'Em
Joel Garner, Power ($189K, 60, BE 3)
Ryan Burton's bung hamstring granted Joel Garner with an opportunity to prove his worth and he didn't let us down. A 60 isn't going to set the world on fire, but more solid production like this could see Garner earn a permanent spot in the Power 22, even when Burton comes back. Here's hoping he kicks it up a notch this week.
Hold 'Em
Xavier Duursma, Power ($463K, 67, BE 56)
While it's fair to question just how much more growth Xavier Duursma has left, there's no need to move him on yet. Having produced at an acceptable rate, field Duurs with confidence in most cases until he flatlines. I'd even look to use him through the byes as a decent on field source of points.
Marty Hore, Demons ($455K, 60, BE 61)
A tough trip out west to play the Eagles was never going to be Marty Hore's finest outing. Still, the Dees halfback looked poised taking plenty of intercept marks and plugging his way to 60. There are more pressing issues than moving on from Hore just yet.
Sydney Stack, Tigers ($439K, 71, BE 36)
A three-round average over 85 makes Sydney Stack the form rookie defender right now. Hore and Duursma might have something to say about that, but Stack's form is keeping a lot of coaches afloat down back right now. Gun.
Jay Lockhart, Demons ($374K, 43, BE 30)
I flagged this downturn in production from Lockhart, but in his defense it came against a tough opponent on their home deck. Taking on the Giants this week means things may stay ugly, but until that point, you've got to take the good with the bad from Lockhart's performances.
Noah Answerth, Lions ($275K, 21, BE 41)
Not now NOAH! As rookie picks become harder to nail, Answerth has picked the worst possible time to forget how to football. Here's hoping he didn't lose his spot in the team after his woeful nine disposal effort.
Watch 'Em
Callum Wilkie, Saints ($346K, 58, BE 48)
There is nothing wrong with sending Wilkie packing, but if you have more pressing needs he can stay for a little longer. He has basically maxed out in price and more uninspiring performances from Wilkie may even see him axed from St Kilda's side before their bye.
Lachlan Young, Bulldogs ($276K, 29, BE 46)
Anyone want to guess when I brought Young into my side? Not for his 51 against Freo, or his 76 while playing the Tigers. No, instead I traded for Young before Round 8 and he has responded with a stellar 22 and 29 as a result. I've given up on him topping $300k, just please Young, hold your spot for the next month to helps us through the byes, even if it is with a 40.
Mitch Hinge, Lions ($179K, 41, BE 17)
Hopefully Hinge won't be shown the door after his average debut against Adelaide. There's every chance he makes way for Luke Hodge this week, but at least 4.0% of the competition will want another Lion to be in the firing line. I'd proceed with caution until we see better signs from Hinge.
Drop 'Em
Jack Scrimshaw, Hawks ($396K, 42, BE 75)
It's a shame that Scrimshaw is dishing up 40's now after seeming like a safe 60 over the first six weeks of the season. A key building block for a lot of coaches, Scrimshaw's services won't be forgotten, but it's important to move him before he loses too many $$$, having already risen over $200k+.
Jordan Clark, Cats ($356K, 27, BE 51)
Clark lands back down in the "drop em" category after an interesting fortnight of scores. He went gangbusters in Round 8 throwing up a career-high 95, before reminding us why a lot of people have already traded him out following his 27-point performances against the Bulldogs. Ditch.
Sam Collins, Suns ($329K, 21, BE 65)
Sam Collins went down in price this week and faces the prospect of playing Geelong and GWS over the next fortnight. Act accordingly.
On The Outside Looking In
Isaac Quaynor (Pies, $246K) – Emergency for the Saints game last week, but only managed 49 with 12 touches. His time could be coming, but hopefully he hangs on until after the byes.
Josh Rotham (Eagles, $216K) – There's a chance that Rotham will replace Jetta despite just 40 points and nine possessions in the WAFL.
Isaac Cumming (Giants, $205K) – One of six tons in the Giants reserves side, Cumming (101 points, 25 disposals, one goal) kept his name in the team selection conversation.
Patrick Naish (Tigers, $170K) – A team-best 95 points with 28 touches (21 kicks) is impressive but unlikely to force Naish in.
Midfielders
Get 'Em
N/A – No relevant rookie/cash cow MID's land in the "Get 'Em" category this week
Hold 'Em
Sam Walsh, Blues ($570K, 76, BE 105)
This week will be the test for Sam Walsh after putting a few tough opponents behind him. Still sitting in over 60% of teams in the league, Walsh returning to his scores in the 90+ range would be a blessing. If he doesn't fire against the Saints, then it might be time to seriously consider sending him packing, before he loses any more of the $315k he's already made.
Bailey Smith, Bulldogs ($467K, 81, BE 57)
Smith held his own against the class of Geelong's midfield, earning himself a Rising Star nomination in the process. There is only a smidge over 5% of the competition rolling with Smith and while he's susceptible to scores in the 50's, he usually balances it out with an 80+ once every 2-3 weeks.
Will Hayes, Bulldogs ($338K, 42, BE 42)
One bad game shouldn't cost Hayes his spot in the team, right? Unfortunately, youngsters aren't usually given much of a leash and even though he's been fine for the last month, Hayes could find himself shuffled along this week. It would be a huge blow to a ton of coaches, most of whom probably still have Hayes holding down a starting slot in the midfield. Please don't do it to us Fantasy gods.
Joe Atley, Power ($238K, 54, BE 22)
Simply put, Atley's place in the side this week will come down to him vs. Willem Drew. He showed enough against the Suns to warrant a spot in the team to take on Hawthorn, but he didn't exactly sew up the position. If he's given another chance he can't let it slip through his fingers.
Oskar Baker, Demons ($173K, 31, BE 23)
Over 14,000 coaches took the plunge on Oskar Baker this week and it wasn't a surprise to see him struggle. I'm praying that he holds on to his spot, with the injury list seemingly piling up for Melbourne. It might be the only thing that saves Baker, who has the Giants, Crows and Magpies on the horizon. Swell.
A promise fulfilled. ❤

Oskar Baker's debut was special, in more ways than one.#MyHeartBeatsTrue pic.twitter.com/AnYwROj7yu

— Melbourne FC (@melbournefc) May 21, 2019
Watch 'Em
Zak Butters, Power ($363K, 69, BE 53)
After a week off, Butters responded by tying his career-high score of 69 against the Suns. It's worth noting that the first time he scored 69 was against Carlton and things may not be as simple this weekend against Hawthorn.
Liam Stocker, Blues ($263K, 51, BE 23)
Another underwhelming performance from Stocker came in very different circumstances this week. Stocker's 50 this week was actually viewed in a positive light, considering how badly the Blues were manhandled. He could be a downgrade target for people however, I'd advise against it. Hopefully, Stocker forces our hand by dominating against the Saints.
James Rowbottom, Swans ($258K, 25, BE 37)
A twenty-five!? Sheesh. Rowbottom didn't continue his early season form, instead barely going near the football for Sydney in Round 9. If you did take the punt don't go throwing him to the kerb, but you may want to pray he keeps his place.
Chayce Jones, Crows ($244K, 52, BE 42)
There isn't a lot you can do with Chayce Jones this week. Those who have him rotting on a bench spot were happy to see him on the field and hopefully, for their sakes, he can string a few games together and hold his spot in the Crows outfit.
Drop 'Em
Charlie Constable, Cats ($500K, 44, BE 76)
Of all weeks Charlie you chose this one to suck? A lot of Matt Crouch/Stephen Coniglio owners will be out for blood after holding Constable and relying on him to get them through a sticky spot. Instead, you've gone and created another problem, Charlie. There's a chance that you're reading this having already moved on from Constable. If not, it's time to take action.
Michael Gibbons, Blues ($380K, 35, BE 62)
You had your chance Michael Gibbons, time to hit the road. This very well may be his last price increase and he's no longer worth keeping around if he's going to play more of a midfield based role. Cash in.
Tarryn Thomas, Kangaroos ($373K, 42, BE 48)
There might be one or two more good games left in Thomas to potentially increase his value, but it's not worth the risk. He isn't in a ton of sides, but those of you who do house TnT, look to offload him while you can.
On The Outside Looking In
Tom Atkins (Cats, $332K) – Still on the outside after his injury complaint, but he may be needed to get us out of a sticky situation this week.
Jackson Hately, Giants ($314K) – There isn't much more Hately can do to earn a call-up after 101 points and 25 disposals on the weekend.
Corey Wagner, Demons ($279K) – Despite being the Dees' emergency in Perth, Wagner made the journey back to play for Casey and performed admirably gathering 23 touches (96 points).
Jye Caldwell (Giants, $250K) – Continues to impress with 112 points coming from 32 disposals. Should see some action this year.
Brett Bewley (Freo, $170K) – Fine outing with 84 points, but he'll need to do more to earn his debut.
Matthew Allen (Eagles, $170K) – A bright spark (86 points, 20 disposals) in the Eagles' less than impressive outing. Inching closer to a debut.
Nick Hind (St Kilda, $170K) – Another standard 20 touches and 62 points from Hind didn't turn too many heads. Probably not.
Nick Shipley (Giants, $170K) – Mammoth outing including 40 disposals and nine clearances for his team-high score of 123.
Ruck
Hold 'Em
Reilly O'Brien, Crows ($518K, 87, BE 54)
This is getting ridiculous. Hindsight is a powerful tool and unfortunately for 85.3% of the competition, we have seriously missed the boat on Reilly O'Brien. My advice to owners would be to help him get you through the byes and cash in on his $250k-300k rise when Round 14 arrives.
Get 'Em
Darcy Fort, Cats ($199K, 77, BE -8)
A RELEVANT RUCK CASH COW! Rejoice for finally there is another bench choice up for grabs in the ruck department. It's a shame that Fort has the same bye round as Brodie Grundy and Max Gawn, but owners will be hoping he can cement a spot up forward and provide us with another rookie to cash in at a later date.
Watch 'Em
N/A – No relevant rookie/cash cow RUC's land in the "Watch 'Em" category this week
Drop 'Em
N/A – No relevant rookie/cash cow RUC's land in the "Drop 'Em" category this week
On The Outside Looking In
Zac Clarke (Bombers, $280K) – 68 points with 19 hitouts at reserve level seems like Clarke's fate now that Draper is out for the season.
Archie Smith (Lions, $217K) – Had the week off and faces an uphill climb to earn a call-up.
Peter Ladhams (Power, $170K) – A second straight huge game (122 points, 34 hitouts, 24 touches) and potential injury woes for Scott Lycett could see Ladhams enter the selection mix.
Matt Flynn (Giants, $170K) – Joined the Giants' points party with a ton (102) coming from 15 disposals, 24 hitouts and a pair of goals.
Callum Coleman-Jones (Tigers, $170K) – Tigers youngster CCJ might be forced into a debut this weekend after a hit to their ruck stocks. After just nine hitouts and 46 points against Box Hill it's no certainty, but there's a chance.
Forwards
Get 'Em
Robbie Young, St Kilda ($187K, 55, BE 8)
Young is the best available rook up forward this week and his first game shows enough signs to indicate he may stay for a while. Of course, I don't have an insight into how the Saints will be picking their team, but Young was a lively presence up forward and if he holds his place looms as the best we can get in the form of forward downgrades. It's worth noting Young needed two goals for this score though…
Just look at how much this means to Robbie Young. pic.twitter.com/1S51dNpBYv

— St Kilda FC (@stkildafc) May 18, 2019
Hold 'Em
Gryan Miers, Cats ($502K, 61, BE 65)
For the people whining over Miers' 61 let me remind you he's gone over 70 in six of his last seven outings, so matters could be worse. With a trip to the Gold Coast beckoning hopefully Miers can return to his 90's and keep ticking up in value.
Connor Rozee, Power ($500K, 93, BE 58)
I've never had Connor Rozee in my side and I'll be honest, I'm a bit jealous of those who do. He seems like the pick of the rookies right now, with a low score of 72 in the past month and will get a week off in a few rounds. My advice would be getting him to help you through the latter bye rounds before you look at moving him on.
Liam Baker, Tigers ($433K, 57, BE 54)
It's crazy to think that a 57 was Baker's worst score from six games this season. The Tigers small should hold his spot over Shai Bolton and will look to bounce back to normality against the Dons at the G this weekend.
Noah Balta, Tigers ($317K, 79, BE 6)
One of the 'holds' of the year, coaches around the globe are rejoicing over the fact Noah Balta is performing at a high level. With Toby Nankervis and now Ivan Soldo bowing out, there's a chance that Balta will lead a solo ruck attack against Essendon, making him a viable starter on Saturday night.
Dylan Moore, Hawks ($291K, 65, BE 4)
Week in, week out, Dylan Moore just keeps on getting it done. His last three scores have only been separated by two points and he'll look to keep up that killer consistency against Port Adelaide in Tassie this weekend.
Josh Corbett, Suns ($273K, 71, BE -4)
It was nice of Josh Corbett to ease the pressure on his owners with a personal best 71 against Port Adelaide. It'll be interesting to see how Corbett scores against quality foes in the Cats and Giants. Should he do so you'd think he'll at worst survive throughout the byes.
Watch 'Em
Shai Bolton, Tigers ($351K, 43, BE 30)
Dan Butler is well and truly breathing down Bolton's neck from a selection point of view. A lacklustre effort against Hawthorn has Bolton on the block and there are no guarantees he'll hang around for much longer, especially with a quiet one in Round 10.
Nick Larkey, Roos ($293K, 45, BE 22)
Players with the Round 14 bye are proving to be very handy in the forward line. For that reason, Larkey needs to stay in your side, but don't go expecting him to keep you afloat with big scores.
Mitch Lewis, Hawks ($290K, 41, BE 29)
A concussion issue kept Lewis under 50% game time last week and his score reflected that. There's a chance he'll miss this weekend's match, but if you have ample coverage then it's not crazy to hold Lewis. As long as he rewards everyone with a 70 before his bye in Round 11.
Ben King, Suns ($244K, 11, BE 59)
It's a rare feat to lose value in your debut game and unfortunately, it's a trend we're seeing all too regularly from out rookies. Ben King's 11 coming from a five-touch game might take the cake for disappoint debut's in 2019 though.
Drop 'Em
Jack Petruccelle, Eagles ($377K, 49, BE 69)
I gave Petruccelle one last chance against the Demons and now it's clearly time for him to move along. There aren't a great number of forward downgrades, but I would prioritise axing Petra after his recent run of form.
Will Setterfield, Blues ($366K, 48, BE 53)
It was nice to see you back on the field Setters, but you have served your purpose. Failing to top 60 since his return it's unlikely that we'll see the former Giant reach the $400k mark and if it suits to move him to someone with a more favourable bye, do so with confidence.
Matthew Parker, Saints ($314K, 32, BE 60)
A three-round average of 41 is enough of a reason to get rid of Parker. Chances are St Kilda will give him a spell soon after playing nine games straight to start his AFL career. Be ahead of the curve and send him packing before the Saints do.
On The Outside Looking In
Willem Drew (Power, $405K) – Will 32 possessions (107 points) at reserve level earn Drew a return? Over 40% of coaches certainly hope so.
Pat Kerr (Blues, $271K) – For what it's worth kicked 6.0 on the weekend (110 points) and is averaging 72 from five matches.
Lachie Schultz (Dockers, $268K) – For all 32 Lachie Schultz owners out there he's keeping the door ajar with 80 points from 17 disposals in the WAFL.
Max King (Saints, $264K) – Good news for Saints fans, King showed promise in the VFL finishing with four goals (61 points) for Sandringham.
Tyson Stengle (Crows, $211K) – Still yet to make his Crows debut, but he's inching closer after four goals an 93 points.
Brayden Ham (Bombers, $207K) – 16 disposals for a 66 won't see him earn a recall any time soon.
Curtis Taylor, Kangaroos ($185K) – Didn't get a chance to further his case with the Roos VFL side on the bye this week.
Zachary Sproule (Giants, $170K) – Won't likely feature in the senior team this season, but his goalkicking prowess (5.1 on the weekend) could keep him in the convo.
Cash Cow King – Round 8
I'm bucking the usual trend and voting for someone who isn't in my team this week. While Rozee and O'Brien's performances were great for owners, no rookie performance would have felt more satisfying than Noah Balta's score this week. Kudos to the 35%+ of coaches who benefitted from Balta piecing it together (even if he was on your bench).
Ranking Rookies
Taking all fantasy aspects into consideration, here are my top 3 rookie/cash cow players that you NEED to have for Round 10 at each position.
DEFENCE
Marty Hore

Sydney Stack

Xavier Duursma
MIDFIELD
Sam Walsh

Bailey Smith

Will Hayes*
RUCK
Reilly O'Brien

Darcy Fort*

Archie Smith*
FORWARD
Connor Rozee

Gryan Miers

Liam Baker
* = if named
---
Feel free to shoot your rookie/cash cow questions through on Twitter at @SportsbyFry for me to answer in the article. If Twitter isn't your preferred domain hit me up on Instagram or Facebook and I'll get back to you as soon as I can.
Good Luck for Round 10!
✌️