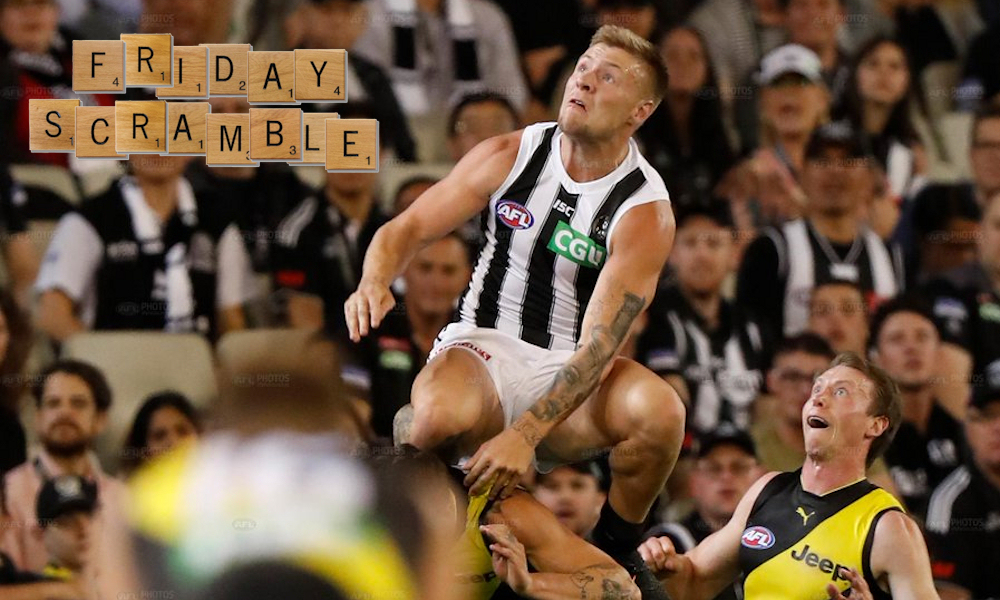 What an amazing weekend of footy, if you got more than 5 or 6 in your tips you are a genius, I had a shocker. But one thing that we did have is some great fantasy scores and we simply can't look any further than the Pig himself! We have a bit different strategy this week in the three different forms of the game but I will mention differences where needed as we go.
Another Thursday Night but more of a Loophole Chance this week.
Unlike last week we had more options for our VC last night and we also have one week of form in the books to assist us. Looking at our options from last night here is how they went.
Treloar – 152 BANG! Take this all the way to the bank! I certainly will be.
Beams – 128 Yup, I would be taking this too
Grundy – 112 A great comeback from the big fella this week after many wanted to trade him out, but I wouldn't be taking this, not quite enough.
Dusty – 59 Yuck. Not Dusty's night.
Pendles – 108. A good contribution but no, not for the captain.
As always the line is about 120 before you need to make a decision. We saw a few other Pies go big with Crisp 142 and Mayne 131 being the only ones that you would take as a VC option but let's be honest I don't think anyone is going to have gone them as VC. If you did then you are a genius!
For those that are taking any of the scores above as VC remember to put a non-playing player onto the field and have them as C with the E on the guy you take off. I am doing this with Darcy Cameron from the Swans as we will know whether or not he is a late in before lockout but he is pretty safe since he isn't on the emergency list. Neither is Darcy Fort so he is another good option.
Did anyone loop Darcy Moore on the bench? If you did this in the backline you may want to keep Marty Hore in your side if you had him to be that loop player for you.
Listen to the AFL Fantasy Podcast with The Traders at Apple Podcasts, Spotify and Google Podcasts.
Rookie Chat
We saw on Wednesday night that Balta wasn't named and missed the game last night. Now we know that Marty Hore, Jordan Ridley, Darragh Joyce and Jarrod Brander haven't been named and Tarryn Thomas is on the extended bench. This is where in AF we use those two trades we have and move these guys out (hoping you did that with Balta before last night's game of course) and bring in the guys from Fry's list on Wednesday. If I had to pick any of those guys to keep in my team on the bench I think it is Ridley.
NOTE: Extended Benches are now 8 players and not 7 as it used to be!
Interestingly our poorest performing rookies from a Fantasy perspective in Burgess and Collins have been named on field in key positions at opposite ends of the field!
Remember you don't have to trade out the rookies that aren't named if you have other changes you want to make. It is a valid strategy to keep them. Reason being that they won't change in price if they don't play. So you can keep one of them and make trades for other players that didn't perform and have a high BE now or make the moves you need to do to bring in someone like Rocky.
Don't overthink things of course. At this stage of the game rookie cash generation is the key, but just remember that you do have other options if you have other plans to execute or holes to fill in your lineup.
Trading Thoughts
There is a massive distinction between AFL Fantasy and Real Dreamteam/Supercoach. AFL Fantasy is the only one that has prices change in the first week and it is also one that doesn't have limited trades.
In both Real Dreamteam and Supercoach the common practice at this stage is to hold your trades and not use them and wait for another week before prices change. That is what I will be doing in those two forms of the game because anything can happen.
But in AFL Fantasy you have the "use them or lose them" two trades per week. So based on that we have decisions to make. I have made a few comments about rookies above and here are some of the questions that you asked me during the week on this topic.
Is it fine to straight swap premiums for points and cash? Eg. Dunkley to Kelly

— Hendrick (@hennissay) March 26, 2019
Cheers for the question Hendrick. This is a bit of a tricky one at this stage. For me the first thing you need to do is sort out your rookies that are going to make you cash. After that you can start doing other trades. Only then can you consider doing sideways trading for premiums. Once again, this is an AF move only, in the limited trades we don't sideswap premiums until round 23. I don't mind the move of Dunkley to Kelly. But if you can do other things this is one that I wouldn't mind waiting on for another week for just to check that Kelly is the real deal and to see if Dunkley's role doesn't change.
Would you consider grabbing Tim Kelly for Dunkley or wait and see what Dunkley provides this week?

WHICH ONE:
– Rocky
– Sheed
– Taranto

— cooper beecken (@fantasyrockie) March 26, 2019
Hi Cooper, as I said above there I don't mind the move but I would wait and see what Dunkley can do this week. With the other three I would probably rank as Rocky first then Taranto then Sheed. I am quite worried about Sheed's role when Gaff comes back. I know Gaff was there during the JLT and Sheed scored well but that is JLT which isn't the same as the real stuff. Whilst I am a little concerned about Rocky I am going with him over Taranto mainly due to Rocky's back catalog of work.
Leave Collins and Burgess on Def bench and upgrade Scrimshaw to Newman? Or Sideways the Gold Coast rookies to Wilkie and Hore?

— Michael Baxter (@mbaxter837) March 26, 2019
Thanks for the question Michael. Certainly not a bad idea to go Scrimshaw and Newman if you are concerned about the scoring power or job security of Wilkie and Hore (we now know that Hore's JS isn't all that great since he has been dropped this week!). If that is the only option you have in terms of rookie movements I can understand wanting to see another week out of Wilkie and Hore won't change in value this week now so no real harm in holding him another week if you want to do something else. Having said all of that, you need to make sure you are comfortable that Newman can keep that sort of form up. He had a good JLT1 but wasn't as good in JLT2. S0 whilst I am ok with leaving the GC guys on the bench and doing something else I am not sure that Scrimshaw to Newman is the move I want to make as Scrimshaw has a BE of just 15 so has some money to make.
Selection Highlights
As I did last year I will give you a few of my Fantasy Relevant thoughts on what has happened at selection and things to look out for.
Seedsman is back off his finger injury so don't expect too much from him as he may be a little underdone.
Still no Zac Clarke for the Bombers as he is on the emergency list still
Toby Greene is out injured, word was that he is out with General Soreness, but that can't be right, it is March still!!
No sign of Josh Kelly either, this is killing a number of draft teams that took him in the first round (mine included!).
Melbourne swung the axe with Spargo Hore and Wagner all out. But in a relief for some draft teams May and KK are back. Plus we have a new rookie in Jay Lockhart.
James Cousins sees himself third last on the bench and in danger of being omitted as the cull happens tonight. But I have a feeling he won't be missing out based on some of the other names on that list. But make sure you check final teams this afternoon just to be safe.
The Suns bring in another rookie and that is Ben King. He is a key position type and I would take a wait and see approach.
Draft teams will be happy to see Jesse Hogan back in the Fremantle line up this week.
Things To Remember
Don't panic, it has only been one week.
With respect to the above comment, look at what Grundy did this week, he bounced back and showed us that he still has it and to keep the faith with guys that had a bad first week but have long term form.
Rookies that aren't playing don't necessarily have to be traded out if you have other issues you want to fix. They won't lose value.
AF is the only form that trades should be done.
After a big weekend of footy with some great scores hopefully we will see something similar this week. It is a long season and if your premo's didn't perform this week don't stress. Remember you picked them for a reason and you did 2-3 months of research on them and you may not want to throw all of that out after one game of footy.
Great to see heaps of comments last Friday with people helping each other out.  I will try and jump in and answer some questions and give some help, but as most of you long time readers know it is difficult for me to do sometimes due to work, so don't think I don't want to help or don't appreciate your comments, it is just that work commitments don't always allow me to respond in a timely manner.
All the best this week, enjoy the footy and I'll see you all again next Friday morning.
Ken Hinkley had this to say about @rockwiz38 today at his presser. 🐽

Thank to @Lee_Gaskin1 for the audio!#AFLFantasy pic.twitter.com/7hjUSzMtoQ

— AFL Fantasy (@AFLFantasy) March 28, 2019