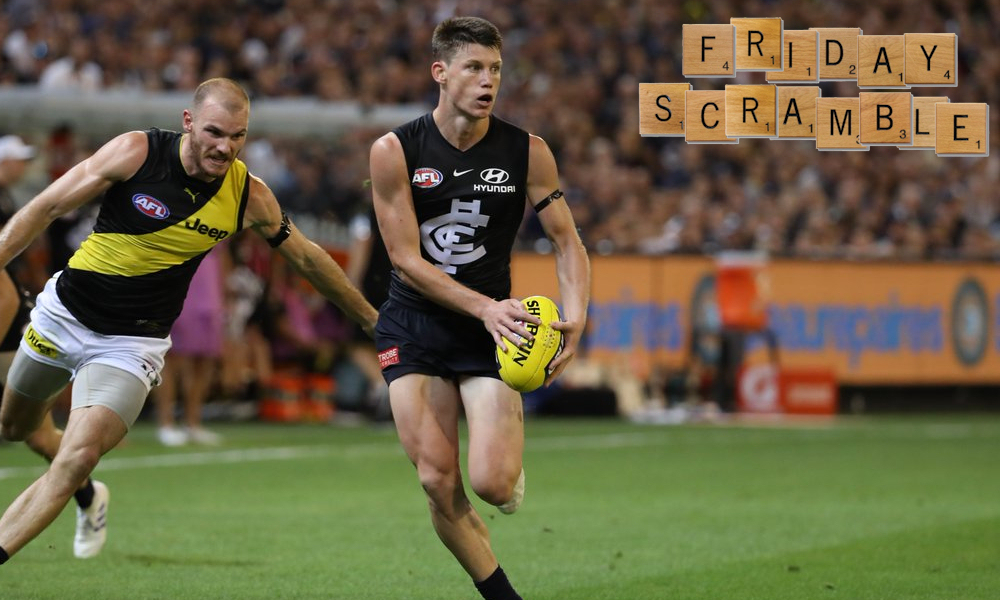 Welcome Back!  How good is it to have the Fantasy season back. Hopefully all of those months of planning are starting to pay off and you have a great score on the go after the opening game of the season last night. If you didn't have a great night with your players, don't stress. That was just game 1 and there are 197 games left to play out for you to recover! Anyway, big thanks to Warnie, Roy and Calvin for having me back again for my 9th season of writing for you all. Anyway, let's get stuck into it!
Thursday Night Loophole!
As has been the case over the last few seasons we have kicked the season off with a Thursday night game and that means that we can have a double chance at our captain selection. I won't go into how to do the Loophole here as I am sure that you are all over it by now. The thing about doing this in round 1 is that realistically we won't have a zero player to bring on. The only ones that I can think of that you could justify would be Darcy Cameron in your rucks. He should be on the park at some time during the year and could make us some money. The other option is Dacry Fort from the Cats. He may play at some stage too. The key with these guys is they are bargain basement priced so you aren't wasting money in your bench ruck spots and you are selecting guys that are at least a chance to play during the year.
Anyway, let's take a look at the scores from the popular choices from last night.
Dusty 81pts. Obviously No.
Cripps 101pts. Not quite enough.
Cotchin 107pts. Not enough.
Simpson 92pts. No.
In fact, there wasn't really any scores big enough to take. With Nankervis and Newman being the top scorers with 115 and it being very doubtful that anyone put the VC on them. If you did, I am not sure I would take them but well done on having them on the team.
The line these days may be a little different as we don't have the Fantasy Pig Tom Mitchell to fall back on but it is generally 120 the minimum that we would take.
Listen to the AFL Fantasy Podcast with The Traders at Apple Podcasts, Spotify and Google Podcasts.
How are your Rookies?
The biggest decisions we have at the moment is which rookies are we going to select (excluding those that are locked out from last night of course). I am sure that you all looked at Fry's rookies but he didn't know who would get selected for a game and who wouldn't. Thankfully all the key rookies got picked for us this week and that makes our job that much easier.
We have already seen a few play last night and of course they have been locked into our sides now.
Sam Walsh kept up his great form from the JLT scoring a lazy 87 points in his first game. This kid is a jet and get on him for the Rising Star. Will Setterfield was good with 71 points and justified his position on your field this week.  Michael Gibbons  had just the 43 points and took a while to get into the game but did enough. He is good for a role on your bench.  Noah Balta was good in the first quarter with a goal from his first kick in footy (and a 50m penalty) but he didn't do much else. Just the 29 points and he was only on the field for 52% of the game, this leaves me worried about his job security going forward. However having said that, Hardwick did mention in his press conference that he may look at using Balta down back with Rance going off with his knee injury and looking like he will be out for the year with an ACL.
Of the other guys we have all seen what Fry has had to say about them in his awesome write up. Now that we know that all of the key rookies that we have been looking at are named for a round one debut. The only one missing is Isaac Rankine but we already knew he would be out. So now it all comes down to your research and who you think are the best options.  For me I am looking at spending a little more with my rookies going for the mature agers and the higher priced guys like Jordan Clark, Xavier Duursma, Sam Walsh, Zak Butters and Will Setterfield (if you can call him a rookie). I think this is the year to pay up a bit because of the talent on offer and the job security these guys have. There will be one that comes from nowhere, there always is, but don't panic. You can always make the changes next week to fix up your rookie selections.
On the Ruck Bench I am going with Fort and Cameron. I know they haven't been named but I really don't like spending more than the basement price on Ruck rookies. For mine these are the two that are most likely to get a game from that price bracket. I would rather use those dollars for my on field positions than for ruck bench positions.
One of the questions I got during the week was from DiggaDT (@diggakal) and they asked me how many players I have that are under $280k. Well I have 16 players in that category. I am going a fairly heavy Guns N Rookies approach this season.
Plus 12 (@DTFootyhead) asked about Defender rookies well I have got 5 of them in my squad and I have gone the popular ones with guys like Collins, Clark and Duursma in that group.
Game Changes
It hasn't just been the AFL that have had some rule changes in the off season, there has been a change to Real Dreamteam too.
For those of you that play Real Dreamteam you should be aware of a big change to the game that has taken place this year. RDT has now moved to a FULL rolling lockout each and every week which brings it into line with Supercoach. The decision was made after online polls were undertaken by the company that runs the game. So just keep this in mind if you are a player of this game.
Remember that all your players from last night's game are now locked out in all forms of the game and there they shall stay…. well until rage trading on Monday. Everyone else in AF becomes locked tonight at the bounce of the ball. In RDT and SC they are all good to go throughout the weekend until their game starts. Obviously though, as we get further through the weekend and more players get locked out your options do thin out a bit so don't leave it too late to have what you consider to be final, that way you won't be panicked into making a forced decision across the weekend.
How many Mid Pricers?
There have certainly been a lot of mid price players talked about this preseason and I am sure that many of these have found their way into teams. We just need to make sure we don't go overboard and put too much faith in too many of them. A lot of people ask how many is too many. Personally I have been sucked in by mid pricers too much in the past and I am looking to steer clear of them this year as much as I can. Having said that I have 4 players that could be considered mid pricers in my side. That is the absolute most that I think we should have.  I have Brodie Smith, Zac Williams, Brad Crouch and Darcy Moore in my starting squad as we speak. I don't consider these too much of a risk.
He is a bit of a high mid pricer, but did you go with Nic Newman? He didn't really impress us in the JLT but wow, he saved it all for round 1! He has really showed us what he can do and if you did pick him, hopefully he can keep this scoring up.
Things To Remember:
Fantasy Footy is a long season.  Don't stress if you had some issues with your side from last night. It is a long year and with AF's 2 trades a week, you can recover.
Plan ahead with your trades. Don't just trade for the sake of it each week. Look ahead and plan as best you can. And in particular take the byes into account as early as you can. This makes it easier when you get there.
There is no right answer. I see a lot of people on social media asking everyone who they should take out of player x and player y. There is no right answer (usually) as anything can happen!
Get your leagues finalised today/tomorrow. In RDT and SC the leagues get sorted and filled on Sunday so have your leagues full or in a condition you want them in by Saturday night. I am unsure about AF at this stage.
Speaking of leagues here are a couple of AF leagues for you guys to jump in.  Please only jump in ONE of them so everyone gets a chance.
42UK96T4
6LTHEM35
Well I for one am happy that the pre-season is over and the real stuff has started, once this weekend is done my teams are set and it is just a couple of changes a week instead of numerous every day. Best of luck to you all for the season ahead and I look forward to being able to bring you some tips, strategy and hints along the way.  Please reach out to me on social media and let me know any questions you have or issues you would like me to address and I will do my best to incorporate them here each week.
Cheers
Dunny
@pkd73