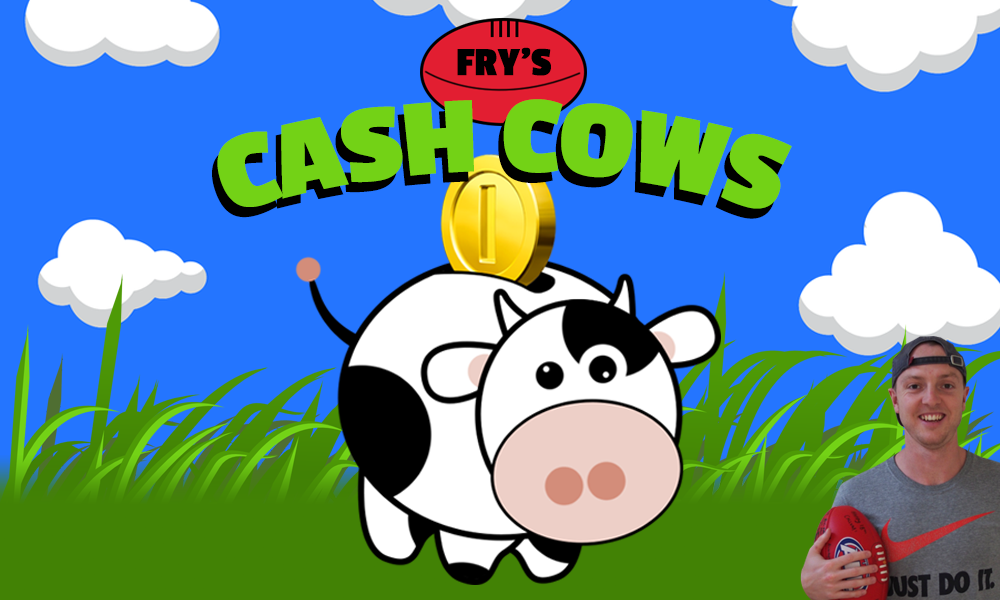 Hands up if you've heard terms like 'it's a marathon, not a sprint', 'take a one week at a time approach', 'let's not overreact to one batch of games' way too often in the past few days? I promise I'll try to minimise my use of those cliches as I wrap up the first weekend of fantasy madness and there is an air of cautious optimism around the youngsters following Round 1.
Of course, if you nailed your on-field cash cow selections last weekend it would have paid off handsomely with a bunch of rookies delivering scores in the 70's/80's and one such youngster on the verge of toning up! It's not all good news though with a lot of popular bench players unable to crack 50 and if you fielded one of them, I feel for you.
In case you missed my pre-season rookie guide last week you can visit it here.
Glossary
With a bit of a different format to cash cow bibles of the past here's a guide to understanding the article before you dive into all the numbers.
Get 'Em: These are the players you MUST have in your team. For whatever reason – job security, scoring potential, price, or a combination of all three – don't mess around and make these rooks/cash cows a priority.
Watch 'Em: These aren't quite must have's nor should you ditch them ASAP. Rather, the youngsters in this bracket need to be monitored, whether they are in your team or not.
Drop 'Em: Speaks for itself. Ditch these players who are at risk of losing money/their place in the side.
On The Outside Looking In: Players who weren't on the park last weekend, but need to be looked at. A portion of these players will become future trade targets.
Sample Player, Team (Price, Last Round Score, BE=Breakeven*)

*For those who are unaware a player's breakeven is the score they must reach to maintain their current price.
Defenders
Get 'Em
Xavier Duursma, Power ($259K, 71, BE 11)
Duursma was sick against the Demons, recording his 16 touches all over the ground even drifting forward to hit the scoreboard twice. His production off the half-back line and on the wing makes him the pick of the defensive rookies at this stage and the other half of the competition who don't have him in their sides could be tempted to acquire him with their first trades of the year. Hamish Hartlett might make some waves soon, but hopefully after another good showing Duurs can prove he belongs in the side. Jet.
Jordan Ridley, Bombers ($318K, 57, BE 37)
This one comes with a little more risk given Ridley's inflated price tag. Currently, in just 5% of teams his score won't entice a lot of coaches but given the fact that Essendon struggled to get their hands on the footy against GWS, Ridley's 57 is all the more impressive. Another week of Zac Williams struggles and a good showing against the Saints might see Ridley's ownership spike upwards.
Callum Wilkie, Saints ($183K, 46, BE 10)
The lowest breakeven of the defensive rooks belongs to Callum Wilkie, who slipped through a lot of coaches' fingers to start the season. The former North Adelaide intercept defender looked right at home in St Kilda's back line recording eight intercept possessions, even if his fantasy score didn't reflect it. Alan Richardson raved about him in the post-game presser and I'm expecting a better showing against the Bombers. Team selection will be telling, but if he's there he could be a great bench play.
Jordan Clark, Cats ($258K, 60, BE 20)
Zach Tuohy continues to breathe down Clark's neck, but for the time being the young Cat appears safe. With Tuohy still unlikely to make an appearance next round, Clark can continue to press his case for a spot in Geelong's best 22 and his Friday night effort will have helped, that's for sure. He provides dash and flair out of defense for the Cats and while his six turnovers are less than ideal I expect him to go 65+ this week.
Watch 'Em
Jack Scrimshaw, Hawks ($218K, 53, BE 15)
I swear it's not personal Jack, I just don't know if you can be trusted yet. While his 53 was fine (ish) in our backlines, his place as one of your starting six is unknown and there is the threat of Clarko pulling him from the side to work on his 'conditioning' any round now. Still, he should still be in your calculations if you're a non-owner.
Marty Hore, Demons ($181K, 42, BE 14)
The potential inclusion of Kade Kolodjashnij could spell doom for Hore after his effort on the weekend. 14 disposals look alright on paper, but he didn't exactly stand out. If you took a punt on him cross your fingers for team selection.
Darragh Joyce, Saints ($183K, 45, BE 12)
Joyce should have put a bunch more points on the board, but he was pinged for holding more than once against Gold Coast. In fact, in total he gave away six free kicks, taking 18 points away from his 18 disposal effort. With Wilkie seemingly higher up int he pecking order, Joyce could make way for a returning Saint this week.
Charlie Ballard, Suns ($342K, 89, BE 18)
At his lofty price, you couldn't take a chance on Charlie Ballard. If you need me to help further talk you off the ledge he only averaged 43.5 points from 11 games last season. 89 points in 89 points though.
Connor Rozee, Power ($282K, 62, BE 19)
Call me a hater, but I still have my doubts over Rozee's scoring ability. Credit where credit's due though, he had five marks and five tackles while being involved in seven Port Adelaide scores. If you're an owner, hold onto him and if not, then tune into the Power's game this week with a keen eye on number 20.
Ben McKay, Roos ($205K, 47, BE 16)
As I'm about to point out, key position players can ruin your team and your weekend if you're not careful. However, I wouldn't be doing my job if I didn't point out McKay's 47 and with EVW doing his ACL the young Roos' job security was likely just enhanced. Don't do it to yourself.
Drop 'Em
Sam Collins, Suns ($238K, 21, BE 46)
I would like to take this time to apologise to the AFL fantasy community. Not only did I advise to pick Collins' I myself fielded the spud for his 21. As I previously highlighted job security is important and he's likely to keep his spot in the Suns team as long as he is healthy. Suffering a concussion late in the game, there are no guarantees that Collins will be right for next week, so it may be wise to pocket to extra coin and bring in a cheaper type. If he's named then I don't think you have to deal him away, perhaps give him one more week. Don't take the gamble and field him though, trust me.
Chris Burgess, Suns ($171K, 25, BE 25)
Once again key position players should probably be avoided like the plague and Burgess is no exception. If you're hell-bent on getting Tom Rockliff this week make priority number two ditching Burgess. Yuk.
On The Outside Looking In
There isn't a lot to get excited about from the non-playing defenders, but the same popular names will be watched in the near future. Francis Watson (Eagles, $170K) and Isaac Cumming (Giants, $204K) are intriguing, but both will likely have to bide their time before coming into calculations. Griffin Logue (Dockers, $208K) is unlikely to crack Freo's rotation as he returns from a hamstring strain while Corey Ellis (Suns, $261K) could earn a recall after overcoming a groin injury.
Harrison Jones (Hawks, $170K) and Isaac Quaynor (Magpies, $246K) also still appear a ways away and Brandon Zerk-Thatcher (Bombers, $170K) has been flagged as a potential debutant this week. After he averaged 54 from 19 VFL games last year I wouldn't be taking the chance though.
Midfielders
Get 'Em
Sam Walsh, Blues ($300K, 87, BE 9)
Der. Amazingly there are still nearly 30% of coaches who don't own Walsh. I don't want to waste any more of your time. If you're in that group just get him into your team. Next.
Charlie Constable, Cats ($205K, 82, BE -12)
A very impressive performance from Constable against the Pies feels like it came so long ago, but he lived up to the pre-season hype. With some uncertainty around the other Geelong debutants, Constable's first game likely locked away a spot in the Cats rotation for at least the next few weeks as he finished third in centre bounce attendances behind Danger and Kelly. I won't go expecting 80+ each week, but he's a viable starter moving forward.
Bailey Scott, Kangaroos ($218K, 97, BE -20)
I think I'm in love. I might be slightly biased considering the fact that his last disposal gave me a three-point league win, but his numbers speak for themselves. He recorded 20 touches, a NAB Rising Star nomination and the second-highest score for North spending 77% of his time in the defensive half. Potential DPP status in Round 6 has me salivating. Must have.
Watch 'Em
Luke Davies-Uniacke, Kangaroos ($286K, 71, BE 18)
Hmmmm. Did LDU do enough to signal that he's a genuine option? Probably not, but a career-best 71 is a promising sign. Spending a big chunk of the game up forward, we could see Davies-Uniacke gain forward status in the future, which may entice coaches even further. For now, watch him with a close eye against Brisbane, although I wouldn't be getting my hopes up.
Tom Atkins, Cats ($182K, 44, BE 12)
I boldly predicted that Atkins would average 70 in his fantasy games this season. Not playing like that he bloody won't! After averaging 22 disposals in his VFL days, Atkins managed just nine touches against Collingwood, with his spot in the team bound to come under scrutiny. Sitting in over a quarter of teams, our fingers will be crossed for the tackling machine come Thursday night.
Michael Gibbons, Blues ($182K, 43, BE 14)
In a similar boat to Atkins, a former VFL ball winner reduced to a half-forward role could be on the chopping block. I have faith that Gibbons can hold his spot after doing some nice things for Carlton last round, but if you have some extra cash I can't blame you for moving him on in an effort to land one of the aforementioned top-three mid rooks.
Zak Butters, Power ($266K, 64, BE 19)
64 points with two goals included isn't the greatest start to the fantasy season from Butters, but let's not get greedy. He probably deserves to be a notch higher based on his scoring ability, but one name will make Butters' owners nervous. Ollie Wines. Set to return in the next fortnight, the Port youngster could make way for Wines, forcing 20% of the team to act accordingly. Monitor.
Corey Wagner, Demons ($196K, 66, BE -1)
Let me make things clear, the reason Wagner finds himself here is based on his sub-par job security. Should he be named for Round 2, even with the potential Demons' inclusions then he will push his way towards must-have territory. Would love a 70+ to guarantee a spot in next weeks article. No pressure.
Tom Sparrow, Demons ($238K, 64, BE 11)
A late call-up for Jordan Lewis signals that Sparrow isn't very high up the job security pecking order. That being said the debutant did what was required to potentially earn another game. Team selection will be telling.
Chayce Jones, Crows ($263K, 50, BE 29)
Jones didn't exactly have a debut to remember, but he joined the prestigious first kick, first goal club in the AFL. Injuries to a few key Crows means that he'll likely be given another run by Don Pyke, but he'll need to up the ante if he wants to remain in Adelaide's lineup and fantasy sides in the future.
Drop 'Em
Bailey Smith, Bulldogs ($258K, 36, BE 39)
Don't panic, there's still time to fix your mistakes. I flagged Bailey Smith's potential slow start after he was handed his debut despite low JLT time on ground and previously coming off of an Achilles injury. He did manage to feature in 77% of the game against Sydney, but it's going to be hard to trust him moving forward.
On The Outside Looking In
Sticking with the Bailey Smith theme and should the Bulldogs opt to take him out of their sides then Will Hayes (Bulldogs, $170K) is shaping up as his replacement. Hayes gathered 28 touches and kicked a goal in their W against Werribee and he averaged 98 points a season ago in the VFL. Other popular preseason picks like Nick Hind (Saints, $170K) and Brett Bewley (Dockers, $170K) may come into calculations with Hind more likely to earn a gig over Bewley at this stage. Finally, top draftees come with a larger price tag and it may be wise to take a wait and see approach with Tarryn Thomas (Kangaroos, $256K), Ned McHenry (Crows, $240K) and Jackson Hately (Giants, $244K) should any of them be named, even though it's unlikely.
Ruck
Get 'Em
N/A – No relevant rookie/cash cow rucks are must have
Watch 'Em
Only two players who are priced under $400K in the ruck department played this past week with Andrew Phillips (Blues, $375K, 83, BE 32) and Lewis Pierce (Saints, $320K, 47, BE 46) not exactly owning the best fantasy pedigree. I wouldn't advise starting either of them in your classic side, but Phillips may be a sneaky draft option until Kreuzer returns.
Drop 'Em
N/A – No relevant rookie/cash cow rucks need to be dropped
On The Outside Looking In
I was a little disappointed to not see Archie Smith (Lions, $217K) named last week and he seems to be at the top of the pecking order in the ruck cash cow department. Don't draw a line through Zac Clarke (Bombers, $270K) who could come in to support, or even take the reigns from Tom Bellchambers after his average effort. Popular bench choices Darcy Fort (Cats, $170K) and Matthew Flynn (Giants, $170K) were solid in the two's but still appear a long way off, while Darcy Cameron (Swans, $170K) returned from injury.
Forwards
Get 'Em
Will Setterfield, Blues ($273K, 71, BE 15)
We all knew what Setterfield was capable of should his body give him the chance and we got a decent look on Thursday night. Despite playing just 66% of the game, the former Giant went about his business with little fuss accumulating 24 disposals for his 71. He's locked away in 69% of teams for a reason.
Willem Drew, Power ($208K, 86, BE -14)
This one comes with some caution as the Ollie Wines effect continues to hang around like a bad smell. Carved in a very similar mould as Wines, we saw Drew gather 10 contested possessions in the Power midfield, playing a big role in Port Adelaide getting the chocolates. I'm praying that Hinkley doesn't pull a swift one on us and send Drew back to the reserves when Wines is all clear, but it could very well happen. Until that time though Drew is worth starting on your field in forward or midfield lines.
Matthew Parker, Saints ($213K, 83, BE -11)
But wait, I thought you said key position players don't score well Fry? If that's the case, how do you explain Parker's stellar debut? Simply put I can't, the former WAFL product exceeded expectations and then some against the Suns and for those who fielded him, kudos. Don't go presuming these types of scores will be on offer every week, however, Parker's place in St Kilda's side is safe for now meaning he'll only continue to generate cash for the next month or so.
Watch 'Em
Gryan Miers, Cats ($183K, 45, BE 12)
With Quinton Narkle lighting up a VFL practice match with 28 touches and Cam Guthrie set to come back in, I have a hunch Miers won't be named in Round 2. He only managed 11 touches on Friday night and while there were flashes, he'll likely be the odd one out. Of course, I hope I'm wrong and if he's named, he's worth a second chance.
Jarrod Brander, Eagles ($185K, 48, BE 11)
Spearhead Josh Kennedy is appearing more and more likely to play this weekend against the Giants and if that's the case I can't see West Coast squeezing Brander into their outfit. He did a respectable job against the Lions with seven marks helping boost his points total. There's a chance the Eagles opt to swing the axe down on Tom Hickey instead, which I'm sure is sweet news to Brander owners. Don't hold your breath though.
Jack Petruccelle, Eagles ($183K, 46, BE 10)
With Willie Rioli's foot giving him strife and Jamie Cripps still a week away, there's every chance that Petruccelle can hold his place in the team. He did chalk up half his possessions on a wing and provided the Eagles with a bit of dash, even if it was few and far between in their big L at the hands of the Lions. Should he be named owners will want to pay close attention to him against GWS, with fielding him a very risky play.
Will Powell, Suns ($307K, 103, BE -2)
Similar to his teammate Ballard in defense, I'd be very careful about taking a risk with Wil Powell. Priced close enough to the other cash cows to justify mentioning, Powell recorded just 40.4 fantasy points per game in his seven matches last season, contributing to his low starting price. If you're serious about getting around him, wait at least one more week to avoid potential heartbreak.
Lachie Schultz, Dockers ($206K, 83, BE -12)
Schultz almost came out of nowhere to begin the season in Freo's side and his score was just as surprising. Currently sitting in just over 4% of teams, the former Williamstown forward/midfielder wasted no time to make a name for himself with 17 disposals and a pair of goals in Freo's pantsing of North Melbourne. Given the Dockers easy run to start the season, he might be an option, but I want to give him another glance before investing.
Jack Lukosius, Suns ($276K, 50, BE 33)
This is what we can expect from Lukosius. He'll have his 70's & 80's, but ultimately the high 50's are where his average is set to land. It may be a tad harsh given the fact that he has just one AFL game to his name, but after failing to hit the scoreboard on the weekend those who took a chance on him will be hoping he can put points ont he board sooner rather than later.
Drop 'Em
Noah Balta ($173K, 29, BE 22)
I'm still not ready to give up on Noah Balta, but the Tigers might be. Alex Rance's injury could see Balta sent down back after playing some defense during his VFL time. Even if he holds his spot, I've already said my bit about key defenders and after 29 fantasy points and just five touches, I'm not expecting Balta to buck the trend.
Nick Blakey, Swans ($256K, 42, BE 33)
Another taller high draft pick who shouldn't really be in our thinking. No offense to the versatile talent, but at his price, there are better choices out there.
On The Outside Looking In
I've touched on Quinton Narkle (Cats, $320K) as a potential inclusion for Geelong this weekend, but I haven't talked about him as a player worth considering. With only one score over 60 in his career, he can't really be on your radar even if he comes in as expected. Worth noting Adelaide recruit Shane McAdam (Crows, $170K) suffered a calf injury that will set him back for about a month in an SANFL tune-up.
Hawthorn forwards Dylan Moore (Hawks, $170K) and Mitch Lewis (Hawks, $170K) continue to press for selection and a healthy Ben Cavarra (Bulldogs, $182K) could also come into the mix. All three will likely be forced to wait a few weeks before potentially breaking into the senior side though.
Cash Cow King – Round 1
It's important to recognise the young guns for the work they put in on a weekly basis. For that reason, I'm introducing the Cash Cow King award, handed out to a rook who stole the show for each respective round. My three votes have to go to Bailey Scott for reasons I described earlier, but there were plenty of worthy nominees this week. Who's your pick of the bunch?
Loading ...
Ranking Rookies
Taking price, scoring potential and job security into consideration, here are my top 5 ranked rookie/cash cow options for Round 2:
Sam Walsh

Bailey Scott

Xavier Duursma

Charlie Constable

Will Setterfield
Rookie/Cash Cow Q & A
Similar to Jeppa and The Milkmen in the past I'm available to answer any questions throughout the week. With articles set to go up weekly on Wednesday moving forward, feel free to shoot your rookie/cash cow questions through on Twitter at @SportsbyFry for me to answer in the article. If Twitter isn't your preferred domain hit me up on Instagram or Facebook and I'll get back to you as soon as I can.
Good Luck for Round 2!
✌️