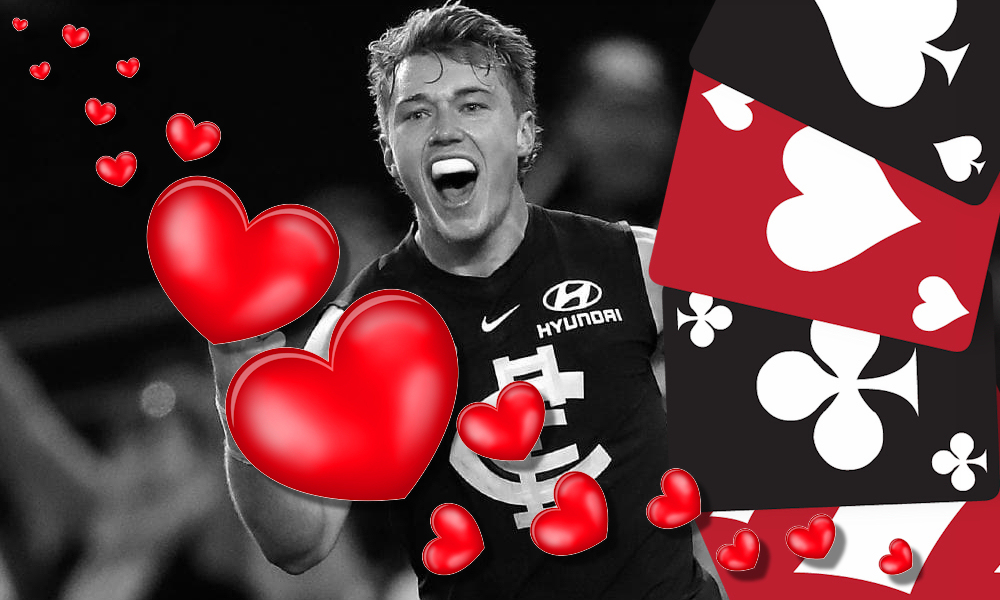 Name: Patrick Cripps
Team: Carlton
Position: MID
Price: $793,000
Bye round: 12
2018 average: 109.3
2018 games played: 22
Predicted average: 110
Draft range: 4-10
Click here for 2019 Fantasy prices.
Why should I pick him?
Today – on Valentines day – I'd like to bring you a very special edition of the Deck of DT.
I'm not going to lie, I have an undeniable bias towards this man. As a Blues fan and Cripps fanboy, I've seen this man mountain grow from a baby-faced draftee with puppy fat to an absolute beast who is now a bonafide star of the competition. But I'll try not to let that sway my thinking as I sell you on this fantasy stud.
Let's go through the obvious: Cripps played every game in 2018 – the third time he's played 20 games or more in just four years (not including his debut year of 3 games). Last season saw him elevate his game from premium option – averaging 94 points over the 56 games prior to 2018 – to fantasy's elite, fourth overall for fantasy points and the seventh best average with 109.2.
Even more impressive, the new Carlton Captain stormed home in 2018 to finish the season with a 118.3 post-bye AFL Fantasy average and a whopping 120.6 from his last 7 starts. This saw 'Crippa' finish the year on a high, culminating in his 2nd John Nicholls Medal; fourth in the Brownlow; and his first All-Australian blazer.
If this wasn't remarkable enough, Cripps achieved this as a 23 year old midfielder doing it all in a team that finished with just 2 wins for the season. With more support in the middle from a fitter and stronger youth brigade, Cripps won't likely be going backwards any time soon.
Talking numbers, he tallied 14 scores over 100 – a 64% conversion rate – including 10 times above 115 points. A big part in his rise was raising his ceiling in 2018 – dominating games and polling votes – evidenced by scores of 138, 140, 146 and a mammoth 162.
Equally as important, Cripps had just 2 scores below 80 – proving to handle the midfield pressure that many crumble under. In terms of his 'fantasy build', the giant #9 plays to his strengths – dominating clearances and getting the ball moving – usually by hand. Cripps is always going to have a higher handball-kick ratio (roughly 1.5 handballs to every kick) but still gets a LOT of the ball (averaged an elite 29.6 disposals in 2018).
He elevated his overall game last season and recorded above average numbers in marks (4.2), tackles (6.3) and goals (0.5).  Cripps is always around the ball, recording 58.5% of his possessions in a contested situation (seriously, how can you not love this guy?)
With talk of him continuing to develop his game and taking on the top job at the Blues in 2019, things are looking good. Patty will start the season still just 24 years of age, so has a perfect mix of scoring power and that 'young star' profile that make for a 'sexy' pick in your side.
Why shouldn't I pick him?
Look, I think it's pretty obvious that the theme of this article is one of love, hype and admiration. So I'd struggle to find negatives in choosing Cripps even if I wanted to.
But if I was to clutch at straws, Cripps' ownership has been hovering around the 37% mark on the dtlive drawing board, so won't exactly be a point of difference in your AFL Fantasy side for 2019. There's every chance you'll want to own Cripps at some stage this year anyway, but perhaps you might want to start with a midfield name or two with less hype e.g. Seb Ross (107.3 avg, 5.5%), Adam Treloar (108.5, 1.8%) or even Clayton Oliver (109.1, 8.4%). Of course, in draft leagues – you may only get one shot at that top-line mid given all players are unique in AFL Fantasy Draft – so you may simply rate another higher in that first round, be that a fellow midfielder or defender perhaps.
You may wish to go down this path (upgrading to Cripps in AFL Fantasy rather than starting him) pointing to his pre-bye 2018 average of 100.4, however there's not enough data to suggest this is a trend. So make of it what you will.
Of course, there's also the chance that after such an epic season, opposition coaches begin to put even more work into the Blues beast given his importance to their fortunes – meaning he'll be under more pressure than anyone to maintain that level of dominance. He is but one man, after all. But if you've still got question marks in your mind about Cripps at this point after reading this, it's clear you're just not that into him… in which case I can't help you.

Find The Traders' podcast on: Apple Podcasts, Google Podcasts and Spotify.
Deck of DT Rating.
ACE – Cripps is a star of the competition and ticks all the boxes when it comes to choosing a fantasy midfielder for your side in 2019 – be that AFL Fantasy Classic or Draft. Whilst there are a plethora of great midfield options in 2019, he's one the best going around and has almost no question marks to his name. Beyond that, he's just an adonys of a man. The scary thing for opposition midfielders is that he's only going to improve, which is a great thing for us as fantasy coaches.
Loading ...
FOLLOW ME ON TWITTER: @McRathDT to say g'day. Got something to say about the deck? Use the hashtag… #DeckofDT.