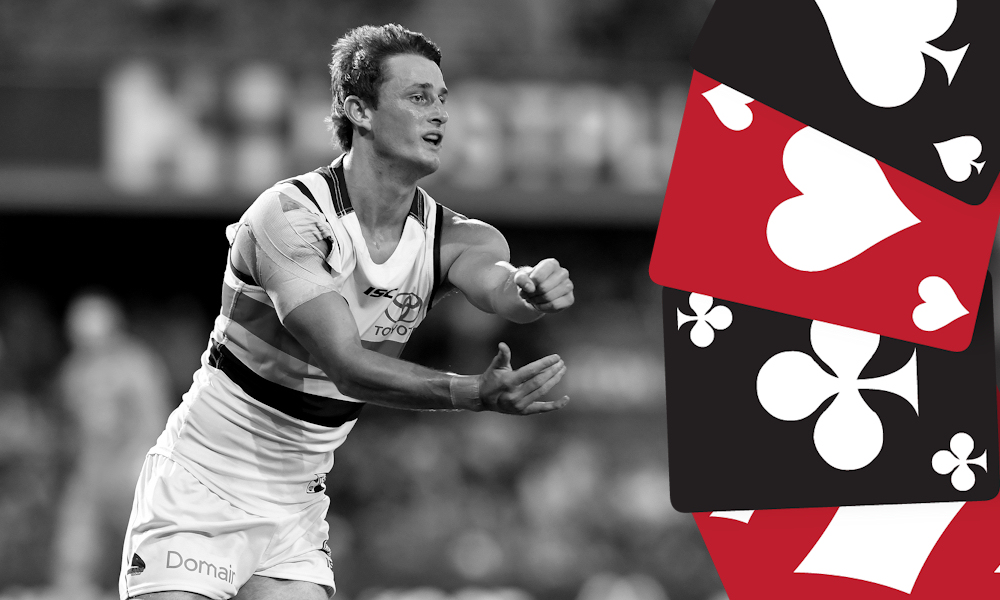 Name: Matt Crouch
Team: Adelaide
Position: MID
Price: $761,000
Bye round: 14
2018 average: 104.9
2018 games played: 18
Predicted average: 113
Draft range: 15-20
Click here for 2019 Fantasy prices.
Why should I pick him?
There are so many reasons why you should be considering Matt Crouch this season. However we've only got 8 midfield spots, so they need to be good.
Tags are becoming a major issue when selecting your premium midfielders. When you're paying over $700,000 for a player, you don't want to be sweating bullets every round hoping the opposition coach doesn't decide to ruin your weekend. Crouch solves this problem. He's not the most devastating player, in a similar way to how Tom Mitchell wasn't considered the most devastating player a few years ago. There's no way he's ever getting tagged. Not unless he starts putting up 40 disposal per game numbers, which I shouldn't rule out…
He's a pure ball winner, averaging 33 and 32 disposals in the past 2 seasons respectively. Combined with an average of 4 tackles and 3 marks per game and you've struck Fantasy gold.
Crouch has often been considered to be a consistent player without a high ceiling. Think again. Crouch has had 12 scores of 120+ in the past 2 seasons. That's more than Josh Kelly. Sure he has only ever scored 140+ once, but if he starts putting together games that big he'll have pig status within a year. I'm serious.
His season averages don't tell the full story. After the bye in 2017 Crouch averaged an insane 114.2, before averaging 120 in the Finals. That's an average of 115 over 13 games. This included a lowest score of 96, nine scores greater than 110 and 30+ disposals in nearly every match. He had a quiet day with just 29 touches. My point is, Matt Crouch is a pure ball winner second only to Tom Mitchell. Well guess what, Mitchell isn't going to be around in 2019.
I hear you. Why did he not make that next step in 2018? Let's take a rain-check on that point for now and look at Crouch after the bye in 2018. Nine games. Lowest score of 94. Five scores of 120+. Sounding familiar? Matt Crouch averaged 117 after Adelaide's bye in 2018. He also happened to have 30+ disposals in every match, except ONE. Guess how many he had?! 29, again… This is Matt Crouch's standard.
There's no need to be worried about his brother Brad returning to the side. If anything it can be seen as a positive! Matt dominated the backend of 2017 with Brad by his side and the Crouch brothers should dominate Fantasy once again in 2019.
A fully fit Matt Crouch will average 115. He's clearly priced 10 points under what he can produce, and if he stays fit for 22 rounds he will walk into the top 8 midfielders. BUT. There's always a but…
Why shouldn't I pick him?
Injuries. Just ask anyone who started with Crouch last year, and the prospects were looking fairly identical. Even better, ask someone who traded him in after Round 1 (me)! After pinging his hamstring on just 33 in Round 2, Crouch returned to the side and struggled for a month before missing another game in Round 9. When we heard he was battling hamstring issues again that was almost enough to put a line through him.
It wasn't until he made it to the bye and got a week off that we saw Crouch hit peak fitness and form. We can't be affording any slip ups again in 2019.
I think Brad has given Crouch a bad name. That man is a walking hospital ward, however Matt's injury history isn't too bad. He has only missed 6 games to injury in the past 3 years and played all 25 games for the Crows in 2017. It's pure speculation to doubt Crouch's fitness, he came flying home at the end of last season and all the boxes are being ticked early this year.
Will Matt Crouch get injured? Maybe. I don't like to deal in maybe's. Here's a fact. If Matt Crouch doesn't get injured, you'll be losing out.

Find The Traders' podcast on: Apple Podcasts, Google Podcasts and Spotify.
Deck of DT Rating.
KING. With midfield spots so hotly contested and a starting price of $761,000 not exactly cheap, Crouch certainly isn't a must have. However with Mitchell down he's even more locked into my team than before. Worrying about injuries is overthinking it. If he's fit heading into Round 1, he's an uber premium at a discount. That's good enough for me.
Loading ...
FOLLOW US ON TWITTER: @DTTALK for all thing AFL Fantasy (and more). Got something to say about the deck? Use the hashtag… #DeckofDT.