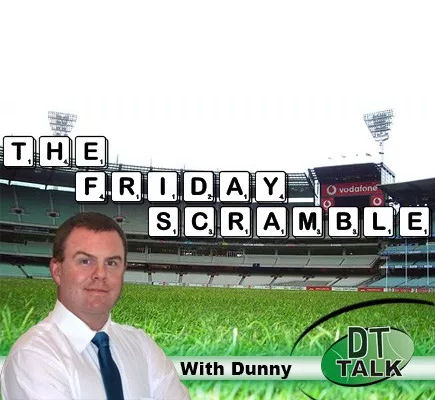 So your league is now down to the final 4 teams (well there is also the consolation finals too I guess). This is the critical week. You could have been on top all year long but one hiccup this week  and all that good work is undone. So, you could look at this week being the most important round of the season. But really even if you have been knocked out of the finals there is still rankings pride to be played for. And if you are close enough to the top 100 in AF, A Hat!
Donuts Ahoy!
There is a real prospect of people facing donuts this week with all of the injuries going on, and I am highly suspicious of there being some last minute changes to teams too. The one that I suspect is most at risk is for Port with Paddy Ryder a big chance to be a late out. And for those that play in RDT and SC you may have run out of trades already or you could be using your last one this week and then just praying that you will get through next week.
If you find yourself in the situation that you could be faced with a donut this week, don't panic! Whilst it isn't the ideal situation just sit back, take a deep breath, and have a look at where that donut is going to least hurt you.
What you need to do is look at who you can bring in that is going to give you the most points for your buck. So really if it is a choice between one of your forward, back and centre lines the line I cover first is the centres. These guys are the ones that generally score the big points and if you are a little low on cash, it is where you will have more options. Next I would cover the forwards, because, let's be honest, goals are the most valuable thing in fantasy generally and if your replacement guy snags a couple then you are going to be pretty happy. Last would be the backlines, but if you can get a guy that plays for a team that chips it around a bit they can be valuable, but I find the defenders are more likely to be hit and miss with their scoring, particularly the ones you would be looking to bring in at this stage of the season because you probably already have the key ones.
What about the Rucks you say? Well given most of us have bargain basement guys on the bench that probably aren't playing you would take a ruck replacement first if you need to.
Whatever you do don't stress too much about it, taking a donut is not what we want in this game but if there are just too many forces working against you, sometimes they are very difficult to avoid.
#AskDunny
Jelwood, Adams or Sidebottom for captain this week? #AskDunny

— Joel horsley (@joelhorsley) August 15, 2018
Now I wouldn't normally jump in on Calvin's turf here but all three of these guys are likely to have a good outing this week. With both Adams and Sidebottom playing against the Power this week selecting them isn't without any risk. Port have been one of the harder teams to score against this year, but they have become a little easier in recent week and according to Calvin are the 5th hardest team to score against at the moment. Just 3 Eagles cracked the 100 mark last week. If I had to pick one of the Collingwood boys I would go with Sidebottom to get the better score but I am not confident in it being a huge one.
Jelwood on the other hand I do like the look of. A few weeks ago Tom Mitchell took 160 points off of the Dockers and that was in Perth! His last two full games against the Dockers has seen Joel score a 99 and a 128 (there was a 2 in there but he was asleep for most of the game). I think Joel can go big against the Dockers at home and Calvin tells us that the Dockers are the third easiest to score against in the last three weeks.
So for me I go Joel Selwood as captain out of those three.
https://twitter.com/daynezorkshow/status/1029685422023008257
Firstly, nice outfit! But seriously here I do like Matty Lobbe in this situation. Both he and Darcy are playing against teams that don't have big name ruckmen in them at the moment and I think both will score well. However, Lobbe has far more experience than Darcy and that is pretty much what I am basing my decision on. Lobbe up against the Dogs should see him have plenty of the footy and I am expecting that he will dominate the hitouts also. He would have rucked against his old mate Jackson Trengove plenty of times at Power training and will know just how to beat him. So with that choice, I am going Lobbe.
Selection Table
A few changes that are Fantasy relevant, here are my thoughts on them.
Toby Nankervis comes back into the side and should have a pretty good outing against big Bellchambers. I wouldn't trade him in but will be good for those that held.
Ryder held his spot but Frampton is listed as an emergency and I would not be surprised at all if big Paddy misses this week.
Nat Fyfe is back! This is really only relevant to draft teams that have held him. He won't be in any classic teams still….. surely!
Heath Shaw is out but we knew that and he is gone for the season.
Josh Kelly misses out too with his concussion, not a surprise, but it should be just the one week so if you have good enough cover to get you the win this week hold, but if not you do need to trade even though it is just a one week injury.
MICHAEL BARLOW!!!!!  He is in… Finally!  Once again though, just a draft option.
Matty Kreuzer is out for the season with his heart complaint that saw him a late out last week. Such a shame, but you can't take risks with things like that!
Michael Hibberd is back for any one unlucky enough to still have him (yes, I still have him in a couple of formats due to his lack of trade value).
Jesse Hogan is another must trade as we know he will now miss the remainder of the season.
Paul Seedsman returns for the Crows this week. But I feel most teams would have already traded him out.

Click here to subscribe on iTunes
Things to Remember
When it comes to a Prelim, it is all or nothing! Try all the sneaky trades you can if you are an underdog, if not, just hold your nerve!
Don't give up! You still have rankings to play for and you will be surprised how many spots you can climb in these last two weeks as some coaches give up.
Late outs will happen! They are inevitable this time of year so make sure you have adequate bench coverage in case it happens to you.
Good luck to everyone in their prelim finals this week, unless you are playing me of course! Hopefully you can all get through to the big dance next week and battle it out for the glory. Have a great weekend and also good luck to all the local footy teams that are in the midst of their finals or just starting them now, particularly my mates at Edwardstown in SA.
Cheers everyone and see you all next week for the last Scramble of the season as we all hopefully head into another Grand Final!